Tarragon Chicken with Asparagus, Lemon & Leeks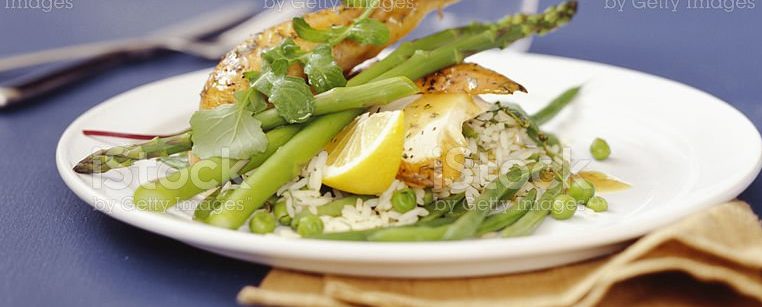 This healthy, delicious sheet-pan dinner features the best of colorful spring produce. Make it in 30 minutes with minimal clean up.

Ingredients:
2 lemons
¼ cup olive oil
4-6 garlic cloves, finely minced
2 tsp. salt
½ tsp. pepper
1 oz. fresh tarragon leaves, roughly chopped (about 1/4-1/3 cup)
1 extra-large bunch (about 1 ½ lbs.) asparagus, trimmed
1-2 large leeks, sliced into ½-inch thick rounds
4-5 medium boneless, skinless chicken breasts (about 1-1 ½ lbs.)

Directions:
Preheat oven to 425°.

In a small bowl, make the marinade. Place the zest of one lemon, and its juice (about 3 tablespoons) in a small bowl. Add oil, garlic, salt and pepper, and mix well until salt dissolves. Add ½ of the tarragon, saving the rest for garnish.

Place trimmed asparagus in a bowl and spoon some of the marinade over the top. Toss to combine and place on a parchment-lined sheet pan. Add leeks to the same bowl, toss with a little marinade, and spread out on the sheet pan. Lastly, add the chicken breasts with the remaining marinade, coating well. Nestle the chicken amongst the asparagus.

Zest the second lemon over the whole sheet pan and slice the lemons into rounds, layering them over the asparagus. Place in the hot oven. Bake 15-20 minutes and check chicken (internal temp should read 160 165°) – thicker pieces will take longer. To get a more golden color, broil for just a couple of minutes.

Remove from the oven. Give everything a little toss, turning the chicken over to coat the top with the flavorful juices. Sprinkle with remaining fresh tarragon and serve.
---
Source: FeastingAtHome.com