Enjoy summer's bounty of fresh, Pennsylvania-grown produce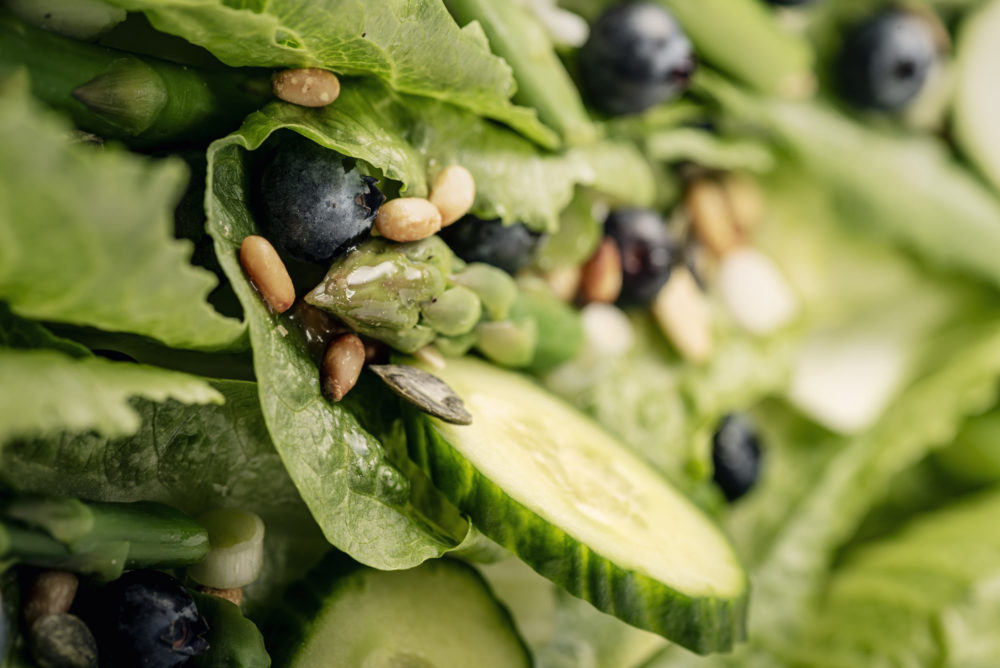 Blueberry Cucumber Summer Salad with Creamy Balsamic Vinaigrette Dressing
Ingredients:
⅔ cup sliced almonds
3 tbsp. sugar
8 cups spring mix, baby spinach or lettuce/greens of your choice
4 baby seedless cucumbers, thinly sliced
4 green onions, thinly sliced
1 cup blueberries
¼ cup finely grated parmesan cheese
Dressing:
¼ cup balsamic vinegar
1 garlic clove, minced
2 tbsp. heavy cream
2 tsp. Dijon mustard
2 tsp. honey
½ cup extra virgin olive oil
2 tbsp. fresh chives
Directions:
Place the almonds in a nonstick skillet over medium heat. Stir in the sugar and cook, stirring often, until the sugar melts and caramelizes the almonds – about 6 to 8 minutes. Don't take your eyes off of this as they can burn quickly! Transfer the almonds to a piece of parchment paper to cool. Break them into pieces if they are clumped.

In a large bowl, toss the greens with a generous pinch of salt and pepper. Sprinkle in the blueberries, cucumbers, green onions and parmesan cheese. Add the almonds on top.

To make the dressing, whisk together the vinegar, garlic, cream, mustard, honey, and a pinch of salt and pepper. Stream in the olive oil while whisking until emulsified. Stir in the chives. Top salad with dressing and serve immediately. This dressing stays great in the fridge. Just shake or whisk it to combine before serving.
Source: HowSweetEats.com
---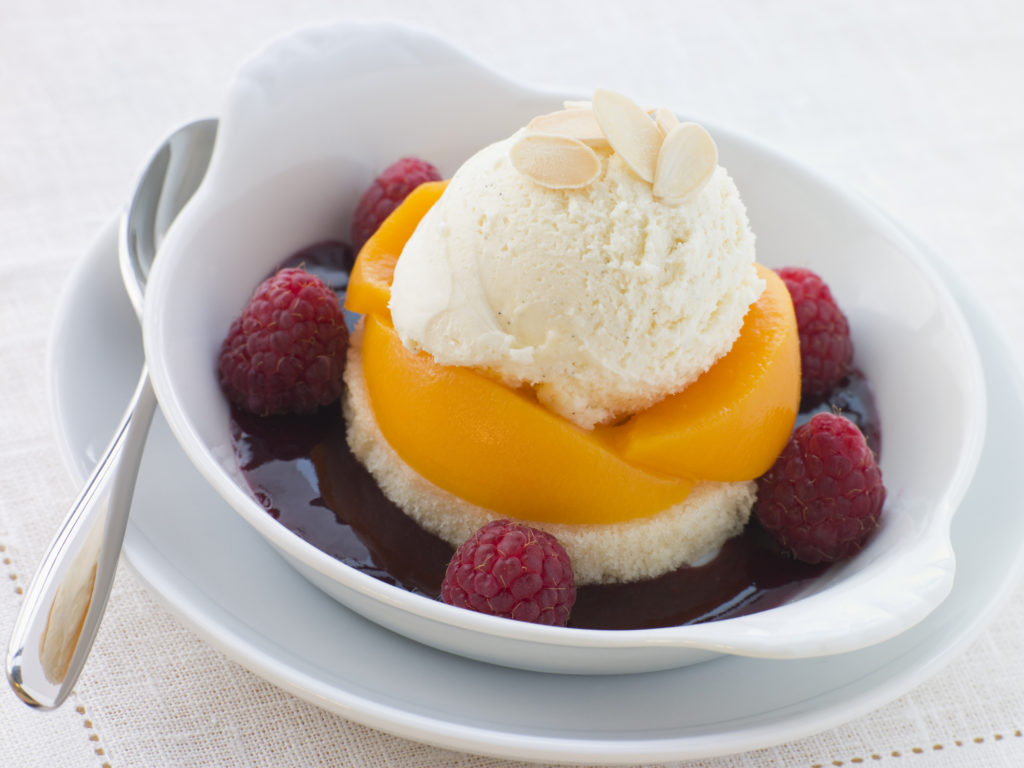 Peach Melba Ice Cream Pie
Ingredients:
1 pkg. (5.25 ozs.) thin almond cookies
1 cup salted roasted almonds
3 tbsp. granulated sugar
¼ tsp. kosher salt
6 tbsp. unsalted butter, melted
4 cups vanilla ice cream, softened and divided
2 medium peaches, divided
1 pint raspberry sorbet, softened
1 cup fresh raspberries (about 4 oz.)
Directions:
Preheat oven to 350°F. Place cookies, almonds, sugar and salt in the bowl of a food processor; process until finely ground, about 15 seconds. Drizzle butter over top of mixture; pulse until combined, 5 to 6 times.

Press crumb mixture into bottom and up the sides of a lightly greased 9 1/2-inch deep-dish glass or ceramic pie plate. Bake until browned, about 12 minutes. Place on a wire rack, and cool completely, about 30 minutes.

Place 2 cups of the ice cream in a bowl. Peel and dice one peach; stir diced peach into ice cream. Spread ice-cream mixture over crust. Freeze about 2 hours.

Spread sorbet over ice cream mixture; freeze about 2 hours.

Spread remaining 2 cups vanilla ice cream over sorbet. Freeze 8 hours or overnight.

To serve, let pie stand at room temperature about 10 minutes. Meanwhile, peel and slice remaining peach into 1/4-inch thick slices. Arrange peach slices around the edge and mound raspberries in center just before serving.
Source: Southern Living
---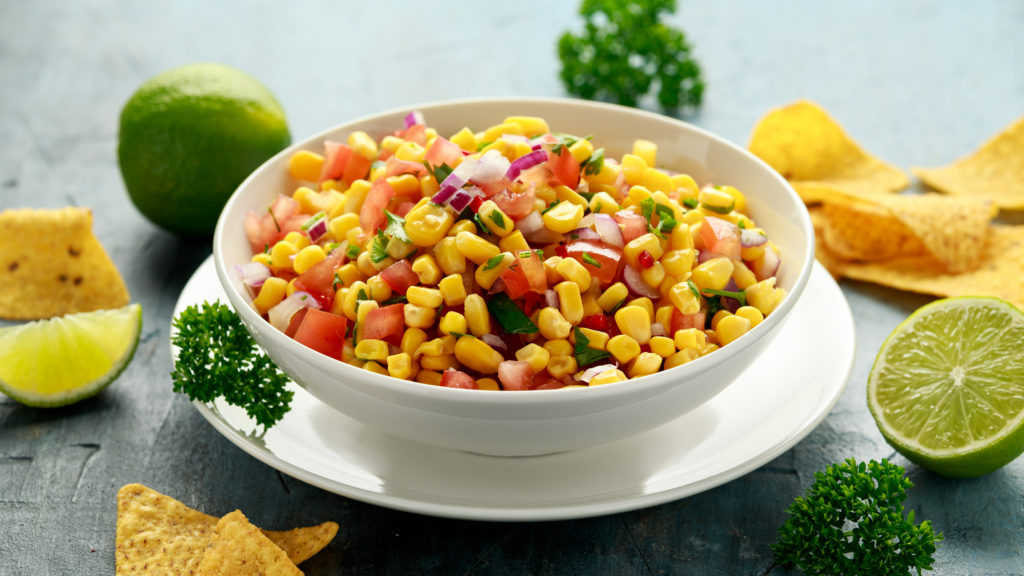 Roasted Mexican Corn
Ingredients:
3 cups fresh corn
½ cup each red and green bell pepper, diced
2-3 tbsp. butter
Garlic salt and black pepper to taste
Directions:
Preheat the oven to 450°. Line a baking sheet with aluminum foil. Spritz liberally with cooking spray. Mix corn and bell peppers together. Spread in a single layer on pan. Drizzle with melted butter and season with garlic salt and black pepper to taste. (To lighten up this dish, use cooking spray instead of drizzling with butter.)

Roast for 15-18 minutes, stirring halfway through. Continue to roast until the corn begins to caramelize. Serve immediately.
Source: MelissasSouthernStyleKitchen.com