Recipe Box: Eat well for good health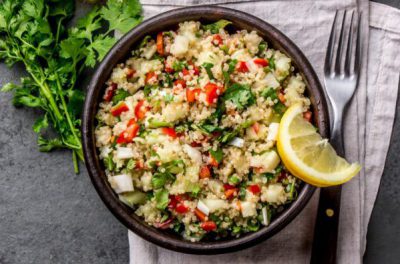 For National Nutrition Month, we're dishing up well-rounded recipes to help meet older adults' nutritional needs. The U.S. Department of Agriculture recommends special dietary considerations for older adults:
• Eat more protein to maintain muscle mass.
• Taking vitamin B12 is important for nutrient absorption, which decreases with age or certain medications.
• Drink water and unsweetened beverages to aid digestion and nutrient absorption.
5-a-Day Bulgur Wheat

Ingredients:
1 medium onion, chopped
1 cup broccoli, chopped
1 cup carrot, shredded
1 small green pepper, chopped
½ cup fresh parsley, chopped (or 2 tbsp. dried)
1 tsp. canola oil
1 ½ cups bulgur, dry
2 cups low-sodium chicken broth
8 oz. canned chickpeas or garbanzo beans, drained
Directions:
Wash and chop fresh onion, broccoli, carrots, pepper and parsley (if using fresh).
Heat canola oil in a large skillet. Add onions and cook until soft.
Add bulgur and stir to coat. Add 2 cups chicken broth to the skillet, then bring to a boil.
Lower the heat, add remaining vegetables and chickpeas. Cook for 10 minutes or until the liquid is absorbed.
Add parsley and stir. Serve warm or cold.
---
Argentinean Grilled Steak with Salsa Criolla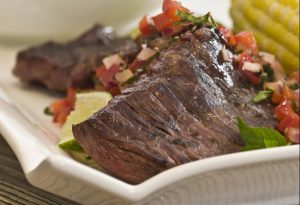 Ingredients:
1 large, ripe tomato, cored, seeded, and finely chopped
¼ small red onion, finely chopped
2 tbsp. fresh parsley, finely chopped
2 tsp. extra virgin olive oil
2 tsp. red wine vinegar
½ tsp. minced garlic
¼ tsp. oregano
¼ tsp. low-sodium adobo seasoning, divided
¼ tsp. crushed red pepper
1 lb. skirt steak
Directions:
In a small bowl, mix together tomato, onions, parsley, olive oil, vinegar, garlic, oregano, 1/8 tsp. adobo seasoning and crushed red pepper. Cover and refrigerate for at least 1 hour or up until 48 hours.
For the steak:
Heat grill to medium-high heat. Sprinkle steak on both sides with low-sodium adobo seasoning. Place steak on hot, greased grill grates.
Cook, flipping once, until steak is well-browned on both sides and cooked to 145°F (about 6 minutes for medium-rare).
Let rest for 5 minutes. Thinly slice steak. Divide steak evenly among serving plates. Top with refrigerated salsa.
---
Source: USDA My Plate