Navigating online grocery and food delivery services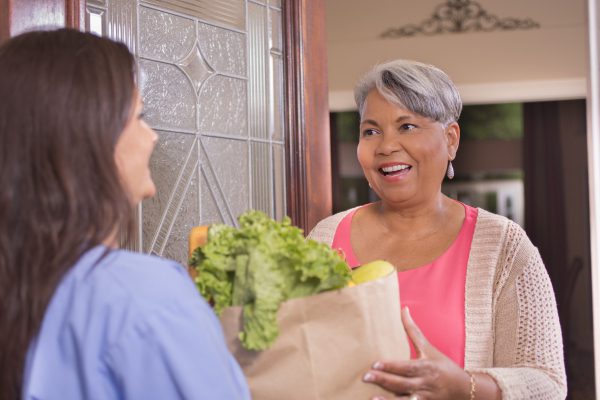 By Mary Anna Rodabaugh
---
Technology has changed the way many people shop. But due to the COVID-19 pandemic, online and mobile delivery services are now more popular than ever. These services bring food and other necessary items right to your doorstep.
While convenience and safety are the major benefits for anyone who uses home delivery services, this is an especially helpful option for people with mobility issues, those who lack reliable transportation and caregivers of older adults. In fact, Philadelphia Corporation for Aging's (PCA's) Caregiver Support Program now provides reimbursement to caregivers for grocery delivery services.
PCA also provides home-delivered meals to homebound older Philadelphians and people with disabilities who struggle to afford balanced meals, are unable to cook or shop for food, and have no one to help prepare meals. In addition, four volunteer-based home-delivered meal programs serve older adults who are not eligible for PCA services. Internet ordering is not required. For more information about PCA programs, call the PCA Helpline at 215-765-9040.
The main drawback to most grocery delivery services is that online ordering is required. In addition, some providers require memberships or subscriptions, charge delivery fees, and/or set a minimum dollar amount for purchases. But with some creative planning, these services can be utilized by more seniors. If you don't have an internet connection or use a computer, a relative could place the order for you. You can also bundle your order with a tech-savvy neighbor and share the cost of any fees.
There are many different trustworthy grocery delivery services to choose from. You should visit the website or application (app) of a provider to determine which feels the most user-friendly and charges fees that best meet your budget. Below are some of the most economical and easy-to-use grocery delivery services for you try.
GROCERY DELIVERY SERVICES
Older adults who would like to order food and other necessities from their favorite store can select curbside pickup or home delivery from most grocers and big-box stores. Here is a sampling of stores that offer delivery in Philadelphia. For each merchant, you will have to enter your ZIP code or address to determine if delivery is available where you live.
• Acme: AcmeMarkets.com and click "Your Store" in the horizontal menu bar at the top of the page. Receive $20 off and free delivery on your first order of $75 or more. Use promo code SAVE20 at checkout.
• Aldi: Aldi.us/en/pickup-delivery
• The Fresh Grocer: Shop.TheFreshGrocer.com and click "Select Your Store" at the top of the page.
• Giant: GiantFoodStores.com and click "Schedule Your Order" in the middle of the page.
• ShopRite: Shoprite.com/OnlineShopping
• Sprouts Farmers Market: Shop.Sprouts.com and enter your delivery address.
• Target: Target.com and click "Pickup & Delivery" in the red horizontal menu bar at the top of the page.
• Walmart: Walmart.com/grocery
• Whole Foods: WholeFoodsMarket.com/online-ordering – Amazon Prime members can shop Whole Foods Market on Amazon.com for free two-hour delivery and free one-hour pickup.
If you don't see your store of choice listed or would like more information about grocery delivery, call your favorite, local store or inquire onsite at the service counter.
To get started with your online order, visit your store's website or mobile app to register for the delivery or pickup option of your choice. Most sites will require you to create a free online account. You may need to select a date and timeslot for your grocery order. From there, you will be prompted to choose the items you wish to purchase. Delivery fees vary by store and location.
AMAZON PRIME
If you have an Amazon Prime membership or if you receive SNAP benefits, you can use Amazon Fresh for grocery delivery. Simply go to Amazon.com/fresh. You can also open the Amazon app on your smartphone or tablet, then click on "Fresh," located under the product search bar. With Amazon Fresh, you can shop for a variety of grocery items, including meat, dairy and produce. Amazon's food products are stored safely in their inventory warehouses and delivered in spoil-free packaging. Grocery orders over $35 are eligible for free delivery. The availability of same-day or next-day delivery varies based on location.
INSTACART
Instacart gives customers the opportunity to choose from a variety of local stores on Instacart.com or the app. Once you select your store, you can view the online product catalog and add items to your cart. At the conclusion of your order, an Instacart shopper will be dispatched to your store of choice. Your shopper will notify you if an item is out of stock or if a suitable substitute is available. The Instacart shopper then delivers the groceries to your door. All shoppers are required to have temperature-controlled grocery bags or coolers to transport perishable items from the store to your home.
For full details and fees, go to the service provider's website or app.
---
FREE GRAB & GO MEALS FOR OLDER ADULTS
To provide nourishment to older adults during COVID-19, PCA is operating 22 grab & go meal distribution sites for adults 60 and older. Since many older adults may have difficulty leaving their homes, family members may pick up meals, with prior arrangement at each site. In addition, the City of Philadelphia has partnered with Share Food Program and Philabundance to offer free food sites throughout Philadelphia, where residents can pick up free food for their households. For a list of sites offering grab & go meals and free food, hours of operation, and contact information, call the PCA Helpline at 215-765-9040 or go to pcaCares.org/grab-and-go.
---
Mary Anna Rodabaugh is a writer, editor and writing coach.