Long-time employees love this historic Philly restaurant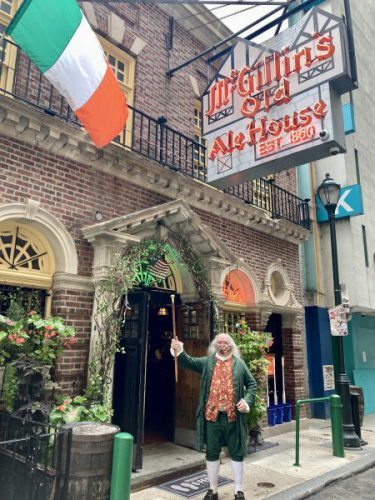 By Jay Nachman
---
Cassie Gaffney can't wait to put her apron back on and get back to work.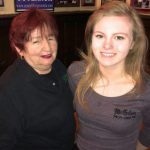 Currently sidelined by the pandemic, Gaffney has been working at McGillin's Olde Ale House since 1975. Looking for a part-time job when her son and daughter started school, she landed at McGillin's, the Center City restaurant whose roots date back to before the Civil War.
After all these years, Gaffney, 73, says, "I love it. It's my home away from home, and they're like my extended family – the owners and all the people I work with. I enjoy serving people and giving them what they want. I want to make sure they're satisfied."
Gaffney, of South Philadelphia, started off as a sandwich maker before becoming a server and occasional bartender. Prior to the pandemic, she worked three lunchtime shifts a week. Adding to the enjoyment of work is her granddaughter Shira, who is also a server at McGillin's. "It is great how we bonded, and it is a special bond that we wouldn't have without working together," Gaffney says. "It keeps me youthful working with all the young people. If this (pandemic) clears up and I can go back to work, I'll be right there. I'll put that apron on."
When Gaffney puts on that apron, she'll be working alongside bartender John Doyle who started one year before her, in 1974.
Like Gaffney, Doyle, 76, of Roxborough, was looking to pick up some extra money after his wife unexpectedly had twin daughters. Doyle had other jobs over the years – working in a machine shop, as a driver, and as a handyman. But one job remained constant when those jobs ended, serving drinks behind the bar at McGillin's.
"I just enjoy the job so much, so I stayed with it. That's what it comes down to," he says. "If it was the money, I'd have left a long time ago. It's something to do, get me out the house. I like the job. I like the people I work with. The customers, they're what makes the job. They're some good people. I made a lot of friends. Baseball players. Judges. Policemen. Politicians. People from out of state."
As expected from a long-time bartender, Doyle has seen it all through the years at McGillin's, from engagements and marriages to arguments that he helped break up before they became altercations. A few years ago, one patron was enjoying drinks with friends at McGillin's on a Saturday afternoon. He spent about $100, and tipped Doyle $500 (which he split with that day's co-bartender).
The patron said, 'You know John, you gave us great service. It was only for 45 minutes or so, but you were good to us and we appreciate that.'"
Ivy Jackson, who works in the kitchen at McGillin's, has been cooking at McGillin's for 30 years. "They put me down in the kitchen, and I was doing prep and everything. I've been there ever since," says Jackson, 60, of North Philadelphia. "I got to be a line cook and eventually ran the kitchen by myself at one point."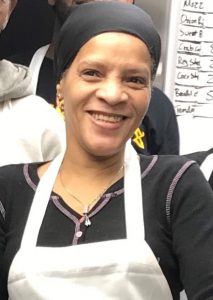 These days Jackson's specialty are salads. "People loved my salads. They said I made them so pretty," Jackson says. "I enjoyed doing them for people. When people say, 'I want Ivy to make my salad' I love that. I love to make my presentation beautiful and please people at the same time."
Joining her in the kitchen is her 21-yearold son, Qadir. He's been a dishwasher there since he was 17.
Work is a family affair for McGillin's, which is the oldest continuously operating tavern in Philadelphia. The owners, Mary Ellen and Chris Mullins Sr., purchased the restaurant from Mary Ellen's father and uncle in 1993. They now run it with their son, Christopher Mullins Jr. The restaurant has been in the same family for 60 of its 158 years, outlasting another longstanding, family-owned, Philadelphia business: Strawbridge & Clothier.
"The owners are great. I've been blessed," Jackson says. "They've been great to me and my whole family." A sentiment that is shared by all of McGillin's veteran employees, and likely by the thousands of customers who have been dined and drank at this famous ale house.
---
Jay Nachman is a freelance writer in Philadelphia who tells stories for a variety of clients.