History of Philly food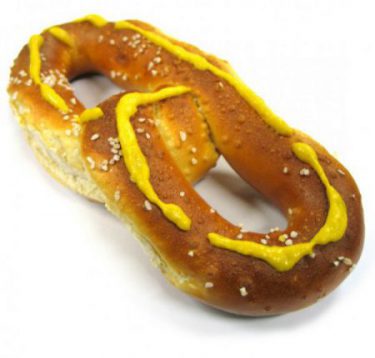 By Dorothy Stanaitis
---
Arriving in Philadelphia with just three pennies in his pocket, Benjamin Franklin, through thrift and hard work, was financially able to retire at 42. Following the advice he printed in "Poor Richard's Almanac" of "A Penny Saved is a Penny Earned" and "Haste Makes Waste," it stood to reason that one of his favorite foods was the uniquely Philadelphia delicacy of scrapple.
Made to utilize the undesirable "scraps" from a pig that would often be wasted, scrapple also contains corn meal and a unique blend of herbs and spices. It is formed into a loaf, then sliced and fried.
Just a few blocks from Franklin's house, George Washington's world-famous chef, Hercules, noted for his outstanding recipes, often served scrapple at George's request. The popular breakfast "meat" seems to only be known in the mid-Atlantic region. It is usually served in diners and small local restaurants.
Another thrifty Philadelphia dish came to us from Washington's troops. During the winter at Valley Forge, food was scarce. Local farmers sold their crops to the British, since the Continental currency was seriously devalued. However, the American soldiers were able to procure tripe, the part of a cow stomach that the British did not want. With it, they created pepper pot soup, which quickly became a staple dish.
In 1807, while Americans enjoyed their pepper pot soup and scrapple, they could wash it down with a new beverage: soda pop. Dr. Philip Syng Physick, who has been called the father of American surgery, gave carbonated water as an elixir to his gastric patients. When they complained of the taste, he added cherry syrup and soda was invented. Then in 1876, Philadelphia pharmacist Charles Hires introduced his root beer by offering free samples during the Centennial International Exhibition, held in Philadelphia.
Today, many people choose soda to go with their Philadelphia soft pretzel. In 1820, Daniel Kleiss began selling pretzels street by street, gaining them city-wide popularity, even though they had been available since the 1700s when German immigrants brought them to the Pennsylvania Dutch area.
One hundred years later, in 1920, the Federal Pretzel Baking Company imported a German machine that moved hand-twisted pretzels on a conveyor belt that soaked then baked them into sheets that were much easier to distribute to the street vendors. The famous three-hole shape was originally designed to represent the Christian Trinity or hands folded in prayer.
If you want something more substantial than a pretzel, you could choose one of Philadelphia's iconic sandwiches: the hoagie or the cheesesteak.
The hoagie is the local equivalent of a sub, po'boy, grinder or zip. The iconic sandwich got its name from Italian American workers at Hog Island Shipyard during World War II, when it was called a Hog Island sandwich. The name was later shortened to "hoggie" and finally, hoagie.
The more famous Philadelphia sandwich, the cheesesteak, was first made in 1930 by hot dog vendor Pat Olivieri. Tired of eating hot dogs for lunch, he put some thinly sliced beef on his grill. A passing cab driver sniffed the delicious aroma and stopped. Oliveri shared his sandwich with the cabbie, who liked it so much that he told all his friends. It quickly became a best seller. In 1966, Joey Vento opened Geno's Steaks across from Pat's Steaks at the corner of 9th and Passyunk in South Philadelphia, and the famous Philadelphia cheesesteak debate was born.
When you order a cheesesteak, you have a few decisions to make. Which cheese? American and provolone are good choices, but many Philadelphians choose Cheese Whiz. "Wit" onions or not? There are no wrong choices.
If you want a little something sweet after lunch, there a couple local favorites that will satisfy your cravings. Goldenberg's Peanut Chews were first made during World War I as a high-energy, high-protein ration for U.S. soldiers. If you're worried about the calories, Good and Plenty candy, first made in 1893, offers 33 pieces for just 130 calories.
Of course, you can wash all of this good food down with a glass of cold water, pronounced by some in Philadelphia as "wooder."
---
Dorothy Stanaitis, a certified Philadelphia Tour Guide, writes about history and nostalgia.