Recipe Box: Hearty meals can be healthy meals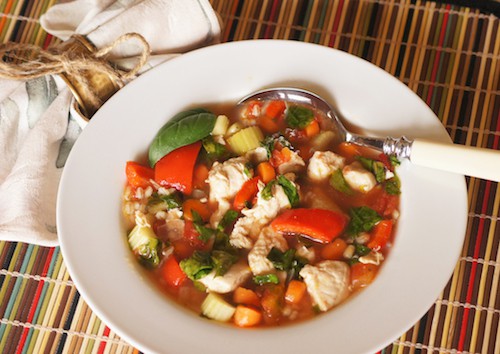 For those caring for loved ones during a pandemic, cooking can seem like just an extra chore that requires even more time many of us can't afford. Fortunately, as we move into cooler temperatures, hearty dishes, such as soups, casseroles and slow-cooker meals are ideal and require minimal prep and supervision. These meals are generally packed with nutrition, provided by your favorite seasonable vegetables. Try those listed below or add your own favorite produce to any of these fall classics.
Chicken Veggie Soup
Ingredients:
1 large sweet onion, chopped
1 cup baby portobello mushrooms, sliced
1/2 cup each green and sweet red pepper, chopped
1 tbsp. butter
1 tbsp. olive oil
5 garlic cloves, minced
1/4 lb. boneless skinless chicken breasts, cut into .-in. cubes
1 can (49.5 oz.) chicken broth
1 can (28 oz.) crushed tomatoes, undrained
2 medium carrots, cut into 1/4-inch slices
1/2 cup medium pearl barley
1 & 3/4  tsp. Italian seasoning
1 & 1/4 tsp. pepper
1 &1/2  tsp. salt
Directions
In a large skillet, saut. onion, mushrooms and peppers in butter and oil until tender. Add garlic; cook 1 minute longer.
Transfer to a 5-qt. slow cooker. Add the remaining ingredients. Cover and cook on low until chicken and barley are tender, 5-6 hours.
Optional: Freeze cooled soup in containers. To prepare, partially thaw in refrigerator overnight. Heat through in a saucepan, stirring occasionally and adding a little broth (if necessary).
Creamy Noodle Casserole
Ingredients:
1 package (12 oz.) egg noodles
1 package (16 oz.) frozen broccoli cuts
3 cups fully cooked ham, cubed
1 cup part-skim mozzarella cheese, shredded

1

⁄

3

cup butter, cubed
1/2 cup half-and-half
1/4 tsp. each garlic powder, salt and pepper
Directions:
Cook noodles in boiling water for 5 minutes. Add broccoli and ham; cook until noodles are tender, 5-10 minutes longer. Drain; return to pan. Stir in the remaining ingredients. Cook over low heat, stirring, until butter is melted and mixture is heated through.
Optional: Freeze cooled noodle mixture in containers. To prepare, partially thaw in refrigerator overnight.
Microwave, covered, on high in a microwave-safe dish until heated through, gently stirring; add broth or milk if necessary.
—
(Source: Taste of Home)