Healthy mind, healthy body: Staying engaged while staying home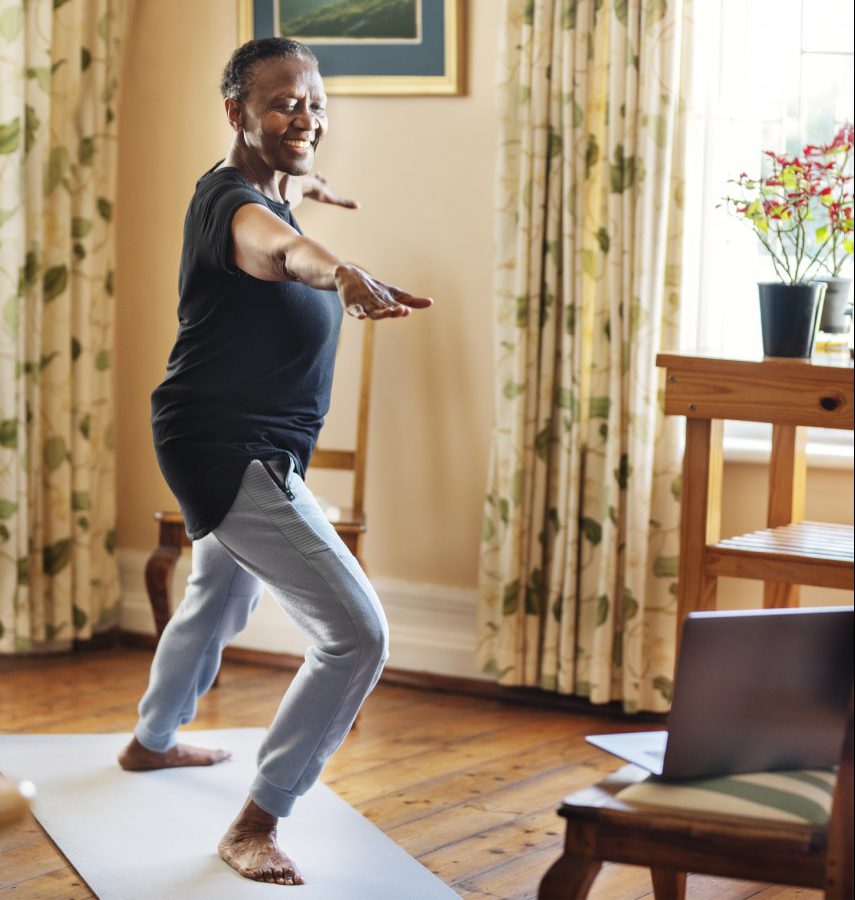 By Shannon Reyes
---
As we kick off the new year, gatherings in the same physical space will remain minimal. Yet, as the pandemic has separated us, technology has greatly assisted in helping to bridge those social gaps while families and friends remain at home.
Each year, the National Association of Area Agencies on Aging (n4a) launches a "Home for the Holidays" campaign (n4a.org/h4h2020), which is intended to help family and friends speak with their aging loved ones about difficult topics. This year's topic, "Staying Connected and Healthy During the COVID-19 Pandemic," is timely as most family and friends opt to connect this year in digital spaces.
According to n4a, people of all ages are having a hard time adjusting to the lack of social connections during the pandemic. These effects can be felt even more by older adults who may live alone or with limited social circles. Those individuals are typically more predisposed to being socially isolated, but in the age of social distancing, those chances significantly increase.
Most people would agree that staying socially connected while physically apart is important, including Center in the Park's Executive Director Renee Cunningham, MSS. When older adult community centers in Philadelphia were ordered to close to participants in March, the Germantown-based older adult community center began looking at how to migrate its regular on-site programming to a digital space. When the first programs went online, the reaction from participants was overwhelming.
"The absolute best part about this is watching (the reactions of) people who are seeing each other after a long period of time," Cunningham said, explaining that the first few minutes were filled with exclamations, such as "Hey, you're on here, too?" or "This is amazing!"
Currently, the center has expanded its online programming to include a number of classes and social groups, including fitness, yoga, sewing classes, a men's group, poetry and sing-along programs.
"The folks that I see (on our video conferencing platforms) really miss being at the center," says Cunningham. "For some, it's not just the social engagement or the class, it's also getting out of bed every day and having something to look forward to." Having a scheduled activity is very important to one's frame of mind and can help to combat the impact the pandemic can take on one's mental well-being, according to Cunningham.
Philadelphia Corporation for Aging's (PCA) Stephen Merrill, RN, who helps to oversee the agency's health promotion program, agrees. After completing a recent videoconferencing workshop, he received a moving letter from a participant expressing his gratitude for the program.
"We had someone who reported being at a real low point and feeling depressed, but the workshop really helped, and the tools discussed made a difference both physically and mentally," says Merrill. "The letter is a nice example of the benefits of these programs, especially during this time. The scheduled weekly contact and meeting helps with isolation and connection."
Currently, PCA is offering three evidence-based chronic disease self-management programs through video or telephone. They include "Help Yourself to Health," "Keep it Moving" (for pain management) and "Common Threads (for diabetes management). For those who can connect through videoconferencing software, participants meet weekly for six consecutive weeks. Older adults without technology for videoconferencing will receive a toolkit in the mail and can participate in weekly, small-group phone conversations.
PCA is also offering a remote version of the Arthritis Foundation's "Walk with Ease Program." Prior to the pandemic, this program was structured as a group walking program that occurred over several weeks.
"This promotes the benefit of movement and walking to help reduce the pain, stiffness, and discomfort of arthritis safely during this time," Merrill says. "Physical deconditioning is a concern through this time of decreased ability to travel or move about the community. Programs that can reach people, promote wellness and safe physical activity are especially important now."
Individuals can now participate in "Walk with Ease" and receive regular follow-up from trained leaders. The programs are typically organized at older adult community centers, since these locations have a trained staff member on-site to lead the program. Individuals who are interested in participating in a program are welcome to contact PCA's Health Promotion Specialist Lauren Jirinec at 215-765-9000, ext. 5119 or lauren.jirinec@pcaCares.org.
Older adults can still remain active, even while social distancing. Cunningham's advice for those who are staying home: get outside for at least five minutes every day, give yourself a little cardio (i.e. walking up and down stairs or around the coffee table), make a goal for that day, and talk to at least one person each day.
"It's also important that family and friends hear from you every day," Cunningham says.
***
For more information on PCA-supported older adult community centers or health promotion programs, call the PCA Helpline at 215-765-9040 or visit pcaCares.org.
---
Shannon Reyes is public relations specialist at Philadelphia Corporation for Aging