Advancements in telehealth: Counseling goes hi-tech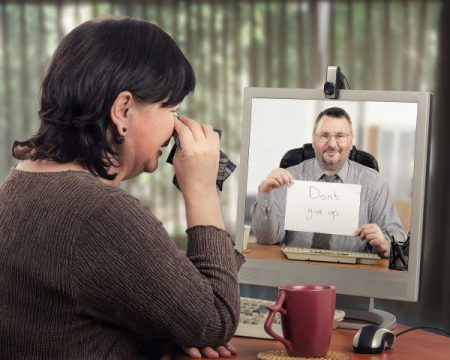 By Jay Nachman
---
Telehealth, the distribution of health-related information and provision of services via electronic or telecommunication technologies, can be beneficial in all areas of physical and mental health care. It allows patients and health care professionals to connect for care, advice, education, intervention and monitoring without having to be in the same physical location.
When comparing using telehealth for mental health therapy to an in-person visit, Dr. Michael Broder uses the analogy of seeing a movie in a theater versus seeing a film on television.
"If you go to movie theater, you're going to have a different experience than you're going to have in your home – no matter how big a screen you have. (Either way,) you're still going to see the movie. You're still going to get probably as much out of it that's really important, but there's an extra bit of benefit to being in person," said Broder, a psychologist who has been practicing cognitive behavior therapy for more than 40 years in Center City and is the author of seven books, including one
best-seller.
According to Broder, teletherapy is a very good choice. "I think that there are going to be a lot of people who wouldn't go into treatment any other way," he said. "(With teletherapy), they can be in treatment without having to face the person. They can turn the video off and sometimes that helps people to open up more. When COVID is over, my prediction is that the average therapist will have a percentage of people who are going to want to continue doing teletherapy and that's a good thing."
According to the American Psychology Association, telehealth allows patients across the lifespan to receive care remotely in a manner that is often more accessible and convenient than in-person care.
The APA notes a common misconception is that older adults have either no interest in the use of technology or cannot use technology platforms. In Philadelphia, 81% of adults 60-75 have a computer, smartphone or tablet with internet access at home. However, when it comes to the use of telehealth, only 11% of older adults feel comfortable using it.
Other barriers to telehealth for older adults, according to the APA, are reimbursement limitations with health insurance, provider misperceptions of interest, lack of training and platforms that do not account for older users' needs. Also, therapists may miss some of the subtleties with telehealth patients that can be perceived in person through body language and eye contact.
Benefits of telehealth include its convenience and accessibility, said Dr. Yacob Tekie, a psychologist with a practice in University City. Patients can talk to therapists using the method they prefer, and patients with mobility issues often prefer telehealth, he said.
Telehealth is also quite efficient for some Tekie said. They can access mental health services while doing physical activities, such as walking.
Tekie acknowledged that for many older adults there is a stigma to therapy. "They may feel it hasn't been part of their upbringing to talk about mental health issues," he said. "Sometimes, you will see them not having the vocabulary to describe what's going on. They might focus more on the physical symptoms but not necessarily use words, like anxiety or depression. When we connect through technology, it makes it a lot easier for both parties, those who need therapy and those who can provide therapy. Especially for older folks, I think we can cut isolation and loneliness and allow people to get connected with different mental health professionals."
---
MENTAL HEALTH RESOURCES
Counseling is expensive and too often, only the people who can afford it receive this much-needed help. Here are some resources that can help make mental health services accessible to everyone:
• For mental health assistance, call the state's Department of Human Services PA Support & Referral Helpline: 1-855-284-2494 (TTY: 724-631-5600).
• The Philadelphia Department of Behavioral Health and Intellectual disAbility Services provides 24/7 resources for individuals in need of mental health services, regardless of the ability to pay. For a mental health emergency, contact the Crisis Hotline: 215-685-6440. For non-emergency help, uninsured or underinsured Philadelphia residents should call 215-685-5400 and Medicaid recipients can call 1-888-545-2600. For online behavioral health screening and resources: https://HealthyMindsPhilly.org.
---
Jay Nachman is a freelance writer in Philadelphia who tells stories for a variety of clients.