Access mental health care from home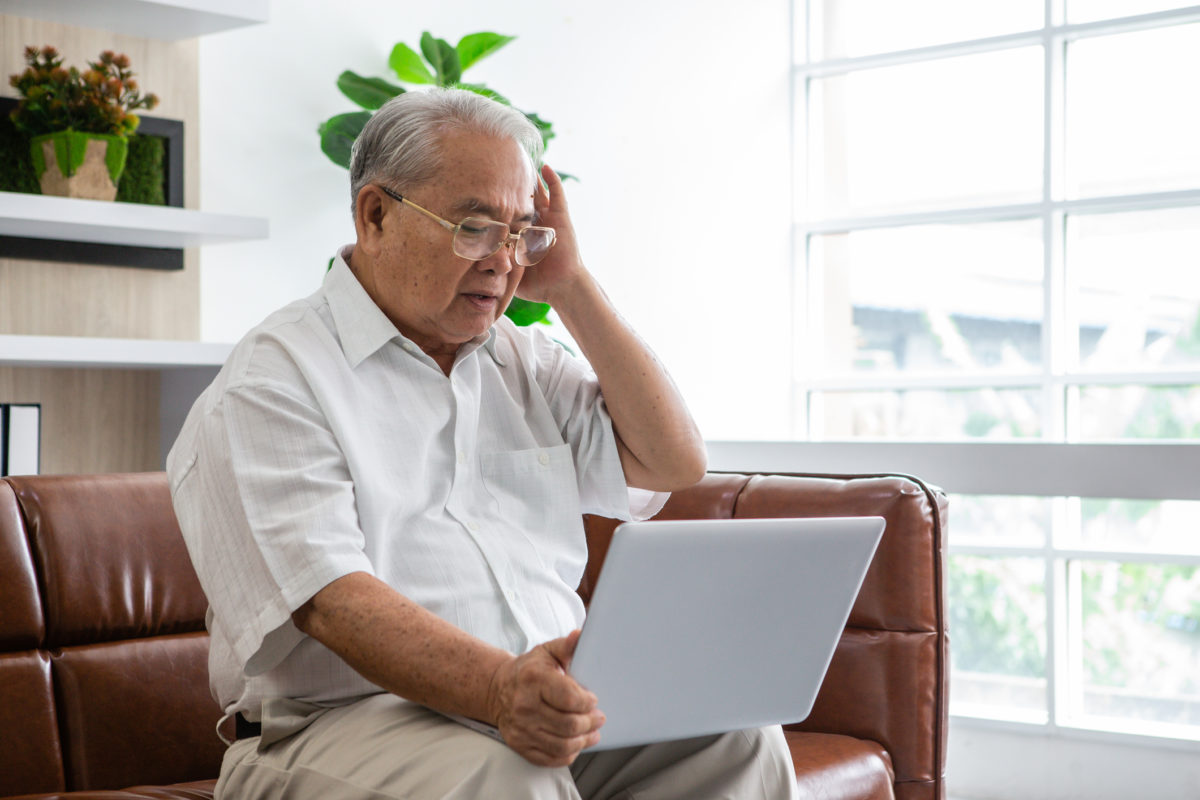 By Mary Anna Rodabaugh
---
Regular physicals, routine checkups and exams are essential for healthy aging. However, a healthy lifestyle is not only about the physical body. Addressing mental health is equally important to overall wellness.

According to the National Institute of Mental Health, symptoms of mental disorders in older adults may include noticeable changes in mood, difficulty sleeping or sleeping too much, misuse of alcohol or drugs, increased feelings of worry, engaging in high-risk activities, obsessive thinking, and/or compulsive behavior.

If your mental or emotional state, or that of a loved one, concerns you, connecting with a behavioral health specialist may help.

Telemedicine for behavioral health
During the COVID-19 pandemic, most physical and mental health providers began offering appointments virtually. This is often called telehealth or telemedicine, where patients with internet access are sent a confidential link to a video conferencing application. At the time of the appointment, patients sign in with their individual, unique link using any
computer, tablet or smartphone that has a camera. Patients can see their doctor and talk in real time from the comfort of their home, or anywhere in the world. Telemedicine also offers a voice-only option, where counseling sessions take place over the phone.

"Psychiatric and mental health telehealth offers a convenient and cost-effective way to deliver mental health care services to older adults who have substantial mental health care needs or mobility and transportation limitations that make getting to a health care provider's office difficult," said Joseph J. DiMeo, Jr., M.S., behavioral health coordinator for Community HealthChoices, Community Behavioral Health (CBH).

CBH is a behavioral health managed care funder for Medicare beneficiaries. For older adults who also have Medicaid, CBH is automatically their behavioral health insurer.

"Our CBH provider network has levels of care and clinicians who can treat older adult behavioral health needs, as these needs are very different from adults and children," DiMeo said. "There are also older adult specific inpatient psychiatric units, older adult psychiatric rehabilitation day programs (called "Community Integrated Recovery Centers"), as well as mobile mental health therapy and supportive older adult peer specialists."

DiMeo notes a guiding principle in behavioral health care in Philadelphia is "consumer choice," so older adults should have the right to choose which option works best for them: coming to a clinic, receiving treatment by telehealth or having a therapist come to their location through mobile mental health.

Overcoming barriers
In Philadelphia, several barriers may prevent older adults from accessing needed behavioral health services.

"The number one barrier is insurance coverage," DiMeo said. "Older adults in Philadelphia can now have up to five different insurers, and the confusion can lead to the individual not getting services."

Older adults can have Medicare A and B, a Medicare Advantage Plan, third-party insurance, Medicaid, Community HealthChoices, and Community Behavioral Health. If you are confused about your options or mental health coverage, a good place to start is Pennsylvania Department of Human Services by calling the DHS Helpline at 1-800-692-7462 or visiting dhs.pa.gov. You can also contact your health insurer directly. For Medicare, call 1-800-MEDICARE (633-4227) or go to medicare.gov. For Medicaid or dual-eligibles, contact DHS or go to medicaid.gov.

The second barrier is the waitlists for providers, staff shortages in behavioral health, and not enough trained clinicians who work with older adults.

A third barrier is the technology needed for telemedicine. Older adults may be worried their teletherapy appointment isn't confidential or sensitive information could be at risk. All telehealth providers in Philadelphia are required to use HIPAA-compliant software for telehealth platforms to ensure patient information is kept private and secure.

Any older Philadelphian who is enrolled in Medicaid can call CBH Member Services any time at 1-888-545-2600 to speak with a live person. You can visit cbhphilly.org for additional information.
---
Mental health resources
The first step in seeking a diagnosis or treatment for a mental health concern is to find a provider.
For an immediate mental health crisis, call 988 for the National Suicide and Crisis Hotline or the Philadelphia Crisis Line at 215-685-6440. If there is a danger to oneself or others, call 911.
Any older Philadelphian who is enrolled in Medicaid can call Community Behavioral Health Member Services any time at 1-888-545-2600 to speak with a live person or visit cbhPhilly.org/members for additional information.
The Livewell Foundation offers free peer support and video-based support groups for depression. Learn more by visiting livewell-foundation.org or call 267-530-3739.
The National Alliance for Mental Illness in Philadelphia offers resources for specific needs such as support groups and mental health information. Visit https://namiphilly.org/resources/local-resources or call 877-PHL-HOPE Monday through Friday 9 a.m. to 4 p.m. to learn more.
Psychology Today has a therapist directory that allows you to filter by condition, gender, insurance, and more. Visit PsychologyToday.com and click "Find a Therapist" to search for providers by city or ZIP code. From the search
results, you can select "Elders (65+)" to locate providers in your area that specialize in working with older adults.
---
Mary Anna Rodabaugh is a writer, editor and writing coach.