Recipe Box: Try these healthy comfort foods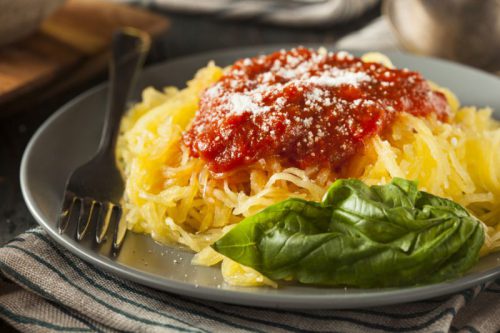 As we ring in 2021, the new year is often celebrated as a time for fresh starts and new beginnings. It is also the time to break out those resolutions. If you're looking to kick-off the new year with a healthy start, Milestones has a couple recipes to get you started. This month, we're featuring some classic, hearty dishes that are perfect to enjoy during the winter. Although filling, both dishes are low in calories, but packed with healthy nutrients.
---
SPAGHETTI SQUASH & MEATBALLS
Ingredients:
1 medium spaghetti squash (about 2 lbs.)
Kosher salt
3 tbsp. extra-virgin olive oil, plus more for brushing
2 stalks celery, chopped
1 medium carrot, roughly chopped
1 medium onion, roughly chopped
6 cloves garlic
1 cup fresh parsley leaves
1 lb. ground beef
1 lb. ground pork
2 large eggs
1 cup Italian-style breadcrumbs
1 cup, plus 3 tbsp., grated parmesan cheese
2 cans (28 ozs. each) tomato puree
2 large sprigs basil
1 tsp. dried oregano
Directions:
Preheat the oven to 425 degrees. Halve the squash lengthwise and scoop out the seeds. Sprinkle the cut sides with ½ tsp. salt and brush both sides with olive oil. Put the squash, sliced-side up, in a baking dish and cover tightly with aluminum foil. Roast 20 minutes, then uncover and continue roasting until the squash is tender, about 35 more minutes.
Meanwhile, make the meatballs. Brush a baking sheet with olive oil. Pulse the celery, carrot, onion, garlic and parsley in a food processor to make a paste. Transfer half of the vegetable paste to a bowl. Add the ground beef, ground pork, eggs, breadcrumbs, 1 cup parmesan and 1 tsp. salt. Mix with your hands until just combined. Form into about 24 two-inch meatballs. Transfer to the oiled baking sheet. Bake until firm but not cooked through, about 10 minutes.
To make the sauce: Heat 3 tbsp. olive oil in a large pot over medium-high heat. Add the remaining vegetable paste and cook, stirring occasionally, until it looks dry, about 5 minutes. Stir in the tomato puree; rinse each can with 1 cup water and add to the pot. Stir in the basil, oregano and 1 ½ tsp. salt. Bring to a simmer, then add the meatballs and simmer until the sauce thickens and the meatballs are cooked through, 15 to 20 minutes. Remove the basil.
Use a fork to scrape the spaghetti squash flesh into strands. Transfer to a large bowl and toss with 2 tbsp. grated parmesan. Season with salt. Divide the squash among bowls and top each with meatballs, sauce and the remaining parmesan.
NOTE: This recipe makes extra sauce and meatballs. Let cool completely and then freeze in a storage container for up to one month.
---
LEMON-GARLIC SHRIMP & GRITS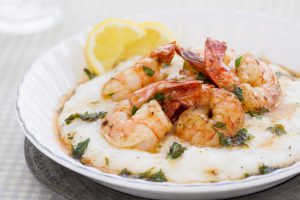 Ingredients:
¾ cup instant grits
Kosher salt and freshly ground black pepper
¼ cup grated parmesan cheese
3 tbsp. unsalted butter
1¼ lbs. medium shrimp, peeled and deveined (tails intact)
2 large cloves garlic, minced
Pinch of cayenne pepper (optional)
Juice of ½ a lemon, plus wedges for serving
2 tbsp. fresh parsley, roughly chopped
Directions:
Bring 3 cups water to a boil in a medium saucepan over high heat, covered. Uncover and slowly whisk in the grits, 1 tsp. salt and ½ tsp. black pepper. Reduce the heat to medium low and cook, stirring occasionally, until thickened, about 5 minutes.
Stir in the parmesan and 1 tbsp. butter. Remove from heat and season with salt and black pepper. Cover to keep warm.
Meanwhile, season the shrimp with salt and black pepper. Melt the remaining 2 tbsp. butter in a large skillet over medium-high heat. Add the shrimp, garlic and cayenne, if using. Cook, tossing, until the shrimp are pink, 3 to 4 minutes. Remove from heat and add 2 tbsp. water, lemon juice and parsley. Stir to coat the shrimp and season with salt and black pepper.
Divide the grits among shallow bowls, then top with the shrimp and sauce. Serve with lemon wedges.
---
Source: The Food Network