Recipe Box: Spring is here! Spend more time outdoors and less time in the kitchen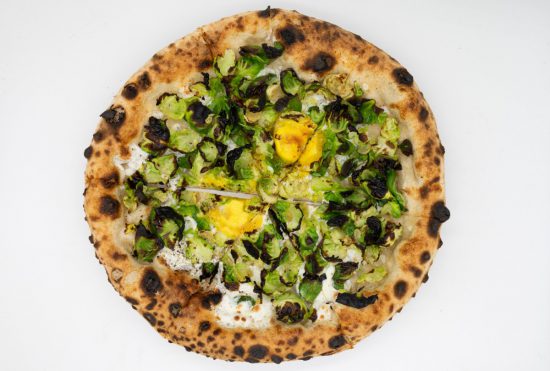 As spring rolls around to the Philadelphia area, there is plenty to do outdoors in a safe, socially distant setting. To maximize your time spent outdoors instead of in the kitchen, this edition of Recipe Box presents this spring-friendly meal that can be completed in 35 minutes or less. Not only will you be happy for the extra free time, but this quick recipe will also save you time running your oven or stove on those warmer days.
BALSAMIC BRUSSELS SPROUTS BACON PIZZA WITH FETA

Ingredients:
Pizza dough (enough to yield a 11×14-inch pizza)
4 slices bacon, cooked
1 tbsp. olive oil (plus 1–2 tablespoons additional for brushing the pizza)
¾ lb. Brussels sprouts, stems removed and thinly sliced
¼ tsp. kosher salt
3 tbsp. balsamic vinegar
2 tsp. minced garlic (heaping, about 3 cloves)
¼ tsp. red pepper flakes
2 cups mozzarella cheese, freshly grated
½ cup crumbled feta cheese
Directions:
Preheat the oven to 450 degrees. Heat 1 tablespoon olive oil in a large skillet over medium-low, then add the Brussels sprouts and salt. Cook just until beginning to soften, about 6 minutes, then add the balsamic vinegar. Cook 1 minute, until the vinegar disperses, then add the garlic and red pepper flakes. Cook 1 additional minute, then remove from heat and set aside.
On a lightly floured surface, roll the pizza dough into a 11×14-inch rectangle, working from the center. If the dough bounces back, simply let it rest a minute, then roll again. Line a large baking sheet with parchment paper or dust with cornmeal. Transfer the dough to the baking sheet, then brush the surface of the dough all over with olive oil. Layer ½ the mozzarella cheese, sautéed Brussels sprouts and remaining cheese on the dough, and sprinkle the bacon and feta on top. Bake the pizza until crisp and golden, about 12 minutes. Remove from the oven and let cool for 2 minutes, slice then serve.
(Source: Well Plated)