Flying out of Philadelphia International Airport: What you should know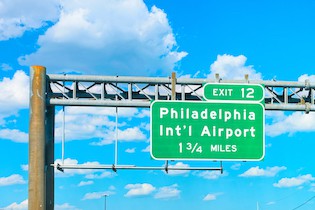 By Shannon Reyes
The bags are packed, the resort is booked and you're ready to go. While a good bit of time can go into planning a vacation, seldom does the same consideration go into getting to your destination. There are a number of factors for seniors to consider when flying. In particular, medical concerns and physical limitations may impact one's ability to navigate the airport and airline screening process. There's also planning for traveling with assistive devices, medical equipment and even furry companions, which are becoming more common on trips.
"In addition to service animals, there has been a rise in the number of emotional sup- port animals," said Diane Gerace, public affairs director of Philadelphia International Airport. "For our passengers' convenience, we offer pet relief areas to serve them both inside and out."
For those who are looking to travel out of Philadelphia International Airport, there are several special accommodations available to older adults, adults with disabilities and those with medical concerns. These accommodations are available to the public but in some cases require notice prior to the date of travel.
Airport amenities
With one of its stated values being "people first," Philadelphia International Airport offers several amenities for those with special needs.
Companion care restrooms provide extra space so that family members or other
individuals traveling together can assist
each other.
A way finding app for visually impaired travelers allows passengers that are partially or fully visually impaired to navigate the airport with greater ease through a downloadable app. "Aira- Visual Info on Demand" allows passengers to connect with agents who act as "visual interpreters" by viewing the passenger's surroundings through their smartphone camera and interacting with the passenger.
Animal relief stations provide artificial grass areas located throughout the air- port that allow service and emotional support animals to relieve themselves prior to boarding or after a flight. Stations are located inside each terminal, outside baggage claims and on Departures Road.
Security screenings
All passengers must complete a security screening by the Transportation Security Administration (TSA) prior to boarding any flight. The following accommodations are available to older travelers and those with medical conditions.
The screening: Passengers 75 and older are allowed to keep their shoes and a light jacket on during the security screening. If an alarm is triggered, then the passenger may be submitted to further screening or a pat-down, but he or she can request to be seated during this process. Passengers who are unable to stand for screening will be screened using alternative methods.
Medical/disability notification card: For those with medical considerations, a TSA notification card is provided online. Passengers can print out this card and present it to a TSA agent prior to their screening so that the agent is aware of the medical concern and can provide the necessary accommodations.
Passenger support specialist: A passenger support specialist can be requested through the helpline (see below) or through a TSA officer or supervisor. The specialist is a trained TSA security officer that can assist with a variety of needs that may arise during screening, including helping with language barriers and special needs and providing emotional support.
TSA Cares helpline: Passengers can call the helpline at (855) 787-2227 up to 72 hours prior to their departure to discuss screening policies and procedures.
American Airlines
In addition to considerations offered by Philadelphia International Airport and TSA, many other services are offered to older adults or people with disabilities through each individual airline. American Airlines, which accounts for 70% of flights departing from and arriving to the airport, offers several accommodations for passengers who need them. All services can be requested online at the time of booking or by contacting Special Assistance at (800) 433-7300.
Mobility assistance: Attendants and wheelchairs are provided for those with limited mobility. Additionally, "arm assistance" is offered for those who may be
visually impaired and require guidance through the airport by grasping the arm of an attendant.
Non-traveling gate passes: Individuals can be granted a non-traveling gate pass in the event that they are accompanying an older adult, a person with disabilities or a person who requires language sup- port. This provides the accompanying individual access to ensure they can assist the passenger through the onboard- ing process.
Priority boarding: This is available to those who may need extra time to get seated, including older adults, as well as those with disabilities, medical conditions and service animals. Those who require wheelchair or arm assistance are also given priority boarding.
When traveling through Philadelphia International Airport, it is important to communicate any special needs. Those who have concerns can call to address them prior to flying.
"American Airlines works with all customers, regardless of ability, from curbside to boarding, to ensure their needs are being met," American Airlines spokesperson Andrew Trull said.
***
More information on Philadelphia International Airport can be found at www.phl.org. Passengers with questions may call the airport customer service number at 215-937-6937 or email contactPHL@phl.org.