A vibrant mix of friends, family gather at Northern Living Center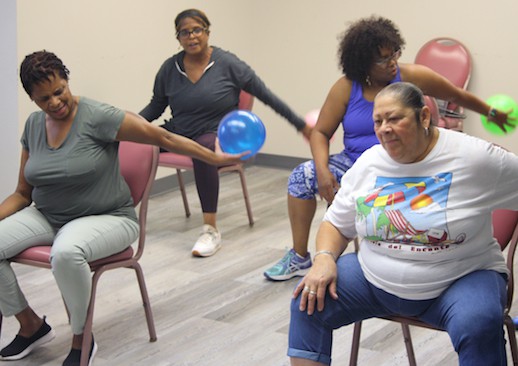 By Michael Hanisco
Northern Living Center is open and thriving in the Northern Liberties section of Philadelphia. Seniors in the community are invited to come and check it out!
Luciana Boone, senior center director, and Joan Hardaway, executive director of North City Congress, the nonprofit organization behind the center and several other community outreach programs in North Philadelphia, spent nearly a year looking for a new location.
The center was previously housed in a small, historic building on North Broad Street that did not allow for expansion or growth.
After a long search, Northern Living Center opened at its current location at 827 N. Franklin St. in December 2018. Barely eight months at its new home, the center is already a vibrant hub of activity for members old and new. That positive energy is something that both Boone and Hardaway kept referencing during a recent conversation with a Milestones reporter.
"You make the building, you make the senior center," said Boone, referring to the seniors that come to Northern Living Center. "Bring in that energy so we can have something that's vibrant."
Hardaway, who had just returned from a 10-day trip to Greece and Venice, Italy with a group of 14 seniors from the center, echoed that sentiment. With their bags barely unpacked, the group of active seniors had already begun brainstorming where they would be exploring next summer, she said.
In the meantime, the members at Northern Living Center have plenty to do to keep them occupied stateside. "We definitely have a long list of things for members to participate in here, and go on local trips [around] here, also," Boone said. "We go to all of the malls and most of the supermarkets, so they can also do the things they need to do in the area."
The center is offering a trip to historic Cowtown Farmers Market in Pilesgrove, New Jersey, in October and plans to host a lobster feast later in the month. Boone said they're trying to give older adults the opportunity to do all of the things they want to do.
The new location is better equipped to handle a wide variety of activities at once, with three floors of space dedicated to the center and a fourth to administrative offices. A large, multi-purpose basement houses a state-of-the-art theater room, two billiards tables, and an arts and crafts room.
On the first floor, members gather in the cafeteria to socialize and keep their minds sharp with word
puzzles and card games between meals. The second floor contains a modern exercise room and a multi-
purpose room that hosts an array of classes, clubs and meetings.
Speaking with the members gathered in the bright cafeteria, the energy that Boone and Hardaway referenced was readily apparent. "This is the best center in the city," asserted member Mamie Jacobs, between hands of a quick-moving card game with Rose Jones, Regina Maxwell, Evelyn Taylor and Julia Oles.
The friends, who met at the center, bantered playfully as they talked about what brought them to Northern Living Center. All of them mentioned the monthly trips and the ability to remain active as their main motivators for coming back.
Inez Moore, 80, started coming to the center's old location in 2001 when she retired. She now comes to the new center on Tuesdays and Thursdays and usually stays all day. She cited the people and activities offered at Northern Living Center as her reasons for visiting. Line dancing, she said, is still her favorite activity, despite starting dialysis recently.
When asked about why people might be reluctant to visit a senior center, Moore speculated: "They think it's for old people. But I wouldn't want to stay at home all day."
Where older adults connect
Northern Living Center, located at 827 N. Franklin St., is a division of North City Congress. The center is open each weekday from 7 a.m. to 4 p.m., the third Thursday of each month from 7 a.m. to 7 p.m., and the second Saturday of each month from 8 a.m. to noon. Popular activities include Monday Munchies, weekly trips, games of Pokeno or SkipBo, Chat & Chew, Throwback Thursday, Jazzercise, and Move Like Water. The center also serves as the In-Home Support Program site for North Philadelphia.
For more information, stop by the center, call 215-978-1389 or go to NorthernLiving.org.