Volunteering for Haiti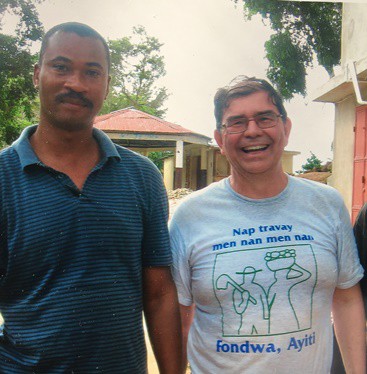 By Constance Garcia-Barrio
In 1994, with years of social activism under his belt, Ray Torres joined a delegation from the First United Methodist Church of Germantown (FUMCOG) as a volunteer to aid Fondwa, a village in southern Haiti. Led by the vision of "Father Joseph" Phillipe, a Haitian Catholic priest, Torres became a key member of the group that helped to raise seed capital to start a bank, Fonkoze. "The bank provides micro-loans to the organized poor in Fondwa," says Torres, a retired psychiatric social worker. "Fonkoze began with one office and three employees and has grown to 46 branches nationwide and 230,000 members."
Torres' volunteering helped Haiti's economy, and also played a part in the country's environmental health. In 1997, Torres co-led a delegation from Witness for Peace, a national grassroots organization of people committed to nonviolence, to lobby for proper disposal of toxic Philadelphia incinerator ash illegally dumped in Haiti. "We collected samples and held rallies," he says. "It took years of lobbying, but finally the ash was removed and returned to the U.S."
Among other obstacles to progress, Haiti faces a "brain drain." "Only one percent of Haitians attend college, and of that one percent, only 15 percent stay in Haiti," Torres says. He served on the board of Partners in Progress, a U.S. nonprofit organization instrumental in establishing the University of Fondwa in 2004, the 200th anniversary of Haiti's founding. Haiti's first university to focus on rural needs, the school offers degrees in agronomy, the science of soil management and crop production; veterinary medicine; and business administration.
Torres stepped forward again after the Haitian earthquake of 2010, which destroyed much of what Phillipe had accomplished. "The earthquake hit Fondwa very hard," he says. "It leveled a school and the university." As co-chair of FUMCOG's Haiti Committee, Torres worked with Haitian neighbors in Philadelphia to help rebuild the island nation. Members of the committee donated their own funds and helped to raise money from other sources to meet the need for food, potable water and shelter.
Fondwa had just begun recovering from the earthquake when Hurricane Matthew struck in 2016. "The storm leveled many homes in Fondwa," Torres says. "FUMCOG raised over $20,000 to help in the rebuilding effort."
Torres has felt great satisfaction in helping Fondwa. "Father Joseph's vision of economic democracy in Haiti has motivated me to stay involved, and I've come to see him as the Martin Luther King of Haiti," Torres says. Torres' years of volunteer work also have led to an unexpected treasure: He met fellow FUMCOG member Eileen Gilkenson, now his wife of eight years, through their mutual interest in Haiti.
***
More information about grassroots initiatives to foster socio-economic development across rural Haiti is available at RaisingHaiti.org.
CAPTION: Ray Torres (right) worked with Haitian leader Herault Beauvais as part of his volunteer efforts in Fondwa, Haiti. (Photo courtesy of Ray Torres)