Travel abroad at any age, but with caution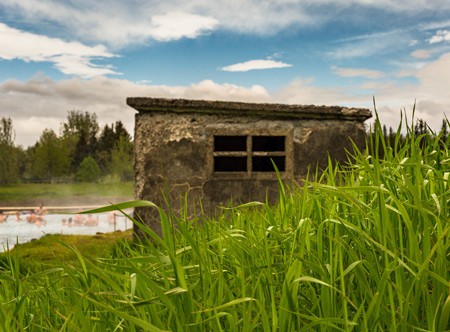 by Constance Garcia-Barrio
International travel requires more than a hop, skip and a jump down the jetway. Few things top the excitement of traveling abroad, but it means physical and psychological stress. Even winding through security lines at the airport can test us as we age.
"Travel's fun, but your diet and sleep patterns change," said Matthew Behme, M.D., chair of internal medicine and geriatrics at Einstein Medical Center of Philadelphia. "And there's also the anxiety of making connections and flight delays."
Earlier this year, after I'd had knee replacement surgery and finished physical therapy, I felt ready for the risk. I had heard about the Iceland Writers Retreat, to be held in April, and wanted to test myself with solo travel.
Be prepared
At 71, I seized the opportunity to travel abroad but approached it with careful planning and caution. I bought trip insurance, but next time around I'll purchase health care coverage, too. Medicare generally doesn't cover medical care abroad.
Behme, the geriatrician, also suggests a pre-trip physical. "Make sure that your doctor knows about your travel plans so he or she can make sure you're up to date on vaccinations. Your doctor can also take chronic conditions into account. Say you have chronic obstructive pulmonary disease.  If you have multiple conditions or you're visiting a developing nation, consider consulting a specialist in travel medicine," he said.
I packed a small emergency kit to prepare for minor ailments that may arise while traveling: aspirin; hand wipes; antibiotic ointment; bandages; and medication for constipation, diarrhea and colds. I packed prescriptions in their original containers to avoid hassles with customs and airport security, then stowed the kit in my carry-on, under my seat.
The flight itself can bring problems. "A man two seats away kept coughing," said retired librarian Audrey Roll, 65, who flew to Australia in February. "I caught his cold. Next time I'll carry cough drops to offer anyone coughing near me. I'll also carry towelettes to wipe down the seatbelt and tray table."
Get moving
My itinerary first took me to New York's JFK airport, where I had a three-hour layover that allowed me time to make the connection, read and walk around for exercise. I landed in Reykjavik after a five-hour, red-eye flight.
Roll, on the other hand, had a grueling journey: Almost 7 hours to Los Angeles, then 22 hours to Melbourne, Australia. That continuous flying would have exhausted most people. "Next time, I'll break it up with a stop in Fiji," she said. A layover or time in a transit hotel, available in larger airports, can provide much needed rest for international travelers.
Even on my relatively short flight, twinges in my new knee reminded me to get up and move on the plane. "It's important on extended flights to promote good circulation," Behme said. However, Roll caught flak from a flight attendant when she moved around. "You may have to be a little insistent, but your health's at stake," she said.
Roll wound up with the traveler's trifecta: jetlag, a cold and diarrhea. Her travel-related illness left her leery of airplane food. "It contributed to my diarrhea," she said. "For the return trip, I bought fruit and a sandwich in the airport."
Behme advises caution with airplane food for a different reason. "Lots of preserved foods have sodium," he said. "It can affect people prone to fluid retention. Buying food in the airport gives you more choices." Some airlines can accommodate dietary restrictions on international flights. Call at least 24 hours ahead to make special food requests.
Enjoy the trip
After arriving at your final destination, take time to explore – within your limits – the gifts the country has to offer. Iceland gave me many rewards for daring to visit. At the Handknitters Association, I bought a sweater of fabled Icelandic wool. I chose one in the wool's natural color, like dry sand, with a yoke of eight-pointed stars of dark green and brown.
I took tours over miles of black lava fields and ice-crowned mountains. I bathed in the Secret Lagoon in Fludir and emerged with velvety skin. I saw geysers, glaciers, volcanoes and boiling springs. At one of them, our guide hard-cooked eggs for us by lowering them in a wire basket into the water. No wonder producers of "Game of Thrones" shot scenes in this dramatic terrain. I went to an adult story hour at the hotel where I was staying and heard traditional tales of elves and trolls.
Along the road I glimpsed tiny houses built so that elves could live there, and I heard that Iceland's engineers consult "elf experts" before routing new highways, lest angered elves and trolls cause trouble.
The writers retreat featured workshops led by an array of prize-winning writers from all over the globe and included a wine and cheese reception with Iceland's president, Guoni Th. Johannesson, at his residence near Reykjavik.
Any disappointments? Yes. I was exhausted after one full-day tour, so I missed the guided literary tour of Reykjavik, and a trip to see the Northern Lights was canceled due to cloudy weather. Still, I tested myself by climbing 200 feet up Oskjuhlio Hill, a landmark and observatory at the center of Reykjavik that's known for having the best view of the city. Through it all, I tested my new knee – and it passed.
Tips for traveling abroad
Stay well hydrated. Dehydration can cause weakness and fatigue.
Ask your doctor if you should take low-dose aspirin or wear elastic stockings to help avoid blood clots while flying.
Consider packing cushioned insoles and other foot care products.
Wherever you go, ask if there's a reduced entrance fee for seniors.
To help avoid an accident if there's a line to use the bathroom at the airport or when sightseeing, wear a sanitary napkin or incontinence pad.
If you request assistance from the airline when you return to the U.S., you'll have help going through customs and finish much faster. Request and confirm assistance well in advance.
Thwart thieves by wearing a money belt. One option is to have a "dummy wallet" with only a little money to hand over if you're robbed.
Join AAA, even if you don't drive. It provides information about travel, passports, visas, advisories and other travel-related information.
O'Hare, JFK, San Francisco and other large airports have yoga rooms, an excellent way to relax during your trip.
CAPTION: Seniors can enjoy the pleasures of international travel at any age. Iceland, where this writer visited, is known for its natural hot springs, which are located in idyllic settings. (iStock)