Seniors managing alone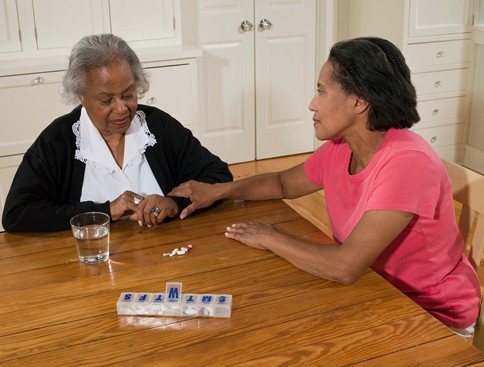 Maybe it's the empty refrigerator. Or the unopened mail piling up. Or a crisis – like a fall and a broken bone. There can be many signs that a senior can no longer manage alone.
Ideally, families should have proactive conversations about care planning well before the need is there. Questions like, "What would be your preference if you could no longer care for yourself?" and "Where do you see yourself living when you get older?," can help get the conversation started. Unfortunately, many elders and their families wait until a health crisis occurs and ignore the warning signs that precede it.
"It's often hard for parents to admit that they need help, and no one wants to lose their independence," said geriatric psychologist Melissa Henston. "But daily living tasks sometimes get to be too much as we age, and it's important for family members and loved ones to step up and address the problem when this happens – even if it is painful. The problems will not go away and usually need to be addressed in a timely manner."
Physical evaluation
When problems become apparent, a first step to address them is to have a physician evaluate physical health that may be impacting function. A loss of sight, hearing or memory; confusion; incontinence; and depression may be due to treatable conditions, experts say.
Assessment         
A level-of-care assessment can help to identify medical, psychological, social and functional limitations of a frail older person. Assessors provide referral to educational and community resources to maximize overall health, safety and quality of life.
Philadelphia Corporation for Aging (PCA) is a local resource offering this service. Agency assessors conducted more than 35,000 level-of-care and needs assessments last year.  Assessors typically evaluate an elder's ability to perform basic self-care tasks, such as eating, toileting and bathing; and his or her ability to perform higher-level activities needed to live independently, such as managing money and finances, preparing meals, shopping for groceries, using the telephone, and taking medication as prescribed. They also look more holistically at a person's home environment, including conditions that pose safety hazards, and social connections, especially family dynamics and support.
Assessors determine whether or not the elderly person can continue to live independently and safely at home, and the level and type of care that is needed. Based on clinical and financial criteria, they recommend appropriate programs and services.
Accepting help  
While "living independently" is the term commonly used to describe aging at home, most older adults require at least some help as they age. Most of that assistance comes from family members, who provide the bulk of caregiving, according to the Family Caregiver Alliance. Unpaid assistance from family, friends and neighbors is considered informal support. Assistance can also include formal supports, such as paid in-home personal care, home health or housekeeping aides, supervised adult day programs, home-delivered meals programs, non-medical transportation, and other services
To move – or not  
According to AARP, nearly 90 percent of people older than 65 want to stay at home for as long as possible. Unless a parent has dementia or some other mental impairment, the decision is theirs to make, experts advise.
Dementia, which is progressive, often does or should precipitate a move for an elder who is living alone because it can imperil safety. According to the U.S. Administration on Aging, as of 2011, 13 percent of people with dementia living in the community were living alone. They were at high risk, the administration said, for self-neglect, malnutrition, injury, medication errors, financial exploitation, unmet care needs and nursing home placement.
While most older adults want to live at home as they age, there is no single prescribed way to do so, nor is remaining at home the safest or best path for every elder. Understanding the aging person's present care needs and anticipating future ones through medical evaluations and level of care assessments, knowing the financial resources available for care, and discussing the person's care preferences well before a crisis occurs can help to clarify decisions for appropriate care and housing as needs arise. In doing so, caregivers also need to be realistic about what they can and can't do to support the older person's wishes.
Senior and caregiver resources

AARP – Offers a caregiver resource guide, caregiving tips, tips for hiring a home care worker or an agency to provide in-home care, and more: 1-877-333-5885 or www.aarp.org.
Aging Life Care Association – Professional geriatric care management association: www.aging.lifecare.org. (Click on "Find an Aging Life Care Expert.")
Eldercare Locator – A public service of the U.S. Administration on Aging providing information and connection to services for older adults and their families. To find local programs and services: 1-800-677-1116 or www.eldercare.gov.
Family Caregiver Alliance – Information, resources and support for families caring for adults with chronic, disabling health conditions: 1- 800-445–8106 or www.caregiver.org.
Legal resources
Community Legal Services of Philadelphia – 215-981-3700 (Center City), 215-227-2400 (North Philadelphia) or www.clsphila.org.
Elderly Law Project, Temple University Beasley School of Law – 215-204-6887.
Philadelphia Bar Association Information and Referral Service – 215-238-6333 or www.philabarlawyers.com.
SeniorLAW Center: 215-988-1242 or www.seniorlawcenter.org.
Philadelphia Corporation for Aging (PCA)
PCA Helpline – Information and referral to aging services and supports, including scheduling level of care assessments, long-term care services, the Caregiver Support Program and more: 215-765-9040 (weekdays, 8:30 a.m. to 5 p.m.).
PCA's website, www.pcaCares.org – Offers an extensive list of senior service providers and caregiver resources.  You can also request assistance through the website.
Older Adult Protective Services – Investigates and responds to reports of elder abuse, neglect (including self-neglect), financial exploitation and abandonment: 215-765-9040 (available 24/7).
CAPTION: One of the signs that an older adult has trouble managing alone can be the inability to take medications correctly.