Celebrate nutrition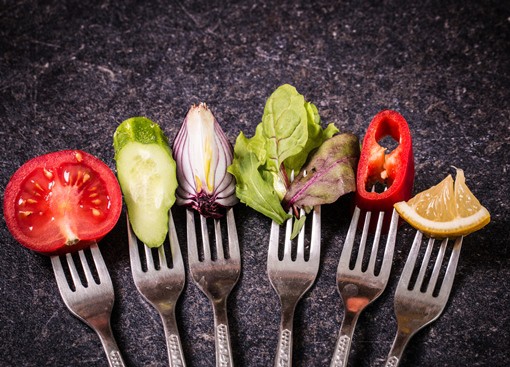 March is designated National Nutrition Month by the Academy of Nutrition and Dietetics to remind us about the importance of making informed food choices and developing sound eating habits. This year's theme, "Put Your Best Fork Forward," demonstrates that each of us holds the tool to make healthier food choices. Here are some recipes, courtesy of the academy, that give you tasty options for incorporating more fresh vegetables into your diet. For more recipes and nutrition resources, go to www.eatright.org.           
Carrot "fries"
(Serves: 4; serving size: ¼ of recipe)
These easy-to-make baked vegetable "fries" are a lighter and more nutritious alternative to French fries. Carrots have more antioxidants than potatoes, plus half the calories and carbohydrates.
Ingredients:
1 lb. of carrots
Cooking spray
Salt and pepper to taste
Directions:
Preheat oven to 400 degrees. Peel the carrots and cut into strips about ¼ inch thick and a few inches long. Coat a baking sheet with cooking spray and spread the carrots onto it. Sprinkle with salt and pepper.
Bake for 15 minutes. Flip the carrots over and coat with a bit more cooking spray, salt and pepper. Bake another 15 minutes until lightly browned.
Couscous tabbouleh with minted cucumber, tomato and bell peppers
A classic Middle Eastern salad, tabbouleh has become a Western favorite and a flavorful way to fit grains and vegetables into lunch or dinner. This fresh, tart salad is traditionally made with soaked, uncooked bulgur and fresh vegetables and herbs. You can use any grain ingredient you have on hand, such as cooked and chilled couscous, quinoa or orzo, but whole-grain varieties are the healthiest options.
Ingredients:
2 cups cooked whole-wheat pearl couscous, chilled*
1 cup yellow and/or red cherry tomatoes, quartered
1 medium unwaxed cucumber, seeded, cut into ¼-inch pieces
⅔ cup chopped fresh flat-leaf parsley
⅔ cup chopped fresh mint
½ medium red bell pepper, seeded and diced
½ cup crumbled feta cheese
2 medium green onions, chopped
3 tbsp. fresh lemon juice
3 tbsp. extra virgin olive oil
1 tbsp. grated lemon peel 1 clove garlic, minced
¼ tsp. kosher salt, or to taste
⅛ tsp. freshly ground black pepper, or to taste
Directions:
Put the couscous, tomatoes, cucumber, parsley, mint, bell pepper, feta cheese and green onions in a large bowl.
In a separate bowl, whisk lemon juice, olive oil, lemon peel and garlic. Season with salt and pepper. Pour over couscous mixture; toss gently to coat.
*To cook pearl couscous, simmer 1 cup couscous in 1¼ cups water, covered, for 10 minutes. Pearl couscous, also called Israeli couscous or "ptitim," has a chewy, nutty flavor somewhat similar to barley. Compared with traditional couscous, the granules are larger, firmer in texture and less likely to clump. If pearl couscous is not available, use traditional couscous.
Braised red cabbage with sweet apples and onions
Popular in cuisines of Central Europe, including the Czech Republic and Germany, braised red cabbage seasoned with caraway seeds is a traditional and popular side dish. Its sweet-sour flavor complements roasted chicken, pork loin and root vegetables. Bringing health and flavor together, red cabbage adds to the rainbow on your plate, delivering antioxidant benefits. The apples in this recipe add sweetness and are available as Pennsylvania-grown produce year-round through cold storage.
Ingredients:
1 tbsp. canola oil
1 medium red onion, thinly sliced
1 small head red cabbage, cored and shredded (about 4 cups)
2 sweet apples (such as Fuji, Gala or Jonagold), cored and cubed
2 tbsp. packed brown sugar
½ cup apple juice
2 tbsp. red wine vinegar
2 tbsp. caraway seeds, toasted
1 bay leaf
½ tsp. salt
⅛ tsp. freshly-ground pepper
Directions:
Heat the oil in a large saucepan over medium heat. Add the onion; cook, stirring, for about 5 minutes until the onion softens and becomes translucent.
Stir in the cabbage and apples. Cook just until the cabbage wilts, 3 to 5 minutes.
Combine the brown sugar, apple juice and red wine vinegar in a small bowl and then stir the mixture into the cabbage and apples. Add the caraway seeds and bay leaf. Mix well.
Bring the cabbage-apple mixture to a boil. Cover; reduce heat to a simmer, cover, cook for 20 to 25 minutes until the cabbage is tender.
Season with salt and pepper. Before serving, remove the bay leaf.
 Notes: Toasting the caraway seeds brings out the aroma. To toast, put seeds in a small, heavy, dry skillet over medium heat. Shake the skillet frequently for 1 to 2 minutes. Allow to cool. You can substitute 5 whole cloves for caraway seeds, if desired; remove before serving.