Find ways to be active, involved during Older Americans Month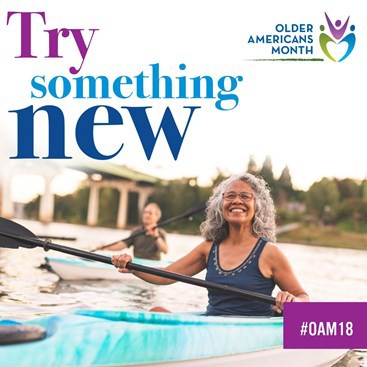 For 55 years, Older Americans Month (OAM) has been observed to recognize older Americans and their contributions to our communities. Led by the Administration for Community Living's (ACL's) Administration on Aging (AoA), this celebration each May offers an opportunity to hear from, support, and celebrate our nation's elders. This year's OAM theme, "Engage at Every Age," emphasizes the importance of being active and involved. You are never too old (or too young) to participate in activities that can enrich your physical, mental, and emotional  well-being.
Across the country, older Americans – a rapidly growing population – are taking part in activities that promote wellness and social connection. They are sharing their wisdom and experience with future generations, and they are giving back to enrich their communities. They're working and volunteering, mentoring and learning, leading and engaging.
Here are some ways older adults in our area can engage through various community activities during OAM and beyond in many instances:
Enjoy PCA's Celebrate Arts & Aging: This is the 16th year for the annual arts festival, presented during May. It features three exhibits of outstanding artwork by older adults and helps to connect older adults to cultural opportunities. Visit the exhibits, meet the artists at special receptions and enjoy art classes at your neighborhood senior center. Take advantage of free and discounted admissions that are available at the Philadelphia Museum of Art, the Rodin Museum, and other arts and cultural venues.
Check out the calendar in the May issue of Milestones, PCA's monthly newspaper for older adults. It features a variety of  interesting events, including a fitness fiesta, line dancing, mah jongg and more (pages 10-11). Milestones is available online and at libraries, senior centers, senior housing facilities and conveniently located news boxes through Philadelphia.
PCA's online events calendar allows you to search for an activity by category and then by location, date, and more.
Volunteer. During OAM and year-round, RSVP Philadelphia, Serve Philadelphia and the United Way of Greater Philadelphia and Southern New Jersey can help  connect you to volunteer opportunities.
And, join ACL and AoA in celebrating by participating the Selfie Challenge! They want to see how you're engaging. Simply take a selfie (or have someone take your photo) and tweet it with the hashtag #OAM18.