HIV diagnosis, treatment a challenge for older Americans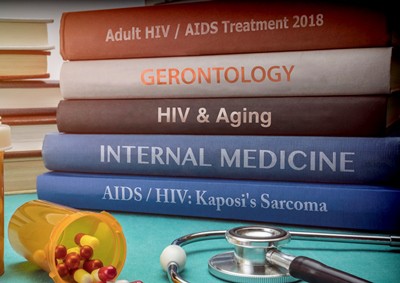 Older Americans face unique challenges when it comes to HIV prevention and treatment. While the likelihood of contracting HIV is about the same for all sexually active adults, older people are more likely to have late-stage HIV infection at the time of their diagnosis, according to the Centers for Disease Control and Prevention (CDC). Early detection and diagnosis of HIV is crucial to successful treatment. A late diagnosis increases the potential for immune system damage, putting patients at increased risk for other illnesses and even death.
The CDC points to a number of reasons why older Americans are diagnosed with HIV at later stages than younger people. For one thing, health care providers may not test older patients for HIV infection at the same rate as younger patients. In addition, older people may not consider themselves at risk for infection or may mistake early HIV symptoms, such as fatigue or mental confusion, as a normal part of the aging process.
Older patients may also be reluctant to speak to health care providers about their sex life and drug use. It is important for older adults who may be at risk for contracting HIV to talk to their health care providers openly about their sexual habits. In turn, health care providers should ask questions about their patients' habits and clearly communicate the risk factors and warning signs of HIV, according to the CDC.
Living with HIV
Older adults who are infected with HIV face the additional challenge of preventing other diseases. Both age and HIV increase the risk for cardiovascular disease, bone loss and certain cancers. Older HIV patients must remain on the lookout for early warning signs of these and other illnesses, as their immune systems may not be strong enough to fight them off.
It's important for health care providers and older patients to communicate openly and consistently to ensure there are no negative interactions between HIV medications and those used to treat other chronic health conditions, including high blood pressure, high cholesterol and diabetes.
Resources are available online for seniors to learn more about HIV/AIDS. Action Wellness is a nonprofit organization serving the Greater Philadelphia area that offers a welcoming atmosphere to get information on many chronic illnesses, including HIV/AIDS. Seniors can learn more about HIV/AIDS risk factors, access resources for living with HIV/ AIDS and find a test site in their community by visiting actionwellness.org or calling 215-981-0088.