Helping African and Caribbean immigrant seniors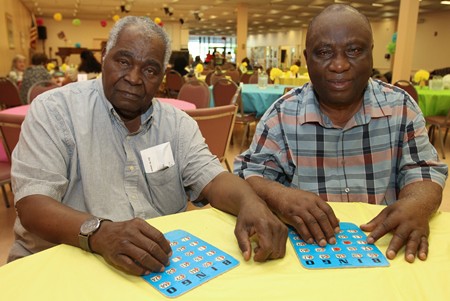 By Marcia Z. Siegal
African-born elders, as well as those who immigrated from Caribbean nations like Haiti, Jamaica and the Dominican Republic, are two of Philadelphia's fastest growing segments of foreign-born seniors, according to the 2016 American Community Survey. Together, these groups comprise 22 percent of the city's older immigrant population. A third of African elders and 23 percent of Caribbean elders lack proficiency in English. Nearly a third of both groups have one or more disabilities. More than a fifth are low-income.
Knowing that the African and Caribbean immigrant populations rank among the city's most vulnerable older adults, Philadelphia Corporation for Aging (PCA) is intensifying its efforts to reach out to them and to identify and address their needs.
 A new collaborative
PCA has facilitated a new collaboration with leaders from the African and Caribbean communities in both Philadelphia and Delaware counties. Launched in 2015, the African and Caribbean Elder (ACE) initiative includes representatives of more than 30 groups serving elders from these communities. Its major goals are to connect older African and Caribbean adults to opportunities and services that will reduce isolation and depression, to introduce those older adults to health resources that will combat chronic conditions, such as diabetes and hypertension, and to increase participants' awareness of resources and enhance their ability to access needed information and services.
The Rev. John K. Jallah, who came to the U.S. as a Liberian refugee in 1997 and helped to establish the Agape African Senior Center 18 years ago, participates in this effort. "African and Caribbean elderly immigrants are challenged linguistically culturally, socially and economically," Jallah said. "In America, these elders are like 'fish out of water,' unable to relate. It is impossible for them to adjust without adequate help. They need an effective, culturally sensitive outreach that will enable them to know what they need to know to age well in Philadelphia."
In Philadelphia, the ACE collaboration has helped to inform its members about PCA services and to advise PCA of how to most effectively reach out and meet the needs of African and Caribbean seniors in the city.
Grassroots efforts
PCA's Community Relations Department targets underserved minority populations on the grassroots level, developing advisory collaborations with community leaders and stakeholders and overseeing an outreach program that responds to requests for PCA participation in community health fairs and other events, including many in minority and immigrant neighborhoods.
Sandra Lawrence, the department's interfaith outreach coordinator, helps to spearhead the department's outreach to African and Caribbean elders through ACE, as well as through PCA's Clergy-Aging Interfaith Coalition. Faith-based organizations serving African and Caribbean immigrant elders are part of the coalition.
Houses of worship are a strong part of immigrant traditions, Lawrence points out. Many African- and Caribbean-born seniors feel comfortable and welcomed in those settings and gravitate to congregations that their fellow immigrants attend. "They come not only to worship but for socializing," she said.
A 'second home'
Southwest Philadelphia is home to many of Philadelphia's African and Caribbean immigrants. Southwest Senior Center, a PCA managed senior center at 6916 Elmwood Ave., has become a regular gathering place for a number of them, including Haitian-born Marie Belfort. "I always encourage people I know to come," Belfort said. "I tell them the senior center can help you when you are getting old. It can help you keep busy and exercise and not dwell on your problems. You can do ceramics, help with gardening … If you have a bill you do not understand, you can bring it in and talk to the counselor. They receive you with joy here, and they give you food!"
Lemu Batapaye's relative brought her to the center two years ago. Since then, this shy Liberian immigrant has continued to come on her own. "When she first came she always kept her head down. She wouldn't look at anybody," remembers Samuel Oronto-Pratt, a native of Sierra Leone, who has befriended her at the center. But, increasingly, she has opened up. Batapaye sits with other African elders for the meal at lunchtime. She goes to Bible study and exercise class, plays bingo, and joins in musical activities. Other members at the center have reached out to her. She has picked up some English language skills by being there and says she no longer always has to depend on someone to translate for her when she ventures outside her immediate community. "Now she looks you in the eye, and she smiles," said Paulette  the center's director Paulette Cunningham. "She is finding her way."
Resources for African and Caribbean elders
The following resources are available to provide information, services and assistance to minority elders in Philadelphia:
Philadelphia Corporation for Aging (PCA), 642 North Broad St.; pcaCares.org; PCA Helpline: 215-765-9040 (Language interpretation service provided):
Africom (Coalition of African and Caribbean Communities – Philadelphia): 267-206 6633 or 215-816 8063; africom-philly.org
Agape African Senior Center: 229 N. 63rd St.; 215-667-1531
Multicultural Community Family Services, 7016 Terminal Square, Suite 1-A, Upper Darby; 484-461-8660 (Social Service Division); pkamara@mcfsorg.com
CAPTION: Samuel Oronto-Pratt and Moses Kamara, both natives of Sierra Leone, enjoy a game of bingo at Southwest Senior Center. (Photo by Paola Nogueras)