Former executive recreates self as 'dumpster diver'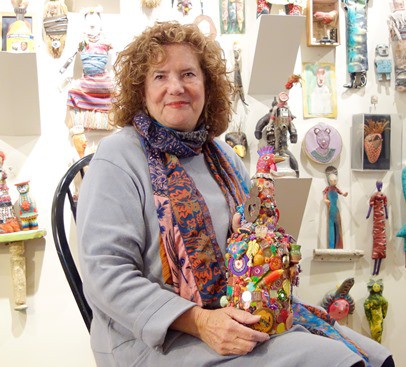 By Barbara Sherf
At 55, longtime Mount Airy resident Ellen Benson took a one-year sabbatical from her career in the banking industry, started taking art classes and got married for the first time. "I was tired of the pressure as VP of human resources and thought I'd just find a 'normal' job and pursue other interests," says Benson, now 70. During that year, the bank where she worked was sold and she exercised her stock options, deciding to pursue her love of art as a mixed-media and found-object artist.
Since them, she produced 600 "Dumpster Diva" figures made from found objects, papier-mache, clay and fabric. Her goal is to make 1,000 of them.
Benson belongs to the Dumpster Divers, a band of artists who meet monthly to brainstorm, plan exhibitions and trade materials for their art. This art is made from items donated; put out at the curb; scavenged from scrap yards, yard sales, and thrift shops; and found on the street.
She describes her Dumpster Diva figures as "a family, a friendship circle, a tribe."  "I see a bottle cap on the street and turn it into a diva's hat," she says. "Old paintbrushes can be used as legs, and cigar boxes are really little homes where my friends go to play and live."
Benson's work has appeared in magazines, a book, and dozens of exhibitions, including ones at City Hall and Philadelphia International Airport.
Following African art and Appalachian traditions, Benson also makes "memory jugs" from bottles and other vessels. She decorates them with trinkets including seashells, glass shards, jewelry, coins, mirrors and other visual reminders of a loved one.
"I did one for my Uncle Eddie, who was in the Navy during World War II," she says. "It's red, white and blue and has his dog tags, naval artifacts and little boats epoxied all over."
Benson credits her mentors, Susan Andrews and Carolyn Fellman, who used to exhibit at the Philadelphia Craft Show, with inspiring her and encouraging her distinctive artwork.
* * *
Benson houses much of her finished work at The Mill Studios in Manayunk. For more information, visit her online at inliquid.org, dumpsterdivers.org or unexpectedphila.com/portfolio. She can be reached at EllenBenson519@gmail.com.
CAPTION: Ellen Benson left her career in banking behind in favor of creating mixed-media and found-object artwork. (Photo by Barbara Sherf)