Enjoy farmers' markets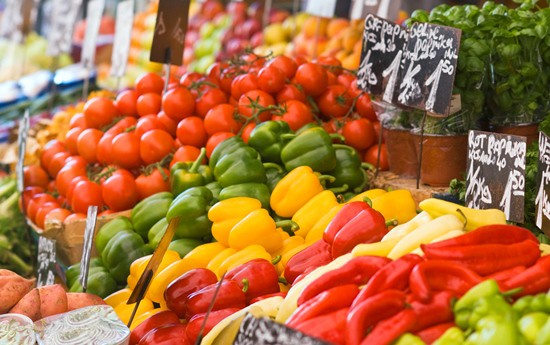 Having access to fresh food, which many of us take for granted, often goes hand-in-hand with positive health outcomes. But almost 40 percent of Philadelphia seniors 60 and older say the quality of groceries available in their neighborhoods is fair or poor, according to the Public Health Management Corpora­tion's annual Household Health Survey.
If you live in an area where access to fresh, quality and affordable food is limited, some­times called a "food desert," farmers' markets can provide a welcome source of fresh fruits, vegetables, herbs and other foods. This time of year, direct access to fresh, locally grown produce is at its peak. Philadelphia boasts dozens of farmers' markets in communities throughout the city, many of which opened for the season last month.
The Food Trust, which runs 20 markets across the city, is working to combat food scarcity by locating 80 percent of its markets in high-need, low-access neighborhoods. "We do a lot of work around improving ac­cess to affordable and nutritious foods," said Katy Wich, senior associate of the farmers' market program at The Food Trust. "If we can lower the number of blocks they need to walk or avoid the need to get on a bus to buy fresh food, seniors will eat healthier."
In addition to making fresh produce more readily available, most farmers' markets are also more economical than supermarkets or convenience stores. All of The Food Trust's markets and many other markets in the city accept Supplemental Nutrition Assistance Program (SNAP) benefits, formerly known as food stamps. For those who use an ACCESS card (an Electronic Benefits Transfer debit card) to purchase food through SNAP, the Food Trust's markets also offer an additional program. Through Philly Food Bucks, for ev­ery $5 spent on fruits and vegetables with the ACCESS card, customers receive a $2 coupon for additional produce. "It really helps low-income customers stretch their food budget," Wich said.
Low-income seniors can also take advan­tage of the Senior Farmers' Market Nutrition Program, which provides $20 in vouchers to purchase Pennsylvania-grown fruits and veg­etables.
Fresh is best
Buying produce from a farm stand is the next best thing to growing it yourself because the fruits and vegetables sold there have gen­erally been picked within the previous two days. "Because the produce is freshly picked, straight from the farm, you're getting the op­portunity to buy things with the highest nu­tritional content," Wich said. "When stored correctly, you're going to get a much longer shelf life out of produce that is picked at the peak of freshness."
Pennsylvania farmers and growers use cold storage, hydroponics (growing plants in wa­ter) and other methods to greatly expand the season of locally grown produce. That's why certain crops, such as mushrooms, apples and lettuce, are available year-round. While most farmers' markets close in the fall, some stay open all year, including locations in West Philadelphia at Clark Park, 43rd Street and Baltimore Avenue; Center City at Headhouse Square (Second and Lombard streets), Rit­tenhouse Square (18th and Walnut streets), Fitler Square (23rd and Pine streets) and the Reading Terminal Market (51 N. 12th St.); and Chestnut Hill at Winston Road and Ger­mantown Avenue.
Markets not only supply tasty produce, they also work to educate people on how to cook and enjoy the food. During the summer months, most Food Trust markets provide free cooking demonstrations. "Our cook­ing staff buys straight from the farmer. They wash, prep and cook it right in front of the customer," Wich said.
Market vendors tailor their wares to the cultural tastes of the communities they serve. For example, Wich said, greens are especially popular in African-American neighborhoods. In those communities, "seniors have been cooking collards and other greens all their lives. They are a traditional comfort food," Wich said. "In the Northeast and other Pol­ish neighborhoods, beets are a staple in tra­ditional cooking, while certain peppers and herbs are popular in Latino neighborhoods."
In addition to fresh produce, many mar­kets also sell a variety of canned items (in­cluding jams, preserves, fruit butters and pickled vegetables) that were made using lo­cal ingredients,
Whether you are looking for fresh spices and produce to complement your favorite dish or want to expand your cooking reper­toire, you will find a wealth of ideas, inspi­ration and fresh food at your local farmers' market.
* * *
For more information about farmers' mar­kets and the health benefits of fresh produce, go to FoodFitPhilly.org, farmtocity.org or TheFoodTrust.org.
Caption: Farmers' markets offer fresh-picked fruits and vegetables,usually at lower prices than grocery stores. (iStock)usually at lower prices than grocery stores.