Enjoy lighter comfort food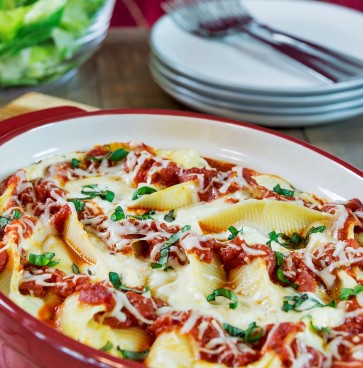 Comfort food makes us feel warm inside, often by conjuring treasured memories of our childhood or our mother's home cooking. But you don't need all the fat, sugar and carbohydrates often associated with such dishes to replicate that good feeling. By using a slow cooker, you can infuse dishes with flavor and enjoy the comforting aroma of home cooking wafting through your home for hours. Here are a few recipes that are packed with protein and fiber but not a lot of fat or calories.
Vegetarian chili
(Serves 4; serving size: 1½ cups)
Ingredients:
1 tbsp. vegetable oil
1 cup chopped yellow onion
1 cup chopped red bell pepper
2 tbsp. minced jalapeno pepper (optional)
1 clove garlic, minced
1 can (28 oz.) sodium-free stewed tomatoes, crushed
1 can (15 oz.) black beans, rinsed and drained
1 can (15 oz.) chickpeas, rinsed and drained
¼ cup tomato paste
1 tsp. sugar
1 tsp. ground cumin
1 tsp. dried basil
1 tsp. chili powder ¼ tsp. black pepper
Sour cream and shredded cheddar cheese (optional)
Directions:
Heat oil in large skillet over medium-high heat until hot. Add onion, bell pepper, jalapeno pepper (if using) and garlic. Cook and stir 5 minutes or until vegetables are tender. Transfer to slow cooker. Add remaining ingredients except sour cream and cheddar cheese; mix well.
Cover; cook on low for 4 to 5 hours.
Garnish with sour cream and cheese, if desired.
Note: Jalapeno peppers can sting and irritate the skin, so wear rubber gloves when handling peppers and do not touch your eyes.
Yankee pot roast and vegetables
(Serves 12; serving size: 1¼ cups)
Ingredients:
2½ lbs. beef chuck pot roast
Salt and pepper
3 unpeeled medium baking potatoes (about 1 pound), cut into quarters
2 large carrots, cut into ¾-inch slices
2 stalks celery, cut into ¾-inch slices
1 medium yellow onion, sliced
1 large parsnip, cut into ¾-inch slices
2 bay leaves
1 tsp. dried rosemary
½ tsp. dried thyme
½ cup 99% fat-free, reduced-sodium beef broth
Directions:  
Trim excess fat from beef and discard. Cut beef into serving-size pieces; sprinkle with salt and pepper.
Combine potatoes, carrots, celery, onion, parsnip, bay leaves, rosemary and thyme in slow cooker. Place beef over vegetables. Pour broth over beef.
Cover; cook on low 8 ½ to 9 hours or until beef is fork-tender.
Transfer beef to serving platter. Arrange vegetables around beef. Remove and discard bay leaves before serving.
To make gravy, ladle cooking liquid into 2-cup measuring cup; let stand 5 minutes. Skim off fat and discard. Measure remaining cooking liquid and heat to a boil in a small saucepan. For each cup of cooking liquid, mix 2 tablespoons flour with ¼ cup cold water until smooth. Stir flour mixture into boiling cooking liquid, stirring constantly 1 minute or until thickened.
Spinach and ricotta stuffed shells
(Serves 6; serving size: 3 shells)
Ingredients:
1 package (16 oz.) jumbo pasta shells
1 package (15 oz.) reduced-fat ricotta cheese
7 oz. frozen chopped spinach, thawed and patted dry
½ cup grated reduced-fat Parmesan cheese
1 egg, lightly beaten
1 clove garlic, minced
½ tsp. salt
1 jar (26 oz.) marinara sauce
½ cup (2 oz.) shredded reduced-fat mozzarella cheese
1 tsp. olive oil
Directions:  
Cook pasta shells according to package directions until almost tender. Drain well; set aside. Stir together ricotta cheese, spinach, Parmesan cheese, egg, garlic and salt. Set aside.
Pour ¼ cup marinara sauce in bottom of slow cooker. Spoon 2 to 3 tablespoons of the ricotta mixture into 1 pasta shell and place in bottom of slow cooker. Repeat with enough additional shells to cover bottom of slow cooker. Top with another ¼ cup marinara sauce. Repeat with remaining pasta shells and filling. Top with any remaining marinara sauce and sprinkle with mozzarella cheese. Drizzle with oil.
Cover and cook on high for 3 to 4 hours or until mozzarella cheese is melted and sauce is hot and bubbly.
Source: Crock-Pot The Original Slow Cooker: Comfort Food Diet Cookbook