Job programs help mature workers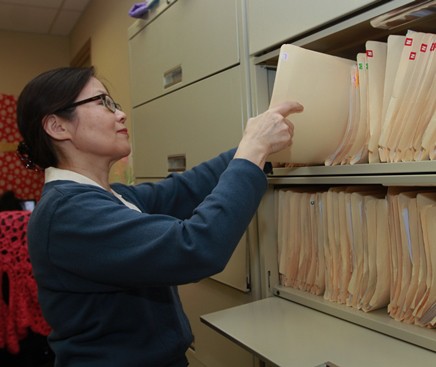 By Marcia Z. Siegal
In 2015, 1.3 million Americans 55-plus were actively seeking work, according to the Bureau of Labor Statistics. Many older adults need to work out of financial necessity. Others pursue work to stay productive. The Senior Community Service Employment Program (SCSEP)  and JEVS Career Solutions for 55+, both funded by Philadelphia Corporation for Aging (PCA), offer free assistance to help local seniors find employment.
SCSEP provides work-based training for eligible low-income, unemployed  individuals 55 and older. Participants work an average of 20 hours a week and are paid the federal, state or local minimum wage, whichever is highest. They are placed in a wide variety of part-time jobs for community service organizations, such as day care centers, senior community centers and schools. Such on-the-job training is intended to serve as a bridge to permanent employment. Federal SCSEP funding, provided through the Department of Labor, is directed to several national and state organizations and to area agencies on aging (AAAs) like PCA.
PCA subcontracts with the Mayor's Commission on Aging to provide the SCSEP in Philadelphia. Three other national organizations also provide the SCSEP locally: Asociacion Nacional Pro Persones Mayores through Projecto Ayuda, National Asian Pacific Center on Aging through Philadelphia Jaisohn Center and The WorkPlace through Maturity-Works.
A new path
A native of China, Xi Hu ("she who"), immigrated to the United States 25 years ago with her husband. In recent years, she has worked as a waitress in Chinese restaurants. Her husband, a former chef, is ill and cannot work. Hu had been out of a job for six months and was struggling financially when a friend suggested she look into the SCSEP provided by the National Asian Pacific Center on Aging. The program is administered locally by Jaisohn Center, a Korean-American community center.
Hu, 60, was assigned to paid employment as a program assistant at Penn Asian Senior Services Inc. (PASSi), a home care agency serving Asian American and immigrant seniors. PASSi provided her with intensive English language and computer lessons and on-the-job training in office skills under the direction of Chinese-speaking supervisor May Beyer. "She worked exceptionally hard," said Beyer. "She was always eager to learn."
Like participants in all SCSEP programs, Hu received counseling and other social services to help her cope with her immediate needs. Jaisohn SCSEP counselors helped her enroll in public benefits like the Supplemental Nutrition Assistance Program (SNAP, formerly known as food stamps) and to deal with housing concerns and other issues.
PASSi hired Hu as a permanent part-time file clerk after her training ended.
Speaking through a translator, Hu said, "I no longer feel awkward in an English-speaking work environment, and I am glad to make money to help pay my bills. I hope to keep learning and improving my English at PASSi and to take on more responsibilities at the agency as opportunities arise."
JEVS Career Solutions for 55+
Geared towards those who are not eligible for the SCSEP, JEVS Career Solutions for 55+ provides free one-on-one employment assistance for mature job-seekers who are unemployed, underemployed or seeking a career change. Services include identifying job-training opportunities, career counseling to assess skills and interests, computer skills training, job-search counseling, resume assistance, interview preparation and job referrals. JEVS Career Solutions for 55+ is located at the Pennsylvania CareerLink office at Suburban Station and receives referrals from CareerLink. JEVS operates the program under contract with PCA.
For more information:
SCSEP
     Asociacion Nacional Pro Persones Mayores – Projecto Ayuda:
3150 N. Mascher St., Ste. 100; 215-426-1212; anppm.org
     Mayor's Commission on Aging:
100 S. Broad St., 4th Floor; 215-686-8450; phila.gov/aging/services
National Asian Pacific Center on Aging – Philadelphia Jaisohn Center:
6705 Old York Rd.; 215-224-2000; jaisohn.com/socialservices/scsep
     The WorkPlace – MaturityWorks:
Penn Treaty Park Place, 1341 N. Delaware Ave., Ste. 209 ; 215-765-4030; maturity.works/pa
JEVS Career Solutions for 55+
1617 John F. Kennedy Blvd., 2nd Floor;267-647-7137; jevshumanservices.org. Type "career solutions" in the search box at the top.
Information on SCSEP, JEVS Career Solutions for 55+ and other employment services for older adults is also available at pcaCares.org (click on "Services for Seniors," then "Employment") or by calling the PCA Helpline at 215-765-9040.
CAPTION: Chinese émigré Xi Hu was hired as a file clerk at Penn Asian Senior Services Inc. as a result of her training with the Senior Community Service Employment Program. (Photo by Paola Nogueras)