Cool off with this refreshing drink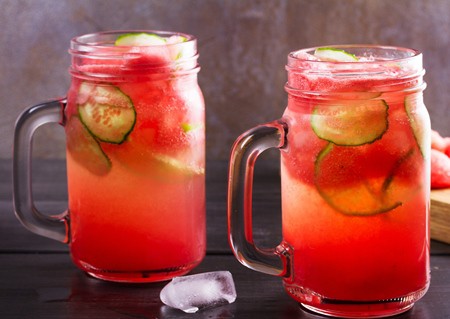 Watermelon and cucumber, both in season this month, blend well and can keep you hydrated on hot summer days. Watermelon is high in vitamin C. Cucumbers are notable for containing nutrients including vitamin A, folate, potassium, calcium and magnesium. Both are low in sugar and calories. Produce vouchers from the Senior Farmers' Market Nutrition Program (see  below) can be put to excellent use purchasing these two seasonal Pennsylvania-grown items at one of the certified farmers' markets in Philadelphia.
Watermelon and cucumber smoothie
(Servings: 2 large smoothies)
Ingredients:
2 ½ lbs. watermelon (about ½ an average size watermelon)
½ cucumber
½ to 1 cup ice
1 tsp. to 1 tbs. agave or honey
Directions:
Chop the watermelon into large chunks and scoop out as many seeds as possible. A few remaining seeds are fine. You should be left with about 4 cups of watermelon. Skin, seed and chop the cucumber. Add all the ingredients to a blender and process until smooth. If the smoothie does not seem thick enough, add more ice and blend again.
Serve immediately.
Source: jrorganicsfarm.com
Produce vouchers still available
Philadelphia Corporation for Aging's (PCA's) annual distribution of Senior Farmers' Market Nutrition Program produce vouchers to eligible older Philadelphians is underway and continues while supplies last. Philadelphia seniors who are 60-plus may receive $20 worth of vouchers to purchase seasonal Pennsylvania-grown produce at any of 55 certified farmers' markets throughout the city. The 2018 household income limits are $22,459 for an individual and $30,451 for a couple. (Add $7,992 for each additional household member up to six people). Proof of age and Philadelphia residency are required.
The vouchers will be distributed at PCA (642 N. Broad St.) weekdays from 9 a.m. to 4 p.m. and at other sites throughout the city, including senior community centers. For a list of distribution sites and farmers' markets where the vouchers can be spent, call the PCA Helpline at 215-765-9040. 
Photo: iStock