Learn about Community HealthChoices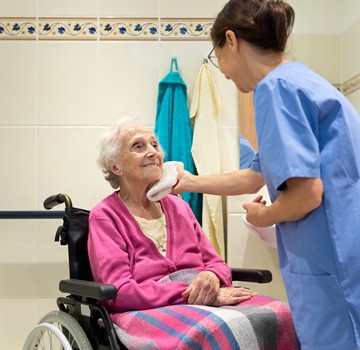 A major shift in the way Medicaid-funded long-term services are provided in the home is coming to Philadelphia. Community HealthChoices (CHC), a new state-mandated program, will affect up to 88,000 seniors or adults with disabilities in Philadelphia. The program, which has already begun in the southwest part of the state, will start in Southeast Pennsylvania in January 2019.
Under CHC, both physical health care and "long-term services and supports" – meaning home-based or nursing-home care – will be coordinated through three state-selected managed-care organizations (MCOs): KeystoneFirst (a member of AmeriHealth Caritas), Pennsylvania Health & Wellness, and UPMC Community HealthChoices. CHC participants will have to choose one of these organizations.
If they do not make a selection, they will be automatically enrolled with an MCO.
As the local area agency on aging responsible for coordinating aging information and services for Philadelphia, Philadelphia Corporation for Aging (PCA) is prepared to help consumers access the information they need to make informed decisions about their care. To familiarize older adults and people with
disabilities with the program, PCA will partner with agencies throughout Philadelphia to provide more than 50 free outreach and education sessions at convenient, accessible locations within the community from Aug. 27 through Oct. 19.
"PCA is grateful for the opportunity to help ensure that this critically important information reaches all eligible Philadelphians," said Louis Colbert, PCA vice president of operations. "It is important for everyone to understand that the transition to Community HealthChoices will not impact anyone's Medicare coverage; it will only change the management of Medicaid services for those who are eligible. Each session is designed to help eligible Philadelphians understand their choices in selecting a managed care organization to support their long-term care needs."
Who is eligible?
Those covered by CHC include older adults and individuals 21-plus who are one or more of the following:
Dually eligible for Medicare and Medicaid;
Medicaid-eligible and living in a nursing facility;
Enrolled in long-term services and supports in the Attendant Care, Independence or Aging waivers; or
Enrolled in the OBRA waiver and determined nursing facility clinically eligible.
Registration for the free education sessions will be conducted by the Department of Human Services (DHS). For information about the sessions or to register, call 1-833-735- 4416. Translation and other needs will be accommodated and should be shared at the time of registration. Meeting invitations are being sent to the more than 129,000 eligible individuals throughout the five-county Southeastern Pennsylvania region. A schedule of sessions is posted on pcaCares.org. For more information about Community HealthChoices, go to healthchoices.pa.gov.
CAPTION: Philadelphia. Community HealthChoices (CHC), a new state-mandated program, will affect up to 88,000 seniors or adults with disabilities in Philadelphia. (Photo: iStock)