ACCESS cultural discounts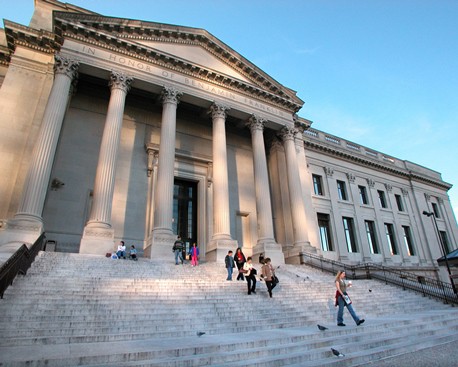 One of the primary goals of Philadelphia Corporation for Aging's (PCA's)  "Celebrate Arts & Aging," which takes place during May, is to connect older adults with opportunities to experience the area's many arts and cultural offerings. To that end, we highlight the ACCESS Admission program, offered through Art-Reach.  Through this program, Pennsylvania residents who have state-issued ACCESS/EBT cards that they use to manage government-funded benefits are eligible for  discounted ACCESS Admission rates at dozens of museums and cultural institutions.
The Franklin Institute, Please Touch Museum, Barnes Foundation and African American Museum in Philadelphia are among the participating institutions.
One ACCESS Card admits up to four family members at a rate of $2 per person – including the ACCESS cardholder. To be eligible for the rate, you must present your valid ACCESS card and your matching photo ID. Some sites also require your guests to show ID. Admission is to be paid by the visitor, not through the cardholder's EBT card. The ACCESS Admission discount is not valid on special exhibitions or features or with any other offers or group rates. ACCESS Admission, led by Art-Reach, is supported by various community partners and sponsored by the Barra Foundation and PECO. For information about the ACCESS Admission program, call Art-Reach at 267-515-6720.
Following is a list of participating sites; be sure to call ahead for visitors' hours. Most sites are accessible by public transportation. (Locations are in Philadelphia, unless otherwise indicated.)
Academy of Natural Sciences of Drexel University – 1900 Benjamin Franklin Parkway; ansp.org; 215-299-1000.
The African American Museum in Philadelphia – 701 Arch St.; aampmuseum.org; 215-574-0380.
American Swedish Historical Museum – 1900 Pattison Ave.; americanswedish.org; 215-389-1776.
The Barnes Foundation – 2025 Benjamin Franklin Parkway; barnesfoundation.org; 215-278-7200.
Betsy Ross House – 239 Arch St.; historicphiladelphia.org; 215-629-4026.
Chanticleer Garden – 786 Church Rd., Wayne; chanticleergarden.org; 610-687-4163.
Eastern State Penitentiary Historic Site – 2027 Fairmount Ave.; easternstate.org; 215-236-3300.
The Franklin Institute – 222 N. 20th St.; fi.edu; 215-448-1200.
Franklin Square: Parx Liberty Carousel and Philly Mini Golf – 200 N. Sixth St.; historicphiladelphia.org; 215-629-4026.
Grumblethorpe (Part of the Philadelphia Society for the Preservation of Landmarks) – 5267 Germantown Ave.; philalandmarks.org/grumblethorpe-1; 215-843-4820.
Historic Christ Church and guided tour of Christ Church Burial Ground – Christ Church: Second Street above Market Street; Christ Church Burial Ground: Fifth and Arch streets; christchurchphila.org; 215-922-1695.
Independence Seaport Museum – 211 South Christopher Columbus Blvd.; phillyseaport.org; 215-413-8655.
James A. Michener Art Museum – 138 S. Pine St., Doylestown; michenermuseum.org; 215-340-9800.
Longwood Gardens – 1001 Longwood Rd., Kennett Square; longwoodgardens.org; 610-618-1000. ACCESS cardholders can purchase general admission tickets onsite and do not need to reserve timed tickets in advance.
Morris Arboretum of the University of Pennsylvania – 100 E. Northwestern Ave.; morrisarboretum.org; 215-247-5777.
Mütter Museum of the College of Physicians of Philadelphia – 19 S. 22nd St.; muttermuseum.org; 215-563-3737.
National Constitution Center – 525 Arch St.; constitutioncenter.org; 215- 409-6700.
National Liberty Museum – 321 Chestnut St.; libertymuseum.org; 215-          925-2800.
National Museum of American Jewish History – 101 S. Independence Mall East (Corner of Fifth and Market streets); nmajh.org; 215-923-3811.
Penn Museum of Archaeology and Anthropology – 3260 South St.; penn.museum; 215-898-4000.
Pennsylvania Academy of the Fine Arts – 118-128 N. Broad St.; pafa.org; 215-972-7600.
Philadelphia History Museum at the Atwater Kent – 15 S. Seventh St.; philadelphiahistory.org; 215-685-4830.
Philadelphia Museum of Art – 2600 Benjamin Franklin Parkway; philamuseum.org; 215-763-8100.
Philadelphia's Magic Gardens – 1020 South St.; phillymagicgardens.org;         215-733-0390.
Physick House (Part of the Philadelphia Society for the Preservation of Landmarks) – 321 S. Fourth St.; philalandmarks.org/physick-house; 215-925-7866.
Please Touch Museum – 4231 Avenue of the Republic; pleasetouchmuseum.org; 215-581-3181.
Powel House (Part of the Philadelphia Society for the Preservation of Landmarks – 244 S. Third St.; philalandmarks.org/powel-house-1; 215-627-0364.
Shofuso Japanese House and Garden – Lansdowne and Horticultural drives, West Fairmount Park; japanesehouse.org; 215-878-5097.
Tyler Arboretum – 515 Painter Rd., Media; tylerarboretum.org; 610-566- 9134.
Waynesborough (part of the Philadelphia Society for the Preservation of Landmarks) – 2049 Waynesborough Rd., Paoli; historicwaynesborough.org; 610-647-1779.
Wharton Esherick Museum – 1520 Horseshoe Trail, Malvern; whartonesherickmuseum.org; 610-644-5822. Reservations are required.
Woodmere Art Museum – 9201 Germantown Ave.; woodmereartmuseum.org; 215-247-0476.
CAPTION: The Franklin Institute science museum is one of the many local attractions participating in the ACCESS Admission program. (Photo by K. Ciappa for Visit Philadelphia)