Tour Philadelphia's murals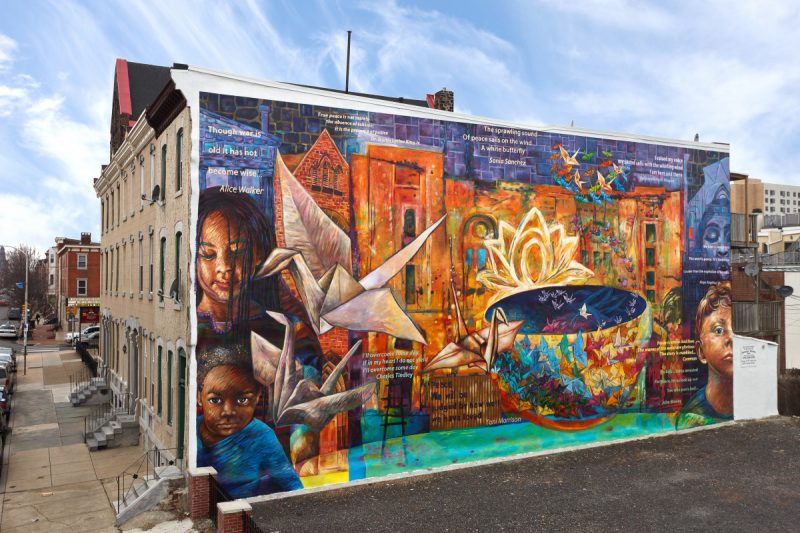 By Constance Garcia-Barrio
If enthusiasm adds sparkle to all it touches, Caroll Drazen's tours of Philly's murals produce a million watts. Drazen, 76, of Queen Village, adds even more dazzle to her tours since she's an art historian and professional painter. "Mural Arts has painted more than 4,000 murals and about 2,500 still exist," Drazen said. "It's the mural arts capital of the world."
Art seems to be part of Drazen's family. "An uncle by marriage was an illustrator who did covers for publications like Look magazine," she said, "but he discouraged anyone in the family from choosing a career in fine art because it's hard to earn a living."
Yet, Drazen found ways to stay close to beauty. She spent her junior year in college studying art history in Paris and later earned a master's degree in art history from Columbia University. She also
studied at the London College of Printing, earning a certificate in book design.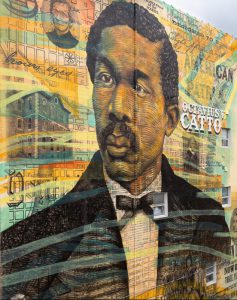 Over the years, Drazen applied her skill to scores of projects. She's worked as a museum docent and graphic designer, taught at the Community College of Philadelphia, and designed books and co-designed signage for the New Jersey Transit system.
"At one point I was a single mother with two daughters. I juggled jobs, projects and home responsibilities, as so many single parents do," said Drazen, who has since remarried and now has two grandchildren.
When Drazen lived in Houston, she painted works in oil, including still-life and portraits. "Now I have less studio space, so I do smaller works," said Drazen, who began selling her paintings 20 years ago. "Since COVID-19, I do sketches of the neighborhood."
In 2009, after retiring and relocating to Philadelphia, Drazen found herself fascinated by the scale and impact of the city's murals. "As a tour guide with Mural Arts [Philadelphia], I knew I could use my skills," she said. "After several months of training, we [trainees] shadowed seasoned guides on tours. Finally, we gave a tour ourselves while our boss rode along."
Before COVID-19, Drazen led tours on foot, trolleys, and the El from whose windows riders can see "Love Letters," a series of text message murals painted on walls. Guided walking tours recently began again and will continue through November.
Brimming with color and imagination, murals can also express values, Drazen noted. "In the mural of Dr. J [Julius Erving] at 1234 Ridge Avenue, the artist, Kent Twitchell, shows [Dr. J] in a business suit, not his Sixers uniform. Twitchell wanted viewers, especially young people, to think about what happens once your days as an athlete end, and how you move on in life."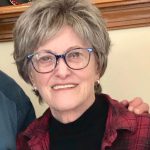 Drazen likes belonging to Mural Arts Philadelphia (MAP), which was started by painter Jane Golden in 1984 as the Anti-Graffiti Network, because this nonprofit brings healing and possibilities to often-overlooked sectors of society. Besides a robust art-education program for youth, MAP has a re-entry program that provides jobs and teaches skills to people leaving incarceration. MAP also partners with Philadelphia's Department of Behavioral Health and Intellectual disAbility Services. In the Porch Light Program, people with mental illness or intellectual disabilities work to create murals as a healing activity.
One of Drazen's favorite murals stretches along two walls of the northeast of corner of 13th and Pine streets. That site, Dirty Frank's Bar, has no sign, but people know the spot by the mural. Called "Famous Franks," it includes Aretha Franklin, Frank Sinatra, Frankenstein's monster, Pope Francis and other Franks.
"I receive more than I give as a guide," Drazen said. "I learn from guests on our tours and from neighbors in communities where murals are located." For Drazen, it seems, Mural Arts Philadelphia keeps beauty in her life and helps her live it to the fullest.
***
For more about Drazen's art, go to CarollDrazen.com. To learn more about Philadelphia Mural Arts or its public, private, virtual and guided tours, visit MuralArts.org/public-tours/ or call 215-925-3633. Tours last about 90 minutes, cost $24, and are limited to 10 participants. Walking tours, which require face masks and reservations, will continue through November.
---
Native Philadelphian Constance Garcia-Barrio writes about many topics, including black history
---
CAPTIONS (TOP TO BOTTOM):
"Peace Is a Haiku Song" by Josh Sarantitis and Parris Stancell, located at Christ Church, 2nd and Market streets in Old City.
Caroll Drazen, 76, artist and Philadelphia Mural Arts tour guide
"Remembering a Forgotten Hero," a mural honoring the life of educator and civil rights activist Octavius V. Catto, by Willis "Nomo" Humphrey is located at Universal Charter School, 1427 Catharine St., in South Philadelphia