Recipe Box: A new start with fresh vegetables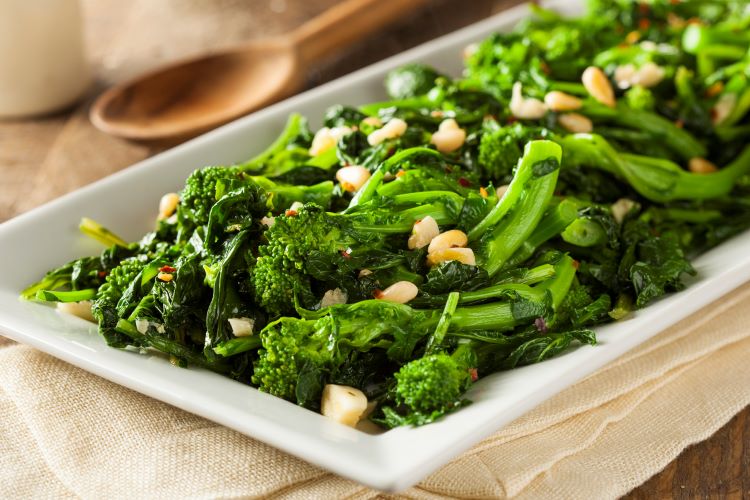 The New Year is synonymous with a fresh start. What better way to kick it off than with some vegetables? Contrary to popular belief, even in the cold of winter, local produce such as apples, mushrooms, celery, potatoes and broccoli rabe, are all still grown during the early part of January. Here's how you can incorporate them into some fresh, healthy meals to kickstart the New Year.
Sautéed Broccoli Rabe
Ingredients:
1 bunch broccoli rabe
1 tbsp. extra-virgin olive oil, plus more for drizzling
2 garlic cloves, sliced
¼ tsp. red pepper flakes
Sea salt and freshly ground black pepper
Lemon wedge
Directions:
Trim a half-inch off the ends of the broccoli rabe. Prepare a large pot of salted boiling water and a large bowl of ice water. Drop the broccoli rabe into the boiling water and blanch for 2 minutes. Remove and immerse in the ice water long enough to cool, about 15 seconds. Drain and place on paper towels to dry.
Heat the oil in a large skillet over medium heat. Stir in the garlic and cook for 30 seconds, then stir in the red pepper flakes. Add the broccoli rabe and sauté, shaking the pan and gently tossing so that it cooks evenly. Cook for 3 to 5 minutes, until stems are tender. Remove broccoli rabe from the pan and drain excess liquid. Season with salt and pepper to taste and serve as a side dish with a squeeze of fresh lemon juice.
Source: Love and Lemons
Mushroom-Shallot Sauce
Ingredients:
1/3 cup shallots, chopped
1 tsp. garlic, chopped
Cooking spray
4 cups mushrooms, sliced
¾ cup unsalted chicken stock
¼ cup white wine
2 tsp. balsamic vinegar
1 tbsp. unsalted butter
¼ tsp. kosher salt
¼ tsp. black pepper
Directions:
Cook shallots and garlic in a large skillet coated with cooking spray over medium-high until softened, about 2 minutes. Add mushrooms; cook until browned, about 5 minutes. Add chicken stock, white wine and balsamic vinegar. Bring to a boil, then reduce heat to medium and cook until liquid is reduced by half.
Stir in unsalted butter, kosher salt and black pepper. Serve over choice of protein or pasta.
Source: Cooking Light