Lighting up Philadelphia's arts, cultural scene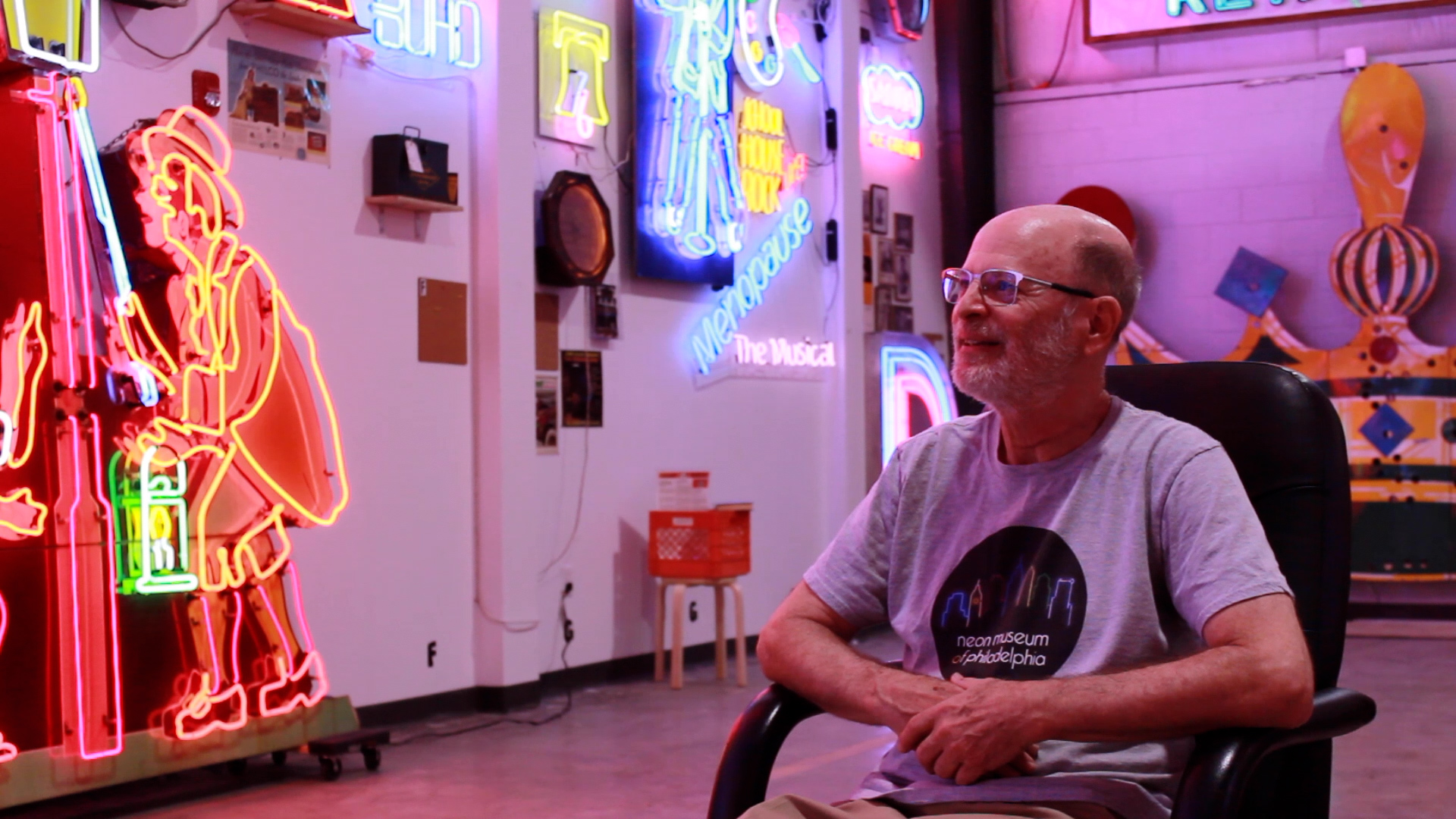 By Jay Nachman
---
Stepping into the Neon Museum of Philadelphia and seeing the original signs for iconic Philadelphia locales, such as Levis Hot Dogs, Horn & Hardart's from 30th Street Station and Delilah's soul food stand at the Reading Terminal Market, offers a nostalgic blast from the past.

The brightly lit signs tell important stories about Philadelphia's history, according to Len Davidson, 74, who opened the South Kensington museum virtually in the fall of 2020 after 40 years of collecting, repairing and crafting neon signs. The museum's physical location at the southwest corner of North American and Berks streets opened in April.

"The signs are symbols of culture and that's what this whole museum is about – Philly culture before the internet came in," said Davidson, who grew up in Northeast Philadelphia. "When you had mom-and-pop stores, you had kids playing in the streets. You had local shopping avenues. Restoring and preserving these signs is about telling a story of what a rowhouse city was like at mid-century. If someone moves into Philadelphia now, they don't know what [it was] like."

Davidson's interest in neon began in 1977, when he was teaching sociology at the University of Florida. He began studying it and collecting signs, then he completed an apprenticeship in the art and craft of neon. After learning the trade, Davidson moved back to Philadelphia in 1979 and set up shop in the Art Museum area.

"Neon became more interesting for me to do than academic sociology," he said. "For one thing, it was much more concrete. I could make a neon sign after [meeting] a customer. After building the sign and installing it, I'd see the product of my labor. Whereas, if I did organizational consulting with the government or a medical group, [I was] never really sure [of the] effect [I] had. And, so, I liked the concrete nature of seeing the results of my labor. Plus, it was creative."

Davidson has about 150 works of neon art in his collection. There are about 100 in the museum and another 25 in the common areas of the building that houses the museum. Another 30 are displayed in Drexel University's Firestone Building at 32nd and Market streets.

About two-thirds of the pieces are Philadelphia-centric. But the oldest documented sign is a Bulova watches clock that was displayed at the 1939 New York World's Fair. After the fair, four of the clocks were brought to Philadelphia and hung above big jewelry stores around the city. The clock on display at the Neon Museum was previously located at a jewelry store at Broad Street and Erie Avenue. After recovering it, Davidson had to restore the sign by stripping off the old paint, repainting it in World's Fair colors, and fixing the transformers and neon.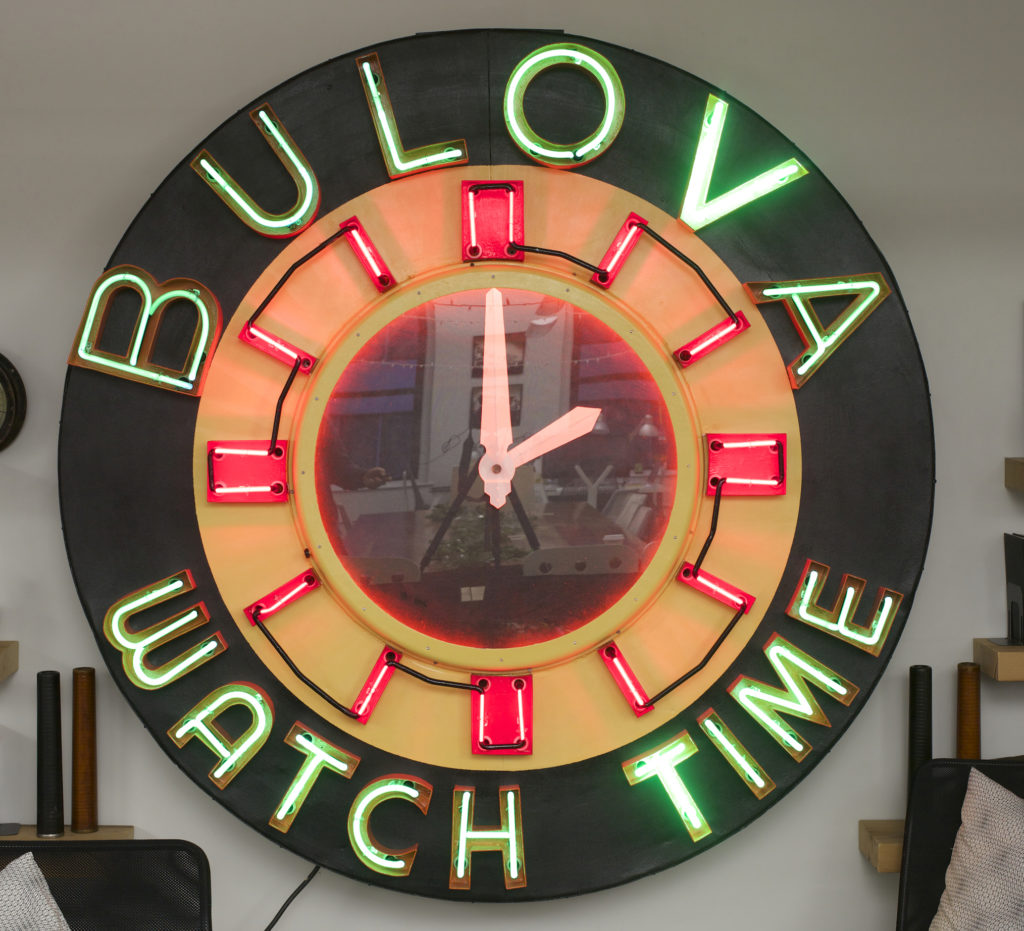 Other local gems shining brightly at the museum include the Pat's Steaks crown in Strawberry Mansion from about 1955, a Pep Boys sign, and a Buster Brown sign from Fourth and South streets.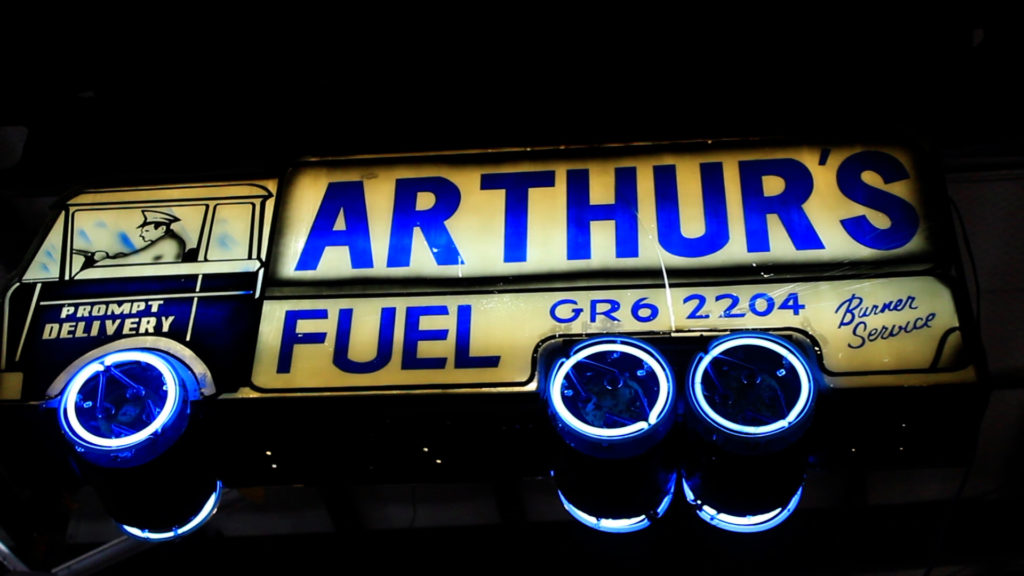 Some of the signage is even animated. A 1960s advertisement for Arthur's Fuel Oil is a double-sided, animated delivery truck, which Davidson called "a remarkable piece of sign and folk art" that hung over the sidewalk, helping to illuminate North 52nd Street. There's also a dancing Elvis Presley, appropriately from the former Blue Suede Café in South Philadelphia.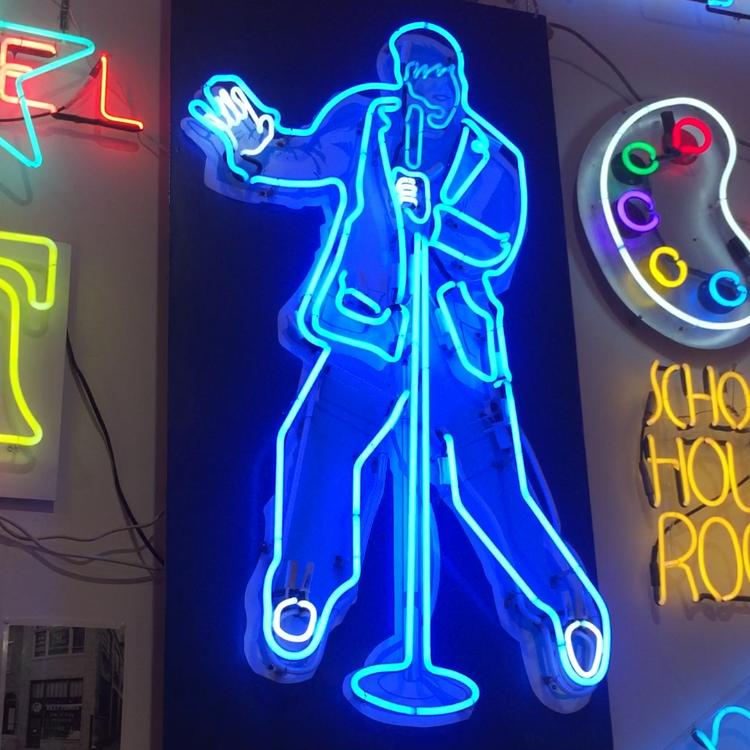 "I like the figural aspect of neon, how you can create pictures in light," Davidson said. "And, I like that the people who made the signs were not typically trained in art. They were influenced by the Golden Age of comic books and cartoon strips. As a result, the kinds of signs they produced had a very funky, folk-art quality."
Walking through the museum is like taking a stroll down memory lane. Guide cards tell a story about each sign: who made them, the industries that they were from, and what Philadelphia or those businesses were like when they were operating. There is also a collection of memorabilia, photographs and stories related to each sign.
Davidson said his sentimental favorite is the 11-foot Levis Hot Dogs sign, which he lovingly restored, that originally promoted the famed joint at Sixth and South streets.
"When I was 10 years old and I'd go to the Philadelphia Warriors [basketball] games, my dad would take me to Levis to get a hot dog afterward," Davidson recalled. "I went there, he went there, his dad went there, and I took my son there."
Through the salvage and restoration of old relics, Davidson seeks to preserve nostalgia, along with neon. "Every sign has an associated history and story with it," he said. "The history is just as important as the craft of neon and as viewing the neon."
---
The Neon Museum of Philadelphia at NextFab is located at 1800 N. American St. Unit E, in Philadelphia. It is open on limited days and hours. Reservations are preferred, but walk-ins are also welcome. The admission cost is $10 for adults and children 13 or older. For more information, call 267-534-3883 or go to NeonMuseumOfPhiladelphia.com.
---
Jay Nachman is a freelance writer in Philadelphia who tells stories for a variety of clients.
---
CAPTION: Len Davidson, 74, founder of the Neon Museum of Philadelphia, restores and crafts neon art.
(Photos courtesy of Neon Museum of Philadelphia)