Leave your mark: Volunteer opportunities abound in Philadelphia area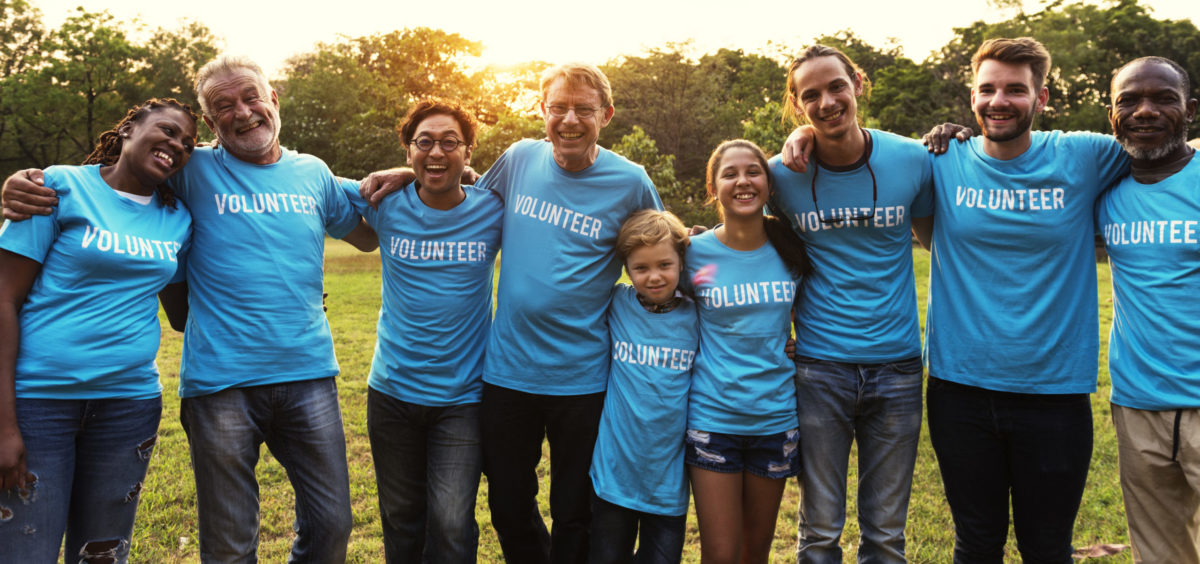 By Kathleen Harte Simone
---
Nearly one-third of all American adults are volunteers, according to a recent survey by the Corporation for National Community Service. That statistic speaks volumes about our empathy for others and commitment to lending a hand. The older adult community pitches in at an even higher rate than the general population. Nearly 31% of baby boomers volunteer their time, according to the study.
To be good, and to do good, is all we have to do.

~ John Adams
As Philadelphians, we're full of community spirit. We donate our time to more than 4,200 nonprofit organizations. If you haven't volunteered your time and talents lately, there's no time like the present to invest your free time in serving others. Your contribution will be greatly rewarded.

"I didn't start volunteering until my late 50s," said West Philadelphia resident Clara Sharp. "I always planned to volunteer but kept putting it off because I didn't know where to start. My first volunteer work was at my church, and it has ballooned ever since. I don't have enough hours in the day to do all the volunteering I'd like to do."

Organizations need your help to serve underprivileged and marginalized communities. There are also places that need volunteers to assist with serving the community at large, such as programs in the arts or history. "No one organization is more important than another," Sharp said. "If we all just do a little, for whichever organization we feel connected to, we're helping others."
Where to volunteer?
Determining where to get involved is the first step to becoming a volunteer. With a wide variety of opportunities in the city and suburbs, as well as online, deciding can be challenging. Here are some helpful tips and links to valuable volunteerism resources.
Connect your interests
A great first step is to get involved with familiar causes or organizations. If you're a book lover, you can connect with the Free Library of Philadelphia's Volunteer Services. Many different volunteer opportunities are available, including book reader for people with visual impairments or physical disabilities, tour guide of the historic Parkway Central Library, English Language Facilitator, or author event staff. For more information, go to libwww.freelibrary.org/programs/volunteer, email volunteer@freelibrary.org or call 215-686-5340.

Love strolling through museums? Consider volunteering at one of the city's famed art, history, science or cultural sites. Explore a comprehensive list of almost 200 Philadelphia museums with descriptions and links to the museum's website for volunteer opportunities at MuseumHack.com/museums-in-philadelphia. You can also call your favorite museum directly to ask how you can share your talents.

If you're passionate about helping animals, connect with the Philadelphia Animal Welfare Society (PAWS) at PhillyPaws.org/volunteer. The organization has multiple and immediate volunteer care opportunities at their three locations in Old City (215-238-9901), Grays Ferry (215-545-9600) and Northeast Philadelphia (215-545-9600). To help out from home, you can volunteer to foster a dog or cat that is waiting for adoption.

Local houses of worship are always in need of kindness and time. Some locations provide free meals and support services for members of the community. You can quickly become an impactful part of their volunteer team, with little or no training.
Spread brotherly love
The notion of older adults reaching out to help each other is nothing new to Philadelphia Corporation for Aging (PCA). Check out PCA's Volunteer Programs, powered by older adult volunteers. Opportunities include becoming a Senior Companion or Ombudsman and leading a course in health management. To find out more, call the PCA Helpline at 215-765-9040 or visit pcaCares.org/volunteer. The Mayor's Office of Civic Engagement and Volunteer Service offers a vast array of opportunities.

Some of the fall 2021 volunteer opportunities include mentoring high school students at risk, assisting at the Fringe Festival, kitchen volunteering to prepare meals for people in need, planting trees at Pennypack Park, and providing support for a small business convention. There are also many volunteer opportunities you can do from the comfort of your home, such as letter writing to inmates and tax preparation. For more information, go to phila.gov/volunteer or call 215-686-2055.

The nation's largest volunteer organization, AmeriCorps, connects volunteers directly with nonprofit organizations to tackle America's most pressing challenges. The organization boasts 1.6 billion hours served by 270,000 volunteers in 40,000 communities, including Philadelphia. The opportunities are bountiful. For information, go to AmeriCorps.gov/seniors or call 1-800-942-2677.
#GivingTuesday
Since 2012, #GivingTuesday has inspired millions of people across the world to donate their time, talent and/or money. In 2021, #GivingTuesday will be Nov. 30. This year, you can help older Philadelphians who are in need by supporting Philadelphia Corporation for Aging's (PCA's) charitable funds:
The Rodney D. Williams Philadelphia Fund for Seniors helps to support PCA's mission of improving the quality of life of older adults and people with disabilities.
The Emergency Fund for Older Philadelphians provides crisis assistance to at-risk, low-income older people who are facing severe hardship.
To make a difference in the lives of older Philadelphians by donating to PCA, contact the PCA Helpline at 215-765-9040 or visit pcaCares.org/donate.
---
Kathleen Harte Simone is a Philadelphia-based journalist.