Active, holistic atmosphere at Firehouse Active Adult Center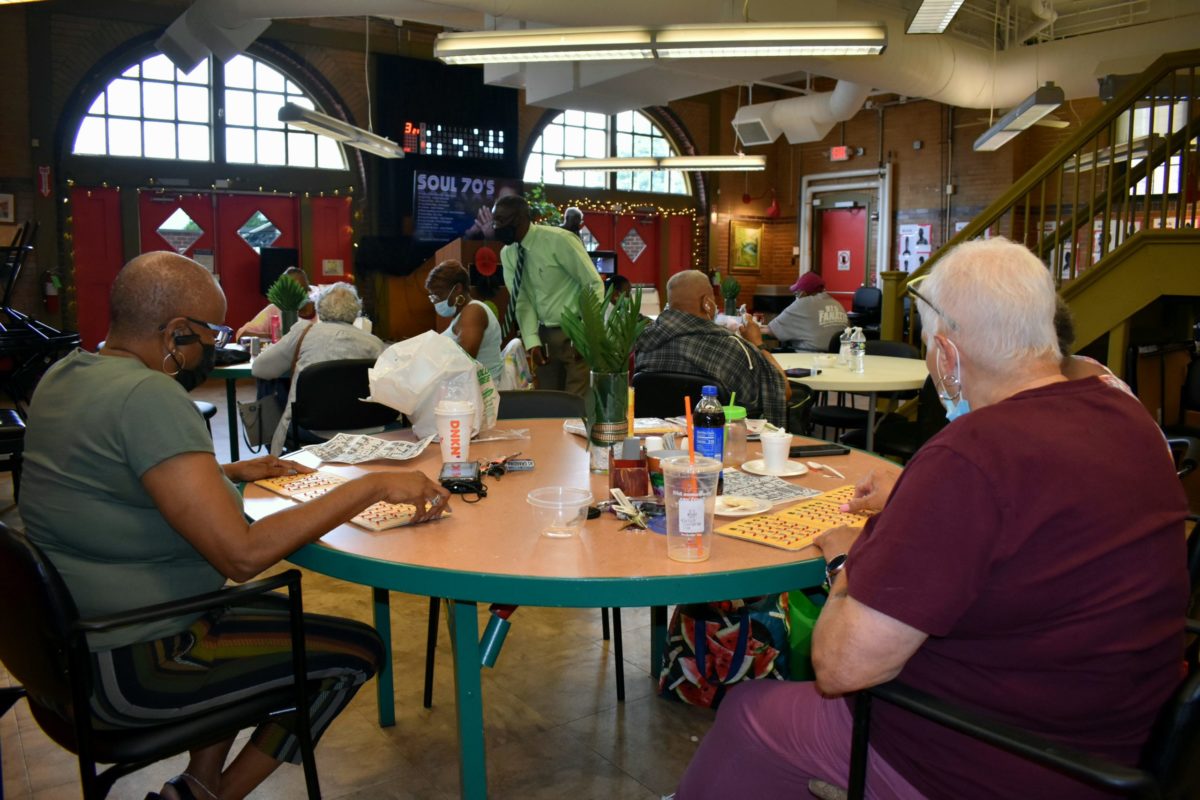 By Mary Anna Rodabaugh
---
It is a Friday morning, and the Firehouse Active Adult Center in West Philadelphia is bustling with energy. Within the brick walls and red-colored doors of a renovated firehouse, you will find a robust gathering of older adults attending a health presentation by Penn Medicine, picking the best table for morning bingo, working out in a group fitness class, or picking up a grab-and-go meal. Soon, staff would be setting up for the daily in-person congregate lunch, which has resumed at the center.

"I like that I can come here and get out and socialize with people in my general age group," says member Azalia Garner, 70, of West Philadelphia. "I like that they have so many programs that I can participate in."

Garner, who has been a member of the center for about six months, participates in many activities including working out on the treadmill, doing word puzzles and playing bingo. But her favorite activity is the crochet class.

"I've crocheted a few grocery bags and now everybody in the group is crocheting grocery bags in all different colors and designs," Garner said.

In addition to the programming offered, Garner has a deep appreciation for the continued safety efforts the staff enforces to protect the health of its older adult members. These efforts include temperature checks and required mask wearing by all who enter the building.

Supporting mental health
Since his arrival in October 2021, Center Director of Firehouse Active Adult Center Ruben Hoggard, MSW, M.Div., has taken a holistic approach to the center's operations and programming. In less than a year, Hoggard has paved the way for several mental and emotional health initiatives at the center.

"The holistic approach is dealing with the body, the mind and the spirit," Hoggard says. "I dive in and break those areas down."

Hoggard offers counseling and also leads a weekly men's group. Individual counseling is offered three days a week. Grief counseling is open to members of the center and the community. By using tools from cognitive behavioral therapy, solution-focused therapy, strength-based approach therapy and coping skills, Hoggard helps members understand and communicate their feelings.

As a leader with a true hands-on approach, you may find Hoggard filling in for his custodian, helping a member play bingo or leading the weekly Bible study.

"Mr. Reuben will talk with us," said member Robin Crittendon, 67, of West Philadelphia. She has been a member for eight years and serves on the center's Member Advisory Board. Crittendon also enjoys playing games, such as word search and bingo.

Addressing community needs
A typical day for Jacqueline King, Firehouse center counselor, is spent assisting members with rent rebates, citizenship or green card applications, and locating housing resources. King does a little bit of everything to support the center's members, as well as individuals in the West Philadelphia community.

"As a counselor, I like to get to the point of what the person came in for," King said. "I like advocating (for the needs of older adults)." She also works hard to highlight what events are happening in the community so members can take advantage of free resources and local activities.

When the center opened fully after the COVID-19 pandemic restrictions eased, King noticed more older adults participating in the center's computer and tablet classes. She quickly learned they wanted to know more about social media and how to use it. King also encourages members to sign up for a free email account, since an email address is often needed to access online portals and to receive important information.

But King's job is not all business. With a diverse background and penchant for programming, King enjoys assisting with the center's activities. Her vision board group was a favorite among members.

"Our center is a recreation center for active adult members to come and enjoy themselves," King said. "We've had DJs, art shows, comedy shows and trips." She noted the Atlantic City trips are an all-time member favorite.

Whether you want to make new friends, start a new workout routine, get creative, enjoy breakfast and lunch, or address your emotional health, Firehouse Active Adult Center has exactly what you need.
"It is a phenomenal place to be," Crittendon said.
---
Firehouse Active Adult Center, located at 5331 Haverford Ave. in West Philadelphia, is managed and funded by Philadelphia Corporation for Aging (PCA). The center is open weekdays from 8 a.m. to 4 p.m. There are many services offered: grab-and-go meals, fitness classes, bingo, art classes, brain games, health workshops, counseling, social service resources, pinochle, parties, trips and much more! For more information stop by the center, call 215-472-6188 or visit facebook.com/FirehouseActiveAdultCenter.
---
Mary Anna Rodabaugh is a writer, editor and writing coach.