National Day of Service honors Dr. King's legacy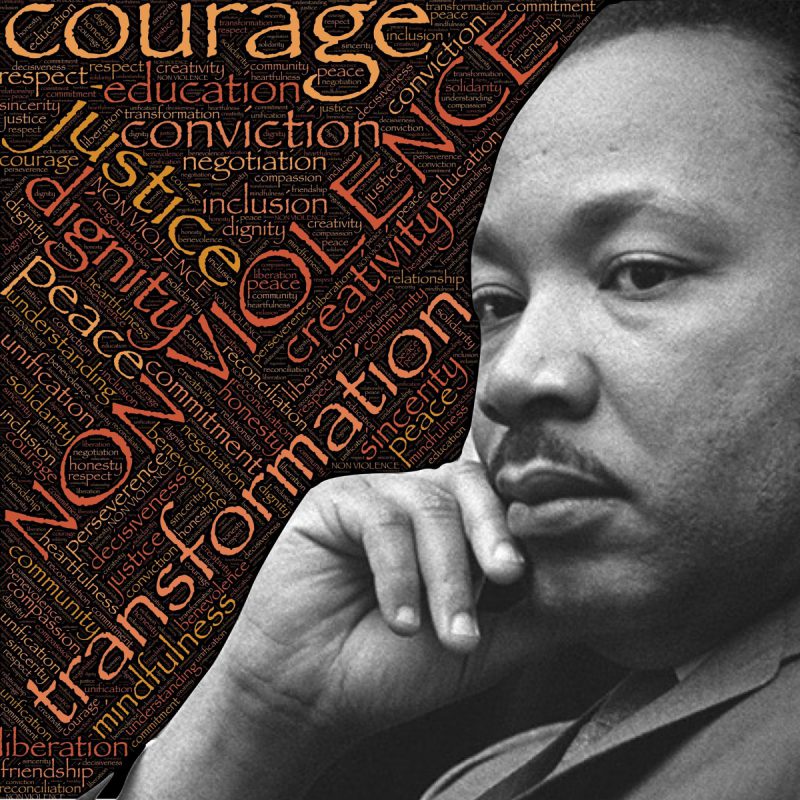 By Constance Garcia-Barrio

---
Dr. Martin Luther King Jr. pushed civil rights to the top of America's agenda.
Born in Atlanta, Georgia, he graduated from high school at 15 and entered Morehouse College, a private historically Black institution. After King's college graduation in 1948, he attended Crozer Theological Seminary near Chester, Pennsylvania. While at the seminary, he learned about nonviolent protest and received a Bachelor of Divinity degree in 1951. King then headed to Boston University and earned his doctorate in theology in 1955.
In Boston, he met and married Alabama native, Coretta Scott. In early December 1955, King faced a challenge that flung him to the forefront of the civil rights movement. Seamstress Rosa Parks, weary from a day's work, refused to yield her seat to a white man on a city bus and was arrested by police. As pastor of the Dexter Avenue Baptist Church in Montgomery, Alabama, King, along with other Black leaders formed the Montgomery Improvement Association (MIA) and organized a nonviolent bus boycott. The boycotters biked, carpooled and walked miles to avoid using buses.
"We (saw) that … it's more honorable to walk in dignity than ride in humiliation," King said.
Within a month, the U.S. Supreme Court declared segregation on public transit unconstitutional.
Building on that victory, King organized the Southern Christian Leadership Conference (SCLC), which gave him a regional base. The SCLC organized nonviolent sit-ins; voting-rights drives; and marches, including the 1963 March on Washington advocating for jobs and freedom. There, King gave his famous "I Have A Dream" speech before 250,000 supporters.
"I have a dream that my four little children will one day live in a nation where they will not be judged by the color of their skin but by the content of their character," he said.
In 1964, King won the Nobel Peace Prize and Congress passed the Civil Rights Act, which allowed the federal government to enforce desegregation in public and some private settings.
King continued his staunch advocacy of civil rights for the next four years. On April 4, 1968, while in Memphis, Tennessee to support trash collectors striking for fair  wage, King was shot by fugitive James Earl Ray.
He died at the age of 39.
During his short life, King traveled 6 million miles, gave 2,500 speeches and wrote five books. He also endured assaults, arrests, death threats, FBI surveillance and hospitalization for exhaustion in his fight against racism, poverty and the Vietnam war.
Following his death, two of King's allies in the Civil Rights Movement – former Pennsylvania senator Harris Wofford and congressman John Lewis – fought to create a national holiday to honor him. In 1986, the U.S. declared the third Monday in January as Martin Luther King Jr. Day.
King once said, "Life's most persistent and urgent question is, 'What are you doing for others?'" To further honor King's life and legacy of service, the first Martin Luther King Day of Service was held in 1996. It started right here in Philadelphia, as a small project with 1,000 volunteers. The MLK Day of Service became a fast-growing nation-wide movement that has worked to break down barriers, form ongoing partnerships and foster understanding about the legacy of Dr. King, particularly among young people. The Greater Philadelphia Martin Luther King Day of Service is now the largest MLK Day of Service event in the nation with more than 150,000 volunteers each year.
In a push to address nationwide systemic racism, specifically after a 2020 filled with civil unrest involving people of color, the words of Dr. King and the 2021 MLK Day of Service serves a greater need to give back and give tribute to King's legacy of equality.
"For the upcoming King Day of Service, we're planning many virtual activities," said Campbell Bird, vice president of Global Citizen, a non-partisan organization that promotes civic engagement and organizes the MLK Day of Service.
Physical challenges will not prevent older adults or people with disabilities from taking part, since most volunteer activities accommodate people with limited mobility. According to Global Citizen, 19,000 older adults took part in the 2019 Greater Philadelphia service day activities. For more information about The Greater Philadelphia Martin Luther King Day of Service and to search for volunteer opportunities, visit mlkDayOfService.org or call 302-669-9185.
* * *
To learn more about Dr. Martin Luther King Jr., watch the free documentaries "The Martin Luther King Story" and "King in the Wilderness" on YouTube.
---
Native Philadelphian Constance Garcia-Barrio writes about many topics, including black history.