The Free Library of Philadelphia is a resource for lifelong learning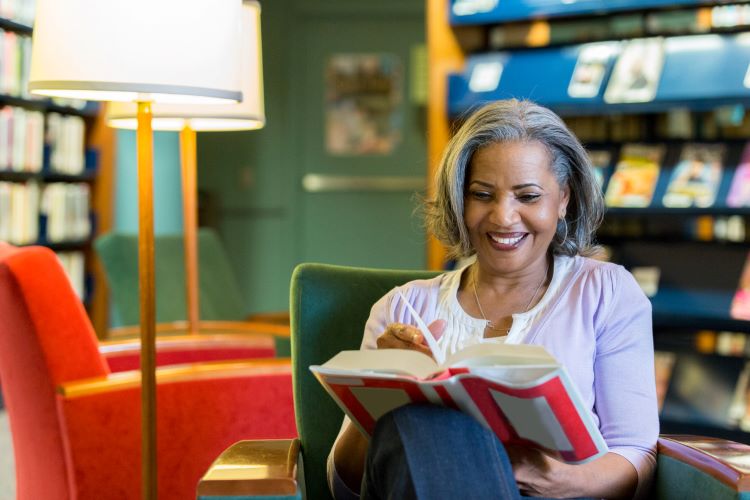 Lifelong learning is built into the mission of the Free Library of Philadelphia. Working from the belief that learning doesn't stop at a specific age, the library offers diverse programming for older adults with the aim to enlighten, challenge and entertain.
Richard "Dick" Levinson, a librarian at Parkway Central Library who works in the Senior Services Department, spends his day planning workshops, lectures and events that appeal to the diverse interests of older adults. He also recruits the best local and regional experts to engage with those topics. The Senior Services Department hosts multiple events per month that focus on literature, politics, art and culture. Most programs are free and open to the public.
Recent programs have covered a wide variety of topics, including the unlikely early friendship between U.S. presidents and political rivals Richard Nixon and John F. Kennedy, the process of translating classic works of literature, and the history and creation of the iconic musical "Oklahoma!"
Levinson's job has looked a little different since the pandemic began and the department turned to hosting all programs in a virtual format. He credits Lisa-Jane Erwin, the head of Parkway Central's Senior Services and Homebound Services departments, for keeping the library and its staff connected to the public despite the early challenges of the pandemic.
"Our traditional responsibility of delivering thoughtful, intellectually-challenging and entertaining programming has not gone away during the pandemic," Levinson said.
Over the past two years, he has served as the primary host of the department's virtual programming on the popular online video conferencing platform Zoom.
"Zoom was a brand-new experience for the great majority of people here," Levinson said. "It was an adjustment for everyone: the audience, the speakers and myself."
Looking to ease the transition, Levinson said he channeled his inner Robert Osborne, the long-time television presenter for Turner Classic Movies who connected to audiences on a personal level through an impersonal medium.
"I like to reach out to as many people as possible and welcome them all," Levinson said. "These virtual programs are like being with a group of friends who you haven't met yet. We're the exact opposite of formal or exclusive. We are a relaxed, informal and welcoming group. There's no reason for anybody to hang back."
Levinson spreads the word about upcoming programs through an email list. Anyone can request to be added to the list by emailing LevinsonR@freelibrary.org.
Bridging the digital divide
"Knowing that this is an online era, one of the things that we're concerned about is the digital divide," said Levinson, referring to the gap that exists between those who have access to the internet and those who do not.
Unfortunately, many older adults in Philadelphia lack suitable, sustained internet access.

"There is nothing like the internet to help people keep in touch with loved ones," he said. "It's also a fantastic tool to do research in almost any area. I would compare it to the invention of the printing press. It's that important in terms of knowledge, history and communication."
The Free Library is always exploring new ways to break down barriers to internet access. Early this year, the Free Library will be launching a program to provide long-term loans of tablet devices and portable Wi-Fi hotspots to qualifying residents who lack internet access. For more information about this program, call 215-686-5411.
Additional technology assistance is available to Philadelphia residents through the Digital Navigators program.
To find low-cost computers, internet access and help getting online, call Beyond Literacy at 215-426-7940, Excite Center at Drexel University at 267-217-3508 or SEAMAAC at 215-867-9732. Information is also available online at https://bit.ly/digital-navigator.
Delivering new worlds to your door
Online and in-person programming is just one way that the Free Library helps older adults remain connected. The library's Homebound Services Program also provides books, movies, music and books on tape to library patrons who are unable to leave their homes due to illness or limited mobility. Requested materials are packed by library staff and delivered/ returned for free through the United States Postal Service.
The Homebound Services Program is free and open to all Philadelphia residents who qualify. To apply, residents can call the Free Library at 215-686-5411 to complete a brief phone interview. The program largely operates on the honor system and no doctor's note is needed.
"This program is a critical link, a vital service to the community," Levinson said. "It is a lifeline for so many people. Books are a vital gateway to any and all worlds that you can imagine."
---
For more information about the Free Library of Philadelphia's services, programs and events at the city's 55 branches, go to FreeLibrary.org or call 1-833-TALK FLP (825-5357), weekdays from 10 a.m. to 5 p.m. and until 8 p.m. on Wednesdays.