Volunteers exemplify Older Americans Month theme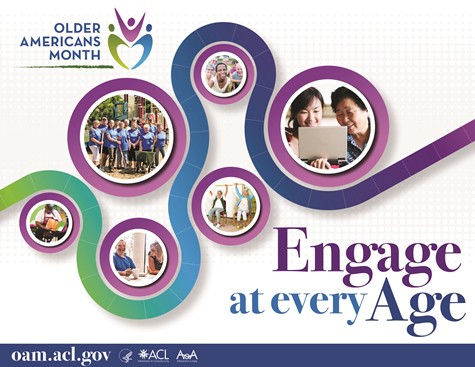 By Marcia Z. Siegal
Older Americans Month, observed during May, highlights the contributions of older people. This year's theme, "Engage at Any Age," emphasizes that you are never too old (or too young) to take part in activities that can enrich your physical, mental and emotional well-being. It also celebrates the many ways older adults make a difference in our communities, according to the Administration for Community Living, which leads this national, annual observance.
Opportunities for seniors in Philadelphia to remain active abound, including volunteer programs that bring generations together.
Among these intergenerational activities are the literacy and letter-writing programs at KleinLife: Northeast Philadelphia, a community center serving all age groups. These programs, sponsored through RSVP (formerly known as the Retired and Senior Volunteer Program) Philadelphia, are beneficial for both older adults and the children they engage throughout the school year.
Reading buddies
"There's nothing more gratifying than to help a child," said Philip Kamen, 83, a mentor for the past six years with RSVP Philadelphia's Reading Buddies Program. The program, which takes place at KleinLife, matches third-grade students one-on-one with senior mentors who help them develop reading skills. Thirty students from the Anne Frank Elementary School in Northeast Philadelphia arrive at KleinLife by bus Thursday mornings for the hour-long weekly sessions held October through May.
Students come prepared with a book the teacher determines is appropriate for their reading level. During the sessions, the students read to their senior "buddies" and discuss the book with them. "The thing that impresses me most is the progress I've seen in the kids I've mentored," Kamen said. "Every kid I've worked with has become a better reader since we've started working together."
Typically, at least half of the students in the Reading Buddies Program speak a language other than English at home, and a number of them are first-generation immigrants. The program, which is conducted entirely in English, helps to build the students' language skills and creates personal bonds that promote the youngsters' confidence. Kamen, for instance, has been paired with students from Jordan, Algeria, Uzbekistan, Mongolia and China.
Most of the buddies' time is spent reading and reviewing lessons the students' teachers have given them to work on. The buddies also make time for a more social aspect of mentoring and for fun. "We play card games, talk about our families, what we enjoy doing and get to know each other better," Kamen said. "I ask my student what he's learning in school."
At the end of every school year, RSVP Philadelphia Assistant Director Suzanne Udell asks the reading mentors whether they want to sign up for the following year. Kamen always tells her, "With pleasure."
Pen Pals
In today's digital world of emailing, instant and text messaging, and social media, students often have fewer opportunities to develop formal writing skills. Through the RSVP Philadelphia Pen Pal Program, volunteers and students correspond throughout the year. The activity helps students practice writing. The pen pals meet face-to-face for the first time at the pizza parties for the program held at the students' schools in May.
The program matches two classes of Northeast Philadelphia sixth graders – one from MaST Community Charter School and another from Hamilton Disston Elementary School – with RSVP Philadelphia volunteers. The student-senior pen pals write to each other monthly. Letters are delivered to the school and to KleinLife, not to correspondents' personal addresses.
Donald and Leveah Rosensweig volunteer with both the pen pal and reading buddies programs. "When you retire, I think it behooves you to get personally involved in giving back to the community in some way," Donald said.
A former teacher, Leveah, 79, believes that beyond the letter writing, "the one-on-one social aspect of the pen pal program is especially important" and helps to boost students' self-esteem. "The children see that an older adult is interested in them," she said.
The young pen pals like to ask about things "like my family, my hobbies and where I went on vacation," Leveah said. She answers their questions in her letters back and reciprocates with an interest in their families and activities. In her letters, she also emphasizes the importance of doing well in school.
Donald, 85, often shares his longtime love of baseball with his correspondents as they write about their lives and their mutual interests. His pen pals frequently write about the professional teams they follow and the sports they play. Like his wife, Donald also wants the students to focus on academic achievement.
"I always try to impress upon the kids how important it is to be involved in school and get good grades," he said. "I tell them to make the most of every day."
RSVP offers volunteer opportunities for seniors
A program of the Corporation for National and Community Service, RSVP (formerly known as the Retired and Senior Volunteer Program) provides opportunities for people 55-plus, who are working or retired, to use their skills, talents and experience to address community needs through meaningful volunteer service. It is one of the largest volunteer networks in the U.S.
KleinLife: Northeast Philadelphia, located at 10100 Jamison Ave., sponsors RSVP in Philadelphia and offers a variety of service opportunities for volunteers citywide. RSVP volunteers choose how, where and how often they want to serve, with commitments ranging from a few to 40 hours per week. Volunteers receive preservice orientation, training from the organization where they will serve and supplemental insurance while on duty.
RSVP Philadelphia is funded by the Corporation for National and Community Service. Additional support is provided by Philadelphia Corporation for Aging (PCA) and the Jewish Federation of Greater Philadelphia.
For more information about RSVP Philadelphia, contact Suzanne Udell at 215-698-7300, ext. 192 or sudell@kleinlife.org. You can also visit kleinlife.org/volunteers/rsvpphiladelphia.