Produce vouchers now available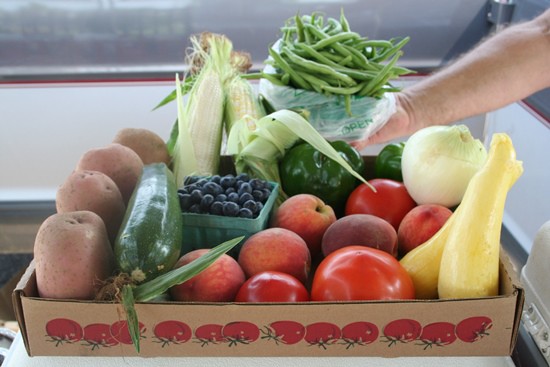 Philadelphia Corporation for Aging (PCA) began distributing Senior Farmers' Market Nutrition Program (SFMNP) produce vouchers on Monday, July 11 as part of an annual program to encourage seniors to eat more fresh fruits and vegetables. Eligible Philadelphia seniors can receive $20 worth of vouchers that can be used to purchase fresh Pennsylvania-grown produce sold at certified Farmers' Markets in Philadelphia.
Income-eligible Philadelphia residents, who will be age 60 or older by December 31, may receive the vouchers at PCA, 642 North Broad Street in Philadelphia (weekdays, 9 a.m. to 4 p.m.) and at other designated sites.
A  popular distribution site is the Reading Terminal Market, 12th and Arch Sts., where the vouchers will be distributed on July 19 and 20 from 10 a.m. to 2 p.m. The Share Food Program, 2901 W. Hunting Park in North Philadelphia, is a new distribution site for this year. (Please note: This location is not air-conditioned.) The vouchers will be distributed there on Thursday, July 21 from 12:30 to 2:30 p.m. and Friday, July 22 from 11 a.m. to 1 p.m. Fruit and vegetables from Share's Nice Roots Farm will be available for purchase on these dates, including greens and a wide variety of healthy, fresh-picked items, grown right on site. Both the Reading Terminal Market and Share Food Program accept SFMNP vouchers.  
According to Susan Gibson, MS, RD, LDN and PCA nutrition manager, fresh produce should be a mainstay of each meal. "Fruits and vegetables provide important vitamins, minerals, fiber, and antioxidants to help keep us healthy and feeling well, at any age.  It's recommended that you fill half of your plate with produce," said Gibson.
Proof of age (60-plus) and Philadelphia residency must be presented to receive vouchers. Acceptable forms of identification include Pennsylvania driver's license or non-driver's ID and other forms of ID that include age and residency. Seniors must sign in person (or through a proxy) and may receive the vouchers only once per year. To receive the produce vouchers, 2016 household income must not exceed the following guidelines: 1 person: $21,978; 2 people: $29, 637; 3 people: $37,296; 4 people: $44,955.
For questions about eligibility and more information, including other voucher distribution sites, call the PCA Helpline at 215-765-9040.
The vouchers, made available through funds from the U.S. Department of Agriculture and the Pennsylvania Department of Agriculture, will be distributed on a first-come, first-served basis and must be used before November 30, 2016. Last year, 35,727 older Philadelphians received $705,440 worth of free vouchers to purchase fresh fruits and vegetables from local farmers' markets.