PCA's Caregiver Support program eases stress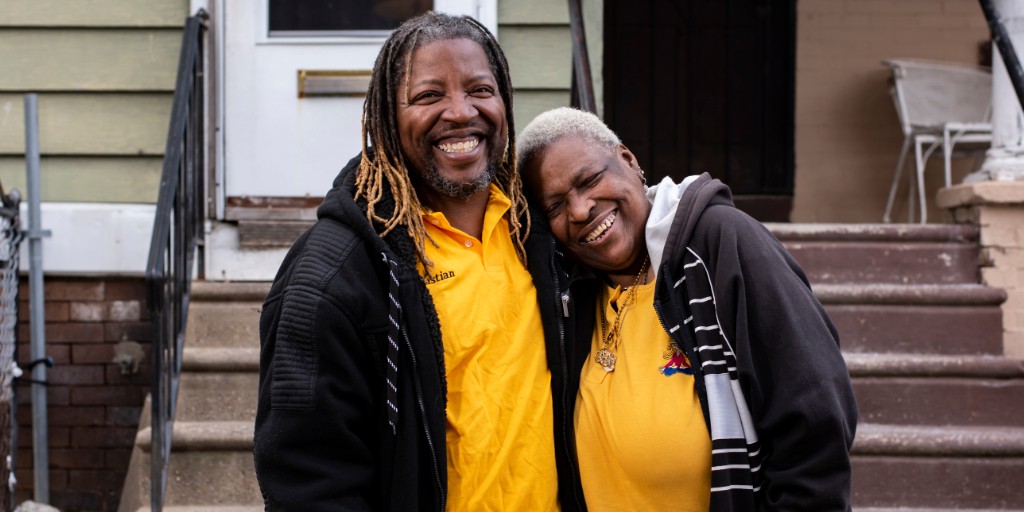 The excerpt below is taken from PCA's 2019-2020 Annual Report. To read the full report, click here. You can also download a PDF version by clicking here.
Webster's Dictionary may have to redefine the word "support" to cover everything caregiver Sebastian Collins does for his mother, Betty Mitchell. "I wash the dishes, as well as do the cleaning, laundry and food shopping," said Collins, 53, of North Philadelphia. "I take Mom to her appointments, too," he said.
Collins, who also does all the cooking, has a system for preparing meals. "Mom can't cook because of a problem with her sense of smell," he said "The food could be burning and she wouldn't know it."
He started caring for his mother in 2015, when she developed a heart condition. Other health issues also greatly affect her daily life. "I can't grip things because I have carpal tunnel in both wrists," said Mitchell, 72. "Due to my health challenges, I couldn't make it without Sebastian's help."
Collins wouldn't be able to do everything he does for his mother without the help of PCA's Caregiver Support Program. In May 2019, Collins began receiving assistance with caregiving through PCA. This help includes reimbursement for respite services.
"PCA's Caregiver Support Program has been a big help," Collins said. "The caregiver assistant bathes Mom and washes her laundry, plus she heats food for her then washes the dishes." The support gives Collins a break to take a walk, play chess or go to the gym. He likes to follow a regular exercise routine to counteract his own health challenges, which include back pain caused by degenerative disc disease.
The caregiving got off to a bumpy start. "It's hard to take care of your parent, especially in the beginning," Collins said. "I had to sit down with Mom and say, 'Stop fighting me. I'm here to help you.' Since then, things have gone well. I help with whatever she needs, and she gives me advice about life. PCA eases stress and finances. It makes a big difference in our lives."