Outdoor activities provide ample recreation, fitness opportunities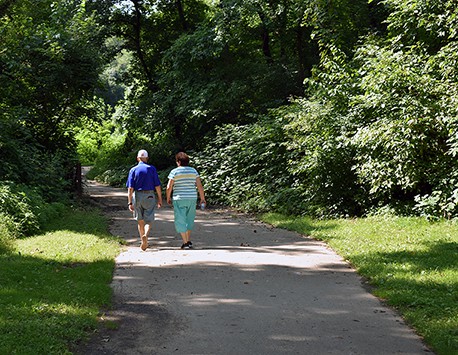 By Mary Anna Rodabaugh
You know fall is right around the corner when it's time to swap your sandals and shorts out for pants and sweaters. It is the season that delivers milder temperatures while humidity takes a vacation.
The highly anticipated break from the heat makes fall the perfect time of year to get outdoors and participate in a little physical activity. With more than 60 different parks, two riverfronts, and various arts and cultural events, Philadelphia offers many different outdoor opportunities to get you moving.
Get out to the gardens
Located in Southwest Philadelphia at 5400 Lindbergh Blvd., Bartram's Garden is considered the oldest surviving botanical garden in North America. This 45-acre National Historic Landmark offers many educational events, concerts and horticulture lessons.
For an aquatic fitness experience, Bartram's Garden also offers various water activities including free boating, paddling and fishing on the Lower Schuylkill River on designated days. For more information, visit BartramsGarden.org or call 215-729-5281.
Morris Arboretum of the University of Pennsylvania is another historic garden. Exhibits are accessible from paved pathways that weave throughout the gardens, and the arboretum offers discounted admission for seniors and retired military personnel. For more information, visit MorrisArboretum.org or call 215- 247-5777.
The Chestnut Hill arboretum, located at 100 E. Northwestern Ave., is listed on the National Register of Historic Places and is recognized as the official arboretum of the commonwealth of Pennsylvania. In September, you can expect to see beautiful hydrangeas, butterfly bushes and colorful trees. With 175 acres to explore, you will certainly get your steps in.
A walk in the park
Philadelphia has many different parks to explore. Nestled in Northeast Philadelphia, Pennypack Park contains nine miles of trails following the Pennypack Creek from Montgomery County to the Delaware River. This scenic park provides paved accessible pathways, as well as natural terrain trails. It is the perfect spot for a fall hike or an afternoon picnic.
For more information, visit FriendsOfPennypackPark.org or call 215-934-PARK.
Tacony Creek Park, an urban watershed, is a hidden gem near North and Northeast Philadelphia. Seniors looking to make new friends can join the Tacony-Frankford Watershed Partnership's weekday walking group. The group meets on Mondays from 9-10 a.m. at 5109 Bingham St. Call 215-744-1853 to RSVP.
For more information about the park, visit tcpkeepers.org.
Recreation along the rivers
Channel your inner child and enjoy a leisurely bike ride with Indego, Philadelphia's bike share program. You can find Indego bike stations sprinkled throughout the city. Day passes are $12, and you can return your bike to any Indego station. For information, visit rideindego.com or call/text 844-4-INDEGO (844-446-3346).
A bike ride along the Schuylkill Banks River Trail or Delaware River Waterfront invites you to take in beautiful views and access many events and activities.
Consider going on an early evening bike ride to the Cherry Street Pier on Monday, Sept. 23 for a free screening of "2001: A Space Odyssey," starting at 8 p.m. There is an Indego bike station located near the pier, which is at 121 N. Christopher Columbus Blvd. For more information, go to CherryStreetPier.com or call 215-923-0818.
If biking is not for you, there are plenty of places to explore on foot throughout the heart of the city. "One of the best things about Philly for seniors is that the Center City area is only 25 very walkable blocks from river to river," says Donna Schoor, director of communications for VisitPhilly.com. "It is a walker's dream destination for strolling the little streets of the city."
Schoor notes that September and October are perfect months for outdoor exercise, especially Yoga on the Pier along the Race Street Pier, located at Race Street and N. Columbus Blvd. Take in the stunning views of the Ben Franklin Bridge while focusing on your breath. The free program offers yoga classes Monday through Thursday at 7 a.m. and 6 p.m., Friday at 7 a.m., and Saturday and Sunday at 9:30 a.m. All levels are welcome to participate, just show up with your yoga mat. For more information, go to DelawareRiverWaterfront.com/places/race-street-pier or call 215-922-2FUN.
Autumn arts
With more than 2,000 acres to enjoy, Fairmount Park is the largest – and perhaps the most famous – park in Philadelphia. This month, the beauty of the outdoors and the eloquence of movement collide in a special outdoor performance series. From Tuesday, Sep. 24 through Sunday, Sept. 29, the Fairmount Park Conservancy will present "In Motion, In Place: Trisha Brown Dance Company."
The public performances will feature three works by the late, pioneering postmodern choreographer Trisha Brown – "Foray Forêt" on the grounds of historic Mount Pleasant in West Fairmount Park, "Raft Piece" floating on the reservoir at the Discovery Center in East Fairmount Park, and "Roof Piece" along the rooftops that surround Logan Circle in Center City. For the full performance schedule, visit MyPhillyPark.org.
If you want to do some physical activity that also inspires your creative side, consider attending one of Philadelphia's outdoor arts festivals. On Sunday, Sept. 30, head on over the Chestnut Hill Fall for the Arts Festival. From 11 a.m. to 5 p.m., more than 150 artists, crafters and vendors will take over Germantown Avenue from Rex Avenue down to Willow Grove Avenue.
Spanning over seven blocks, attendees will have the chance to enjoy regional arts, crafts, food and live entertainment. For more information, go to ChestnutHillPa.com/events/fall-arts-festival-2019 or call 215-247-6696.
This fall, there is an outdoor activity for everyone. For more information on Philadelphia fall events, go to VisitPhilly.com and phila.gov/the-latest.