App helps seniors get online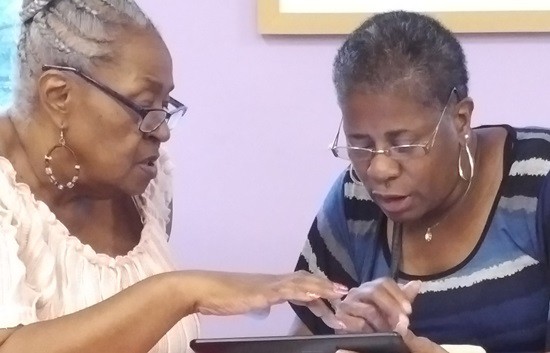 By Marcia Z. Siegal
Generations on Line (GoL), a nonprofit dedicated to helping seniors tackle the digital divide, has launched a free application, or "app," that's designed to get older adults online more easily by using small, portable computer "tablets." The app is called Easy Tablet Help for Seniors. It is available both in the Apple App Store and in Google Play. Philadelphia Corporation for Aging (PCA) is collaborating with GoL on behalf of seniors citywide to expand computer tablet training through this new app.    
The app "walks a novice or older technophobe step-by-step through the basics of using a tablet device to do things like use email, search the web, view videos and take pictures," said Tobey Dichter, GoL founder and CEO. "Instructions display in large type and familiar, age-friendly language." Easy Tablet Help for Seniors can be downloaded for free on Apple iPad and Android tablets. (While it will work on a smartphone, the screen is too small to be practical, Dichter said.)
Carolyn Walker used Easy Tablet Help for Seniors at Ralston Center, a West Philadelphia organization providing social services and support for older adults.  Walker said she was able to  overcome her trepidation about the new technology. "When I first started, I was so afraid of the computer. I felt like it was going to bite me," she said. "Through the app, I learned how to use the computer and how to go online, and I am enjoying it. It has opened up a whole new world for me."
Easy to use
Easy Tablet Help for Seniors is the first public launch of GoL's tablet tutorial app. The organization piloted the app in 2014 at workshops taught by volunteer peer instructors at five senior centers in Philadelphia, in collaboration with PCA,  and at 10 others throughout the state. Organizations can use the app in GOL Sip & Swipe Cafes, with volunteers as coaches. The senior- and family-friendly app, reflects feedback and experience gained from those workshops and is also easy for seniors to use on their own at home if they prefer.
"We made changes to make the program less dependent on a formal coach or instructor," Dichter said. For a senior who wants to learn at home, she recommends that a family member familiar with computers, like a senior's child or grandchild, download the app and be available to help with initial learning efforts. "Since the instructions are interactive and always on the tablet screen, a family member avoids playing teacher, but rather becomes a motivator," she said, noting that the app comes with a coaching guide. "With someone there to assist and encourage, a senior can learn the basics of using a tablet in as little as 45 minutes," she said.
Altogether, GoL has helped more than 100,000 seniors nationwide get online over the years, Dichter estimates. Easy Tablet Help for Seniors advances GoL's mission by making computer literacy training even simpler, more convenient and readily available.
A $25,000 community grant from Philadelphia's Digital Literacy Alliance for 2017-18 will enable GoL, in collaboration with PCA, to introduce Easy Tablet Help for Seniors to thousands more of the city's older adults. GoL is continuing to partner with senior centers and expanding to partner with houses of worship, senior housing facilities, and other senior-serving organizations for this initiative.
Through existing Sip & Swipe Cafés, and new Sip & Swipe Cafés and other trainings being launched at additional sites through the grant, seniors will have the opportunity to become computer literate using GoL's new app.
Getting seniors online is vital, Dichter said. Governments, businesses and media tend to assume everyone is online and able to access their resources for free via the web, but that is not so – especially for seniors, she points out. Empowering older adults to master computer technology, and to connect electronically with others and access resources through the web, is truly life changing. She said, "It expands their horizons, renews their talents and gives them a sense of purpose."
***
For more information, including on Sip & Swipe Cafes and other trainings: call 215-222-6400, email KBurke.GoL@comcast.net or go to generationsonline.org. For more information about the app, in the Apple Store, click here and in Google Play, click here.
Caption: Linda Gray (left) and Linda Wilson use Easy Tablet Help for Seniors to  to learn computer skills. (Photo courtesy of Ralston Center)