Meet the videographer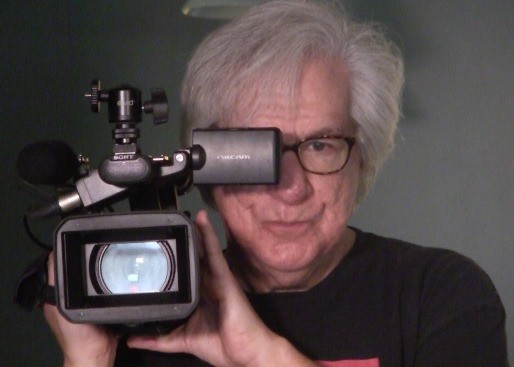 By Sally Friedman
"I realized somewhere along the line that life itself can be fluid and that one thing can lead to another," says Gerald Kolpan. And in the case of this former broadcaster turned videographer, that's precisely what happened.
Growing up as one of three very different brothers in New Rochelle, New York, Gerald Kolpan had to discover his own unique destiny. So this youngest brother settled on the hippie/radical identity, combining that with "family artist."
"Six colleges rejected me, and I ended up briefly in a rock and roll band singing and playing guitar," he says.
And then came the life-changer. Kolpan was actually accepted by the former Philadelphia College of Art's illustration program and found his way to an early career as a freelance illustrator.
An unexpected turn
Expertise in illustration led to Kolpan's working with various media, including newspapers and magazines, in a world of deadlines and, too often, little money.
"And then one day I heard National Public Radio's 'All Things Considered,' and I became a regular contributor doing commentaries," he says.
For Kolpan, that connection was the start of a new and deeply fulfilling chapter. Not averse to trying new things, Kolpan started chatting up celebs like performer Uncle Floyd and investigating establishments like the famous Levis' Hot Dogs & Sandwiches – people and places that intrigued him, and also, as it turned out, intrigued others.
Kolpan's ability to remain open to new possibilities was called upon next in 1987 when he received an invitation to continue and expand his gift for gab on the Channel 29 Ten O'Clock News.
His interviews and popular commentaries led to an unexpected but welcome transition: televised feature reports and human interest stories.
"Soon, PR people were contacting me, and I was chatting with people like Isaac Stern, Alice Cooper and Dennis Hopper as the cameras rolled," recalls this "let me at it" guy who was honored with two Emmy Awards in 1987 for his on-camera work.
The winds of change
In 2009, a good thing came to an end and Kolpan's contract was not renewed. And that might have been that. But it wasn't.
Instead, the Renaissance man took a leap of faith. Kolpan decided to take the reins of his future in his own hands – hands that were about to be used in a new way: to make videos.
"I had never even held a TV camera," he says. "That was somebody else's job." His role had been what the TV industry calls "talent."
Kolpan's love of journalism and of people's stories had brought him to this new chapter of his life. And what a chapter it is.
Kolpan has listened to enough stories and seen enough need during his years in broadcast journalism to approach this new life with a strong feeling of wanting to give back. And while many may say that same thing in their post-60 years, at 66, Kolpan is doing more than talking.
Recognizing the unmet needs of nonprofit groups that do good works, Kolpan – who had little or no technical background – decided to launch a company devoted to visually telling the stories of those nonprofits in hopes of giving them visibility and viability in a world in which for-profits have huge budgets and support.
"You reach a point in life when you seriously want to do some good, and yes, give back. I was there," he says.
Kolpan would learn that his tech-savvy colleagues would be happy to tutor him. "Interestingly, when it was my time to help others, others were willing to help me," he says. "That's a very nice balance."
The learning curve was steep, but so was Kolpan's motivation. And thus was born "PHILO Project," a company created and run by this former on-camera TV personality. The "Philo" of the name refers both to Philadelphia and to the Greek word "philos," meaning "love." In this case, that love is for others who do good works without fanfare.
Kolpan makes videos for little-known nonprofits with budgets of less than $1 million. He's had no trouble finding them through his old contacts and networks and by just keeping his eyes and ears open. He has made 75 videos and counting in the first four years of his business.
The causes this videographer/filmmaker has helped are diverse. Among the organization he has encapsulated visually are the Philadelphia Environmental Film Festival, Choral Arts Philadelphia, American Historical Theatre, Kulu Mele African Dance & Drum, and EgoPo Classic Theater. Add in Singing City: The Children's March, Philadelphia Wind Symphony, and even The Performance Garage and Bearded Ladies Cabaret.
It has helped that the PHILO Project has been taken under the fiscal wings of the Greater Philadelphia Film Office through its Greater Philadelphia Filmmakers Program. Vital earlier support also came from the Culture Trust of Greater Philadelphia. The trust's faith in his fledgling company has moved and delighted Kolpan.
Summing up his experience, Kolpan turns wryly to an old saying he has found to be erroneous: "You can't teach an old dog new tricks."
"I can tell you that if the dog is ready and determined, you definitely can teach him," he says.
***
For more information about PHILO Project, visit philoproject.org.
CAPTION: Resilience, reinvention and creativity are hallmarks of Gerald Kolpan's  long career.