Fun, fitness offered at senior centers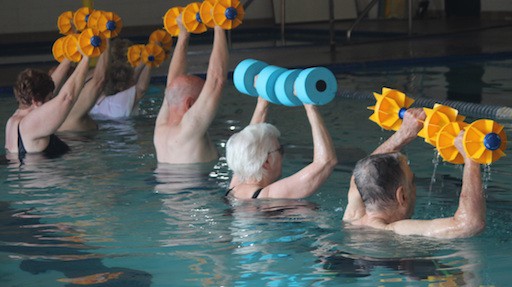 By Shannon Reyes
It's no secret that physical activity is linked to a number of health benefits for people of all ages. When it comes to seniors, participating in regular fitness activities can mean more than just staying in good physical health. It can also mean maintaining one's independence for as long as possible.
According to the Center for Disease Control and Prevention's "Physical Activity Guidelines for Americans, 2nd Edition," older adults who are physically active are less likely to experience falls. Physical activity for adults 65 and older is also linked to preserving physical function and mobility, as well as performing daily living tasks with more ease.
For those looking to begin a fitness regimen or add some variety into an already existing routine, the 27 senior centers and satellite meal sites funded by Philadelphia Corporation for Aging (PCA) offer a wide variety of exercise and fitness activities. While the schedule and offerings vary, all senior centers do offer activities for free or at a nominal price.
If you're looking to try something out on your own, most senior centers have a dedicated physical fitness room. These rooms are stocked with exercise equipment, such as free weights and treadmills, and allow you to workout at the time and pace that is right for you.
Senior centers also offer a variety of popular group fitness activities that have a dedicated following. Try any – or all – of the following to get you moving:
Aerobics
Line dancing
Tai chi
Walking groups
Zumba
Exercise to the beat
"There are seniors who love [line dancing] so much they will take the class wherever it is," said Karen Washington, assistant director of program management at PCA.
"The active seniors will travel from center to center for classes or to follow a particular instructor who they like." Line dancing enthusiasts even get to show off their skills each year at West Oak Lane Senior Center's annual line dancing competition.
Calm movements
Participants who are looking for a slower-paced physical activity may enjoy the sereneness of tai chi. This Chinese martial art is available at most senior centers, including Philadelphia Senior Center (PSC) – Avenue of the Arts, whose participants sometimes act as ambassadors for the program. Tai chi enthusiasts from PSC – Avenue of the Arts often visit other senior centers in Philadelphia to perform demonstrations.
Elba Baldinger, 79, who has been practicing tai chi since it first began at the center in 2015, has stuck with it for its calming and meditative benefits.
"For me Tai Chi is an hour of tranquility, because you can't do it and think of other things," Baldinger said. "You're so concentrated on the moves that you can't think about things like what you're going to cook for dinner."
Programming backed by research
Senior centers offer activities, which are based on scientific research, to positively impact an older adult's health. "When you participate in an evidence-based program, you already know that it has proven health benefits," PCA Senior Center Supervisor Mary Catherine Dabrowski said.
Senior centers offer two evidence-based programs that are designed to meet the physical needs of older adults: EnhanceFitness and Walk with Ease.
Those who are looking for an all-levels exercise class will enjoy EnhanceFitness, which focuses on strength training, cardiovascular exercise and maintaining flexibility.
The cost of EnhanceFitness is eligible for reimbursement through your health care insurance if it participates in the SilverSneakers fitness program. Walk with Ease helps people with arthritis start or maintain a healthy lifestyle. Each class begins with a workshop on related topics, such as pain management, exercise and nutrition, and concludes with an outdoor group walk.
Looking to try new things?
Variety is the spice of life. Fitness programming at each senior center is unique and often reflects the needs and interests of its participants.
SilverSplash and Aqua Tai Chi both offer a low-resistance, low-impact workout to seniors in KleinLife: Northeast Philadelphia's full-sized swimming pool. Also part of the SilverSneakers program, SilverSplash gives participants a chance to practice aerobics with less strain on bones and joints. The class takes place in a shallow area of the pool, giving non-swimmers the opportunity to practice, as well.
Fern Shankin, 73, became a regular participant in KleinLife's SilverSplash class when she was looking to start a fitness routine and fondly remembered the sage advice of her aunt, an aerobics enthusiast who lived until the age of 103. "She said the secret to a good life was going to aerobics every day," Shankin said. The best part of all, as a member of the SilverSneakers program, Shankin participates each week, free of charge.
Norman Rosenblatt, 90, another regular of the SilverSplash class, is a firm believer in remaining active at any age. Recently celebrating his 90th birthday, Rosenblatt doesn't believe he will be slowing down anytime soon and lauded the SilverSplash class for playing a role in his vitality and health. "This is the best exercise you can take, he said. "It helps you stay healthy and buoyant."
Other specialized offerings include boxing and tap dancing, both at West Oak Lane Senior Center, and bocce ball (described as "Italian lawn bowling") at South Philadelphia Older Adult Center, starting Sept. 10.
For more information
Advance registration may be required to participate in some senior center fitness programming. To learn more about activities offered at senior centers and program schedules, call the PCA Helpline at 215-765-9040.