MILESTONES is an award-winning monthly newspaper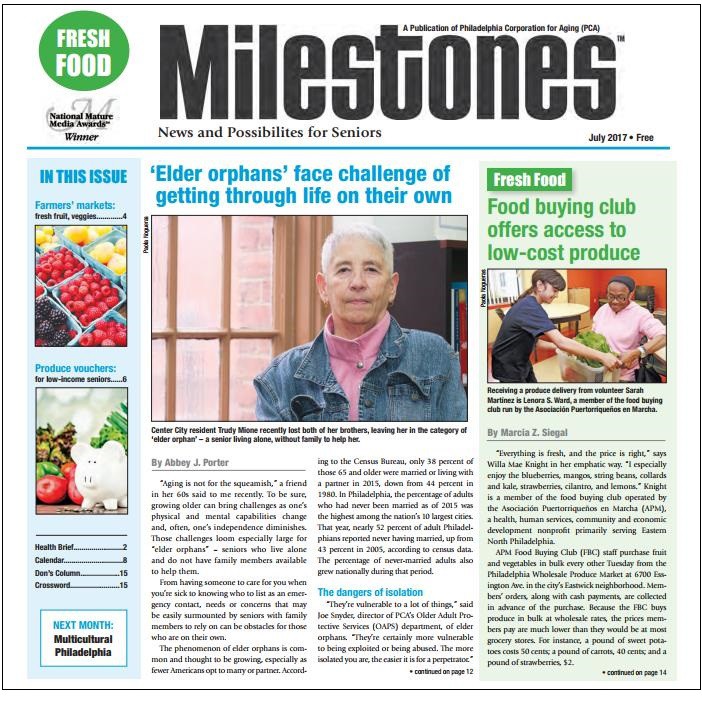 MILESTONES provides older adults with news, health tips, activities, and opportunities for involvement. This tabloid-style print newspaper is published monthly and distributed free at more than 850 locations throughout the city of Philadelphia. Download the current issue [PDF]
Read previous issues of MILESTONES:
2017
---
What do family and culture mean to you?
Do you have an interesting story about researching your ancestry, or some other aspect of "family?" Share your story with MILESTONES, for possible inclusion in our "multicultural" issue in August!
Tell us your story in 350 to 450 words
Send to Milestones by June 15 by email at milestonesnews@pcaphl.org or mail to:
Milestones Editor
642 N. Broad St.
Philadelphia, PA 19130
Let us know how to reach you
MILESTONES reserves the right to edit submissions.
---
Advertise in MILESTONES
Readership surveys show that more than 163,000 seniors in Philadelphia County refer to PCA's MILESTONES newspaper monthly for news, information and to make buying decisions.
Reasonable advertising rates make MILESTONES newspaper an attractive option for those wishing to reach older Philadelphians. Combined rates with MILESTONES e-news offer an expanded audience and added visibility for businesses.
Download the MILESTONES Media Kit [PDF]
Find a distribution location [PDF]
Advertising contact:
Joan Zaremba
215-765-9000, ext. 5051