Recalling ice skating dreams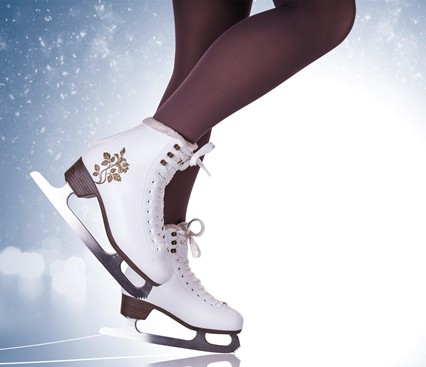 By Dorothy Stanaitis
As the next Winter Olympics are upon us this month, I recall my childhood dreams of becoming a famous ice skater. Sonja Henie started it all. That tiny Norwegian figure skating sensation whirled, twirled and twisted her way to three Olympic gold medals in ladies singles figure skating, as well as six European and 10 World Figure Skating Championships – more than any other skater.
But Henie's real ambition was to go to Hollywood and become a movie star. After her father arranged a Los Angeles ice show highlighting his daughter's amazing talents, it wasn't long before her wish came true. After starring in several films, she became one of Hollywood's highest paid stars in a series of box office hits.
As I watched her glide effortlessly across the ice and quickly spin and gracefully leap into the air on the big screen, it looked so easy that I knew I could to it, too. I could see myself gliding on ice, spinning and leaping just like Sonja Henie. But there was one problem. I didn't have ice skates.
My birthday, usually a good opportunity to have wishes fulfilled, had already passed, but it wouldn't be long until Christmas, my second chance to get my heart's desire, and I had seldom desired anything as much as I desired those ice skates. My usual holiday gifts had always been dolls and books, but that year, all I wanted under the Christmas tree were Sonja Henie ice skates. My campaign began. I never missed an opportunity to be helpful. I never teased my little sister. I topped fussing over my bedtime, and I wrote several letters to Santa Claus explaining that I needed nothing at Christmas except those ice skates. I went to bed on Christmas Eve full of confidence, but I woke to bitter disappointment. My gifts under the tree included two books, some games and a baby doll. There were no ice skates. I didn't want to spoil my family's happiness by pouting, but my heart was broken.
It mended quickly, however, when my grandmother arrived for her Christmas visit. The doll-sized box that she handed me actually contained a treasure … a beautiful pair of showy white ice skates just like Sonja Henie's. They were a little large to allow for growth, but when padded with extra-large socks, they were perfect. I couldn't wait for a chance to use them. It came the very next day.
My mother, busy at home with my little sister and brother, had arranged for a neighborhood girl to take me to Concourse Lake in Fairmount Park, where there was great ice skating. She gave us some change to use on the 52nd Street trolley, and off we went.
I was so excited that my hands were trembling as we put on our skates. But when I tried standing, my legs were trembling, too. The skating didn't go well at all. I fell several times, causing the better skaters to grumble as they wove around me. I struggled to get up on the slippery ice.
After some time with no improvement, the neighbor suggested that we might want to go to the drug store on the corner of 52nd and Parkside to warm up and enjoy some hot chocolate. Since I was shivering with cold and disappointment, I agreed. What I didn't know was that the hot chocolate would be paid for with the money intended for the trolley ride home. It was a long, cold walk to get there. When I finally stumbled into the house, my mother was eager to hear about the adventure. What she heard wasn't exactly accurate, but I wanted to keep the dream alive.
I never did learn to leap and twirl like Sonja Henie, but over the winter I did manage to stay on my feet long enough to skate around the edge of Concourse Lake and avoid tripping the better skaters. That was good enough for me. One of the books I had received for Christmas was Louisa May Alcott's "Little Women." In the story, Jo decided to be a writer. So I took my ambitions off the ice and onto the desk. I wouldn't be an ice skater after all.
CAPTION: Dorothy Stanaitis' childhood ice-skating aspirations were inspired by famed ice skater Sonja Henie. (istock)