Making mats for homeless Philadelphians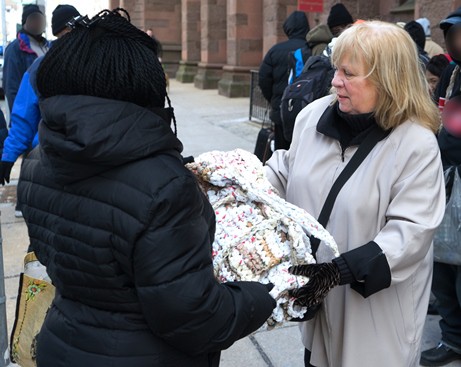 By Barbara Sherf   
New York Opera and Broadway singer Leigh Munro, who teaches "Singing for Seniors" at her Chestnut Hill Voice Studio, is amazed at the volunteer ideas one can find on the internet.
Six months ago, Munro, 76, who also teaches singing at Center on the Hill in Chestnut Hill, was checking off items on her "bucket list." She already knew how to knit, but she didn't know how to crochet, so she looked it up on YouTube and discovered a video on making sleeping mats for the homeless by crocheting plastic grocery bags together. Yes, those same bags that litter our streets and attach themselves to tree limbs can have a useful second life.
"There was a panoply of videos, but the one about the mats really struck me," she says. "What a motivator to learn to do something that is beneficial to those sleeping on the streets of our city – to give them a dry surface that is lightweight and portable." Munro says.
She notes that 500 to 700 bags are needed to create one mat. "I started going to the Acme," she says, "and they were like, 'Here comes the bag lady,' and they would give me bags that customers had recycled, as well as boxes of store bags that had some minor defects."
A resident of the Chestnut Hill Towers apartment complex for 18 years, Munro laughs that she opens her front door to find bags full of bags.
Munro asked her students to bring bags to Center on the Hill, where executive director Leslie Lefer ended up seeing a finished mat and thought it would make a great volunteer project.
Eighteen seniors signed up for the first meeting at Center on the Hill to organize volunteers to help make the mats, and Lefer had to change the location when more than twice that number showed up. At the second meeting, 50 volunteers came out to help. Now the volunteers meet twice a month to work on the mats. Munro, who had been busy making eight mats over the previous six months, enjoys sharing the process for making the mats with seniors.
"First we straighten [the bags] out and use a rotary cutter to cut the handles off the top and the seams at the bottom," says Munro, a longtime crafter. "Then we use oversized needles to crochet the bags, which we call 'plarn' for plastic yarn. At first, I was getting creative with patterns, but then I realized that they don't need to be pretty and perfect if it gets the job done in terms of giving the homeless a lightweight mat that is clean and keeps them off of the wet ground."
On a recent outing with a friend, Munro saw a line of homeless people waiting for food outside of Trinity Church on Rittenhouse Square, and the pair pulled over and handed out the eight mats she had made.
"There is something special in being able to hand a mat directly to someone and give them a hug of hope," Munro says. "They were beyond grateful. I just wish I had had five times the number of mats. In fact, I rushed home and started another mat, which I've almost completed. I can see they're making a difference. The men and women loved them, especially the carrying straps that make them easy to tote around."
Munro notes that the mats are durable, waterproof and bugproof. They can also be hosed down when necessary.
"The crochet stitches reinforce the strength of the plastic," she says. "I try to make each one a little different with different-colored bags. The women want the pretty ones with yellow and blue stripes."
At the next meeting, Munro planned to urge the volunteers to get as many mats finished as quickly as possible.
"Hopefully, I'll be able to motivate them," Munro says. "If I can adequately describe the faces of gratitude I saw, I'm sure we will be on our way toward getting more mats out there on the streets."
Munro is a firm believer in finding something to do in terms of volunteering that speaks to you while giving joy to someone less fortunate.
"I feel blessed, being able to volunteer and give back," Munro says. "Life is so great; you never know what you are going to get into. There are so many volunteer opportunities out there. If you have a computer, just Google "projects for seniors" and find something that interests you. Some people like to volunteer with children; others like crafts. Whatever it is, just jump in and do it. Life is not a dress rehearsal. We are in a performance, and we need to step up onto the stage."
* * *
For more information on making mats at Center on the Hill, located at 8855 Germantown Ave. in Chestnut Hill, email Leslie Lefer at llefer@chestnuthillpres.org or call 215-247-4654.
CAPTION: Leigh Munro (right) hands out a sleeping mat, which she made using plastic bags, at Trinity Church in Rittenhouse Square. (Photo by Paul Anderso)