'The New Senior Man' book offers men stories, advice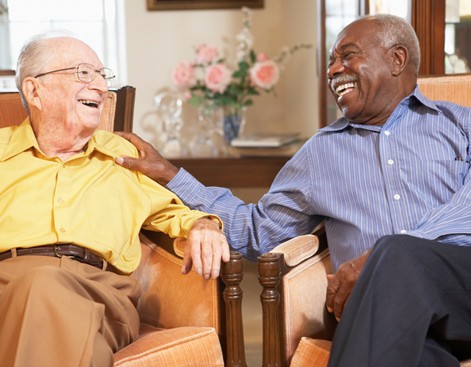 By Marcia Z. Siegal
"Today's senior men have a gift of time – more than any generations before them," said Thelma Reese, coauthor of "The New Senior Man: Exploring New Horizons, New Opportunities" (Rowman & Littlefield, 2017). "It's a time that is rife with opportunity to learn, to explore, and to discover the universe and themselves."
To help them do that, "The New Senior Man" offers a collection of stories from older men about their post-retirement journeys, as well as expert advice on topics relevant to the senior years. The 165-page book includes nine chapters detailing how men need to reinvent and redefine themselves beyond their work.
"A man's context, the world he lives in, has changed and so must he," the authors say in the introduction. "It bears little resemblance to the world that his father and grandfather knew when they set off to retirement with the proverbial gold watch and a new set of golf clubs. 'The new senior man' will find the best is yet to come. Discovering what that best will be for him is the new adventure."
A changing world
Many of today's seniors are living longer due to modern advances in health care. The baby boomers are adding to the surge in the senior demographic. "We're looking at a huge cohort of older adults that never before existed in history," said Reese, 84, who wrote "The New Senior Man" with the late Barbara (Bobby) M. Fleisher. The longevity revolution means that many adults have the ability to explore new options for finding purpose, developing new social connections and even embarking on encore careers in their senior years. Still, the post-retirement decades can pose daunting challenges, especially for men.
"Many of today's senior men so identified with the role they were expected to perform as chief breadwinner and supporter of the family that retirement can bring a 'Who am I?' crisis," Reese said. As a result, she said, men have to learn to express emotions and vulnerability, often in brand new ways. "Most men were raised to 'man up' from the time they were little boys – not to cry, not to show vulnerability or talk about what hurt," she said
An unmet need
"The New Senior Man" debuted four years after Reese and Fleisher's first book, "The New Senior Woman" (Rowan & Littlefield, 2013). The duo had interviewed women across the country for that book to ask them how they were coping with aging. "Whenever we spoke about 'The New Senior Woman,' if there were men in the audience, they inevitably asked, 'When are you going to do the book about men?' We realized that the forces that shaped the lives of today's senior women had equally profound effects on men, but no one seemed to be noticing, at least not in print," Reese said.
The authors interviewed nearly 100 men from different walks of life and from across the country for their latest work. The book features stories from nearly 50 of them and spans ages 61 to 100. "These role models are inspiring, not as figures to imitate, but as springboards to our own self-knowledge, understanding, and decision-making," Reese said.
The book also presents advice and information from experts about loneliness; relationships; intimacy and sexuality; finding community; places and ways to live; and coping with health changes, mortality and loss.
One story is about Irving, 100, who exemplifies a contemporary aging pioneer. He uses technology not available to previous senior generations to pursue his passion for science, despite growing frailties. Though dealing with severe hearing and vision loss, he has harnessed high-powered hearing aids, as well as traditional eyeglasses and magnifying glasses, to help him cultivate interesting plants, read the latest journals, and lecture (recently on Einstein) to groups within his Sarasota, Florida, community.
The book points out that men often need to develop new social supports in their post-retirement years, especially if they are single. Most mens' friendships have typically been work-based or based on sports affiliation, investments or politics, the book says. In this way, men contrast with women, who often develop lifelong, intimate friendships based on personal concerns. Faced with the prospect of loneliness when unmoored from their past work lives, many older men are creating new, deeply bonded social networks. They are joining support groups, pursuing new interests, going to senior centers and more, "The New Senior Man" demonstrates.
New territory
Reese was a retired professor of English and education and Fleisher a retired professor of education when their collaboration began. "When Bobby and I were in our early to mid-seventies, we realized we were on an unmarked road in very new territory," Reese said. "How to navigate these next years in ways that enriched our lives and those around us was the looming question. We found role models among so many women around the country, each of whom was 'doing' aging in her own way, productively, and in ways that were personally satisfying."
Fleisher died in 2016. All of the interviews and 95 percent of the writing for "The New Senior Man" had been finished. "It was a very difficult time for me personally, and a profound loss, but I had promised Bobby – and myself – that it would be done, and it was," Reese said.
***
"The New Senior Man: Exploring New Horizons, New Opportunities" is available through the publisher at rowmanlittlefield.com or 301-459-3366 or through book stores, online book retailers or e-book readers like Kindle.
CAPTION: Today's senior men have the gift of time and have many more options post-retirement than preceding generations. (Thinkstock)