Singer enjoys six decades of entertaining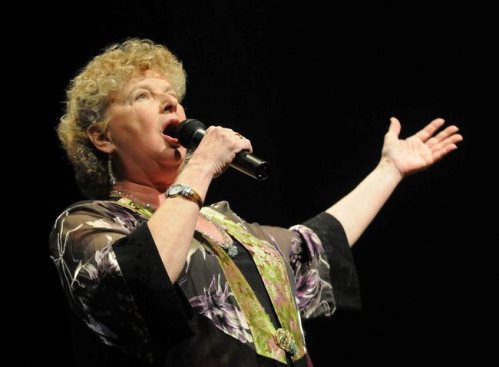 By Constance Garcia-Barrio
At 12, singer Freyda Thomas strutted onto a stage at a Montgomery County country club in a prom gown and belted out "They Can't Take That Away from Me." Her father, Eddie Shaw, whose popular band played in Philadelphia for many years, had invited her to perform. "I still remember the chills up and down my spine as the trumpets, saxes and trombones blared behind me," says Thomas, now 74. That spring night marked the start of a career in entertainment that has blazed for more than six decades and, besides singing, includes acting gigs on "Murphy Brown" and "Star Trek: Deep Space Nine." Thomas was also recently profiled on WHYY.
Born and raised on Oxford Circle, Thomas came into her own in the '60s, a time when Philadelphia became known as a pulse point of American pop music. "You had Frankie Avalon, Bobby Rydell and Chubby Checker, not to mention American Bandstand," she recalls. "Who could have asked for more than to come from such a music town?"
After earning a bachelor's degree in French – she spent her junior year in France – and a master's in French and linguistics, Thomas tried careers ranging from high school French and English teacher to secretary and actress. "I still did occasional singing peformances, at least until 1986, when my father died of cancer," Thomas says. "But I always did whatever survival jobs I could find to pay the rent. I discovered that I wasn't cut out for a 9-to-5 job." Thomas also pounced on every chance to travel. "I sang on cruise ships that went all over the world, I picked a mango off a tree in Bora Bora, and I stood on a glacier in Alaska," she says.
Thomas's love of French led her to adapt some works by playwrights from that country. "I had grown familiar with Moliere, considered one of Western literature's greatest masters of comedy," she says. "I felt drawn to adapt one of his plays, "Les Femmes Savantes," and bring it to New York because it lampoons academic pretension, among other things." Jean Stapleton, who portrayed Edith Bunker in the 1970s hit sitcom "All in the Family," starred in the resulting play, "Learned Ladies." It premiered in New York City in 1991.
Thomas also wrote "The Gamester," based on "Le Joueur," a 1696 comedy by French playwright Jean-Francois Regnard. She dialed up the humor and added more sex to heighten the appeal to American audiences. To date, she has adapted seven French plays, all of which have been published and produced.
Thomas's performances continue to bring joy to many baby boomers. She credits her youngest brother, Marc Shaw, with guiding her to play for seniors and teaching her to use sound equipment.
"Last week, I sang at a birthday party for a woman who had turned 107, and she got up and danced," Thomas said. "I like singing as much or more now than ever." She has found that she can touch a surprising group of listeners. "I recently sang on a dementia unit in Philly," she said. "At first, people were sitting in their wheelchairs with their heads drooping, but when I started singing 'Oh, What a Beautiful Mornin'' and other show tunes, they perked right up. Singing is the best medicine. It heals audiences, and here's a secret: It heals me, too."
* * *
For more information, contact Freyda Thomas at 215-635-1138 or Freyda1262@gmail.com.