Senior centers promote health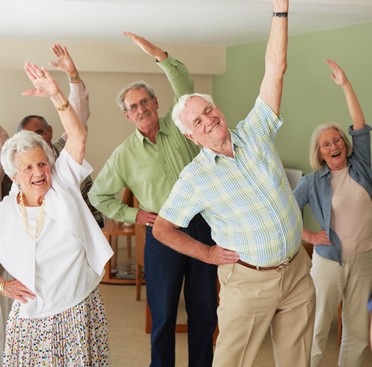 Senior centers offer a variety of health and wellness programs. Older adults can visit centers to participate in exercise and fitness activities, nutrition and cooking classes, blood pressure checks and other health screenings, and seminars on a variety of health-related topics. In addition to each center's daily wellness programs, Philadelphia Corporation for Aging (PCA) provides evidence-based health education programs developed with older adults' specific needs in mind.
The following programs have been shown to be effective and are available, at no cost to seniors, at most of the 28 senior community centers and satellite meal sites throughout the city. Unless otherwise indicated, these programs are offered in two-and-a-half hour weekly sessions for six weeks.
Help Yourself to Health
This in-depth chronic disease self-management program empowers adults 60-plus to manage health conditions including diabetes, asthma and high blood pressure. Participants learn a wealth of information and tools to take charge of their health conditions and any associated symptoms, such as pain, depression and physical limitations. Participants will be introduced to new ideas for condition management by others who are experiencing the same symptoms.
 Keep it Moving
This program focuses on helping adults 60-plus manage and ease chronic pain. Participants learn tips and strategies to take charge of pain, whether they have arthritis, fibromyalgia, lower back or neck ailments, or other conditions that cause discomfort, stiffness and/or inflammation.
 Common Threads
This is a type 2 diabetes self-management program for adults 60-plus. Participants learn to plan a healthy menu, prevent low blood sugar, and manage medication and receive a schedule of suggested physical activity. They also learn how to manage diabetes-related problems such as depression, glaucoma and foot sores.
Healthy Steps for Older Adults
This comprehensive program helps adults 50-plus avoid falls. The single four-hour session includes a physical falls risk screening, referrals to health care providers, follow-up evaluations and a free 64-page take-home guide. Participants learn what hazards to look for around the house and what changes to make in their homes to reduce the risk of falling.
EnhanceFitness
 This is an inclusive exercise program. Whether participants are always up and on the go or are in a wheelchair, the instructors are trained to ensure that people of all fitness levels can take part. Each fun-filled class is offered twice a week for an hour. The movements focus on cardiovascular exercise, strength training, balance and flexibility – key components older adults need to maintain health and function as they age.
Walk with Ease
This program is designed to reduce the pain associated with arthritis. The program is offered twice a week, and each class is presented in two parts: an educational workshop that covers topics such as pain management, how to set achievable goals, exercise and nutrition; and a group walking segment that takes place outdoors. Participants are encouraged to walk farther with each class and to complete the full six-weeks.
***
For more information about these and other health programs available to seniors, contact your local senior center. To find a center in your neighborhood, call the PCA Helpline at 215-765-9040 or click here.
CAPTION: Senior center exercise programs offers great benefits. (iStock)