Taking care of your heart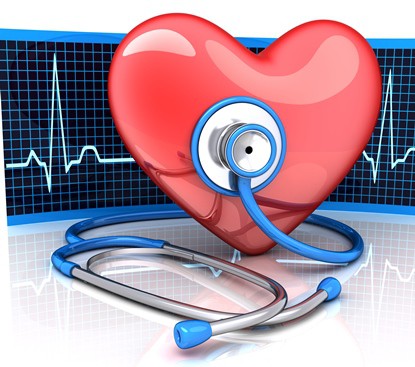 By Alicia M. Colombo
This month, take time to love yourself by thinking about your heart health. Heart health is a broad term that is often used to describe healthy blood flow through the vessels, healthy tissue in the heart walls and a normal rhythm, said Sonela Skenderi, D.O., a board-certified cardiovascular disease specialist at Mercy Cardiology at Nazareth Hospital.
Several factors can compromise heart health and contribute to heart disease, including hypertension, or high blood pressure; high cholesterol; and diabetes. Of these, hypertension is especially dangerous; it is known as a "silent killer." Most of the time, it has no obvious symptoms. It can damage coronary arteries, causing them to become narrowed, and strain the heart by forcing it to work harder.
You may not even know you have heart disease until it's too late. But with lifestyle changes and medical monitoring, you can prevent a life-threatening cardiac event. While you can't control some risk factors for heart disease, like family history and age, much can still be done to improve your heart health. "We have a lot of young patients who don't have a family history of heart disease, but they have other risk factors," Skenderi said. "Elevated blood pressure and cholesterol are known as 'silent' risk factors, because you don't feel them."
Smoking and stress also can increase the risk of heart disease. "Stress does so by elevating the blood pressure," Skenderi said. She added that not taking care of your diet and failing to maintain a healthy weight also are risk factors.
Below are some tips that can help you prevent heart disease and keep your heart healthy as you age.
Check your numbers
Whether or not you have a known heart condition, it is essential that as a senior, you monitor your blood pressure and take steps to keep it at a healthy level. "Someone who perceives themselves as healthy may not have the motivation to check their blood pressure regularly," Skenderi said. But she added that it is crucial to do so. "For patients older than 60, the most important tip to maintaining a healthy heart would be to control blood pressure," Skenderi said. "If high blood pressure is monitored and treated, it can save your life."
Skenderi suggests regularly monitoring your blood pressure at a pharmacy or purchasing an inexpensive home blood pressure monitor. You should also have your blood pressure checked at every doctor's visit, whether you're seeing your primary care doctor, cardiologist or another specialist.
She also recommends having an annual blood test to check your cholesterol levels. If your overall cholesterol or low-density lipoprotein (LDL) cholesterol – also known as "bad" cholesterol – levels are elevated, talk to your doctor about ways to get and keep them down. Type 2 diabetes is another common heart disease risk factor because it is often associated with hypertension and high LDL cholesterol. If you have diabetes, maintaining glucose control is essential to minimizing heart disease risk. Elevated sugars increase the formation of plaque everywhere in your body, including the carotid artery, which supplies blood to your brain and face, lower extremities, and coronary arteries. "Managing diabetes is a lifetime commitment," Skenderi said.
"Uncontrolled diabetes can lead to coronary artery disease, stroke, kidney and eye disease. Stroke and coronary artery disease, if untreated, can be fatal."
Above all, follow the recommendations of your doctor to manage your heart and overall health.
Eat a low-fat diet
A high-cholesterol diet increases your risk of heart disease. Eating too many foods with a high content of saturated fat, trans fat and/ or cholesterol can cause high cholesterol, which can lead to plaque buildup in the coronary arteries, causing them to narrow and thereby impeding blood flow to the heart. An unhealthy diet can also lead to another risk factor, obesity, which is defined as being 20 percent above your ideal weight. Being obese can raise blood pressure and LDL cholesterol. Obesity also can lower high-density lipoprotein (HDL or "good") cholesterol, which may help protect against heart attack.
If your goal is to maintain your current weight and improve your cholesterol levels, then changing the type of food you eat should be sufficient, according to the doctor. When you eat a meal, fill half of a large plate with vegetables, one quarter with carbohydrates and one quarter with lean meat. "Eating three balanced meals a day with a good proportion of healthy versus unhealthy foods should be enough to improve overall health and wellbeing," Skenderi said.
`Lean proteins contribute to heart health because they are low in fat and cholesterol. They include legumes and beans; vegetable protein, such as soy; chicken breast; and fishes. If you purchase frozen fish, it is more economical than fresh and can be kept for a couple of weeks.
"You can have red meat, but the frequency of consuming it is what counts," Skenderi said. "It would help your heart if you ate red meat no more than twice a week." Another lean meat option is pork tenderloin, which is also healthier than red meat. Regardless of the meat you choose, you should consider broiling, baking, grilling or sautéing your meat with a little extra virgin olive oil, instead of breading and deep frying it. "Olive oil has protective properties and is a staple of the Mediterranean diet, which is also based on lots of vegetables," Skenderi said.
Lose weight
For people who are trying to lose weight and also reduce cholesterol, calorie counting is the way to go. "The best way to lose weight is to reduce the amount of food and the type of food that makes you gain weight," Skenderi said.
Reducing weight will also help manage the symptoms of sleep apnea, which is linked to elevated blood pressure and abnormal heart rhythms, known as arrhythmias, such as atrial fibrillation, in seniors. "Sleep apnea causes you to stop breathing, which in turn raises your blood pressure and puts a strain on your heart," she said.
Exercise will help you lose weight, but it will also increase your cardiac health by promoting a healthy blood flow through the heart. It is recommended that you exercise for 30-45 minutes each day for three or four days a week. "Walking, in my opinion, is the best type of exercise because it's easy to perform and access," said Skenderi. However, the weather conditions and your location can make it difficult to walk. No matter what, stay as active as you can at home.
Dancing is a fun and uplifting form of exercise. "I have a few patients who like to dance because it keeps them moving, and the music is upbeat," Skenderi said. "It makes them less stressed. It's less boring than walking, especially if you are alone."
Stay informed
"Being involved in your own health is the biggest piece of advice I can  give," Skenderi said. Always ask your doctor about your blood pressure, and sugar (glucose) and cholesterol levels. Don't just know the numbers; engage in a dialogue about what they mean and how you can reduce your risk for heart complications. This is especially important for people who do not see a doctor often.
"Ask your doctor, 'What should I be eating?' and 'How can I improve my numbers?'" Skenderi said. "By the time patients see me, they already have elevated risk factors or have already had a heart attack. Ideally, you want to take action to improve your health before this occurs."
CAPTION: Follow the recommendations of your doctor to manage your heart and overall health.  (iStock)