PCA's Celebrate Arts & Aging highlights joys of creativity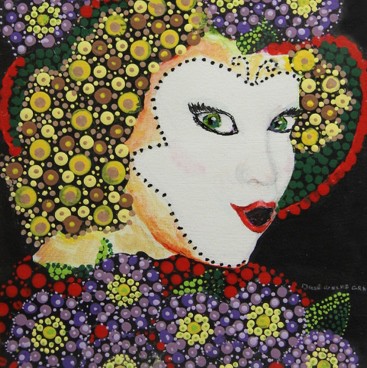 By Marcia Z. Siegal
Philadelphia Corporation for Aging's (PCA's) 16th annual Celebrate Arts & Aging festival takes place during May. "Our goal is to encourage older people to experience the wealth of artistic possibilities our region has to offer and to showcase the outstanding work of senior artists," PCA President and CEO Holly Lange said. "We also know that staying active and engaged is one of the keys to healthy aging, and the arts specifically have been shown to have a broad range of physical, mental and emotional benefits."
This year's celebration features more than 150 works of art created by older adults on exhibit throughout the city and opportunities for seniors to connect to numerous arts and cultural offerings. The exhibits include paintings, drawings, mixed media collages and photographs. Many of the participating artists are new to art, others are longtime professionals. They come from diverse ethnic groups and nationalities. All attest to the joys of creativity.
Exhibit sites and signature art
Art is on display at City Hall – fourth and fifth floors, 1401 JFK Blvd. in Center City; Center on the Hill, 8855 Germantown Ave. in Chestnut Hill; and West Philadelphia Senior Community Center, 41st and Poplar streets. Receptions with opportunities to meet the participating artists will be held at each site.
Diane Wolfe Gray's acrylic dot painting, "Flowered Clown," is the signature artwork for the celebration. Showcased at City Hall, it is a self-portrait based on another phase of her life. After retiring at 65 from work as a marketing consultant for the Institute for Scientific Information, Gray took nonprofessional clowning classes and entertained as Casabel, the Flowered Clown at nonprofit venues throughout the local area.
Her painting was inspired by a photograph someone took during one of her performances. Gray's face is made up in white, accented by bright red lipstick and black-rimmed eyes. She wears a curly blonde wig, an elaborate flowered costume and a headpiece.
Dot paintings like hers are created by making repeated imprints with implements that produce round dot shapes. Gray uses everything from crochet hooks with flat round backs to the round end of a paint brush. She begins an artwork by painting the canvas totally in black, then creates a drawing in white chalk over the dark background. Then she paints the dot patterns directly over the drawing, dipping implements in acrylic paint to create dots of various sizes and colors. To create the image of Cascabel, she used purple, red, yellow, brown and green dots to overlay the costume and headpiece on the drawing.
An late-blooming artist
Gray, 85,  became an artist by accident 10 years ago when she heard about drawing classes at a  Center City branch of the Free Library of Philadelphia. "The teacher gave us big sheets of paper and told us to draw large and freely," Gray, 85, said. "She said not to pinch the pencil and to just go ahead. It turned out that I could draw everything." She was motivated to take additional lessons at the Osher Lifelong Learning Institute at Temple University and to explore new art forms on her own.
She learned about dot painting and the techniques and tools for doing it through  YouTube videos. "It's been very exciting," said Gray, who now creates most of her paintings in the dot style.  "Art has been a blessing in my life."
* * *
For more information about Celebrate Arts & Aging, including exhibits hours and artists' receptions at each exhibit site, which are free and open to the public, go to pca.Cares.org/SeniorArt; call 215-765-9000, ext. 5055; email events@pcaCares.org or read the May issue of PCA's Milestones newspaper.
PCA's 2018 Celebrate Arts & Aging festival is sponsored by Always Best Care Senior Services, Health Partners Plans, JEVS at Home and PECO.